A Percy Jackson Reference Is Hiding Amid the Chaos of "Bullet Train"
"Bullet Train" is packed with so much fast-paced chaos, you might have missed the sneaky Percy Jackson Easter egg hidden in its script. The action movie features a slew of codenamed assassins, including Ladybug (Brad Pitt), Lemon (Brian Tyree Henry), Tangerine (Aaron Taylor-Johnson), The Prince (Joey King), The Wolf (Bad Bunny), and The Hornet (Zazie Beetz). One of the few non-murderous characters aboard the high-speed train across Japan is The Son, portrayed by a long-haired, tattoo-covered Logan Lerman. Yep, this is where the Percy Jackson reference comes into play.
The son of Russian crime lord White Death, Lerman's character is being escorted to Kyoto by dynamic duo Lemon and Tangerine. The former has a love for the animated series "Thomas & Friends," often comparing its humanoid trains to the personality traits of those he crosses paths with. Upon meeting The Son, Lemon quips that he's similar to Percy, Thomas the Tank Engine's accident-prone friend, placing a sticker of the green locomotive on The Son to officially brand him.
The mention is brief, but for fans who fell in love with Lerman as Poseidon's son in the short-lived Percy Jackson book-to-movie franchise, it's a delightful joke to relish in as the unrelenting bloodbath ensues. "Bullet Train" screenwriter Zak Olkewicz could've easily chosen one of Thomas' other engine pals, like James or Edward, to be The Son's equivalent, so we're assuming the nod was on purpose.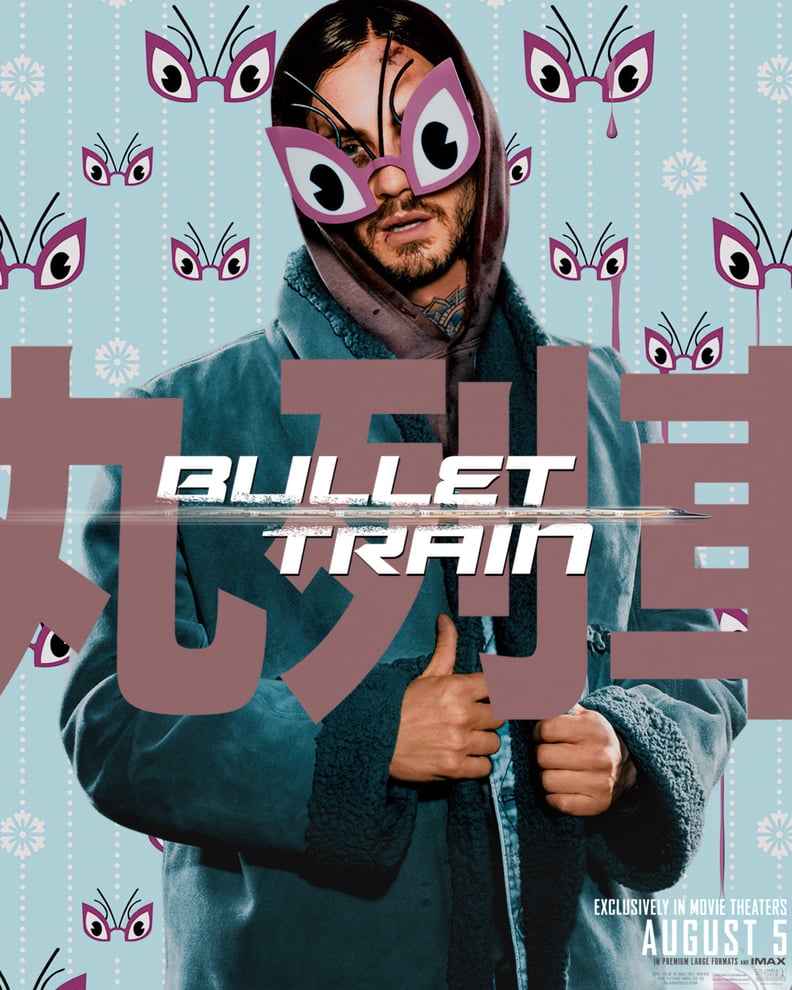 Though Lerman starred in the 2010 movie "Percy Jackson & the Olympians: The Lightning Thief" and its 2013 sequel, "Percy Jackson: Sea of Monsters," the actor isn't reprising his role as the Greek demigod for Disney+'s forthcoming adaptation of the book series. Thirteen-year-old Walker Scobell will instead play the titular lead, alongside Leah Sava Jeffries and Aryan Simhadri as Annabeth Chase and Grover Underwood, respectively, among other recently announced stars.
When asked whether fans can expect him to make a cameo in the show, Lerman told The Hollywood Reporter, "It's an interesting question because, could you? Sure. But, I'm not. I'm not. [It would] just depend on certain factors, a number of things, but most importantly the quality of the script and the role. But they haven't talked to me, they don't want me in it, I don't think. I probably would've heard something by now. But either way, who cares? It's awesome that they're making it, and I'm excited to see them do it." Perhaps he's pulling an Andrew Garfield and fibbing about his involvement, and the "Bullet Train" joke was a subtle way of teasing it? We can only hope.