9 Times Catherine O'Hara's "Home Alone" Character Was Just as Hilarious as Moira Rose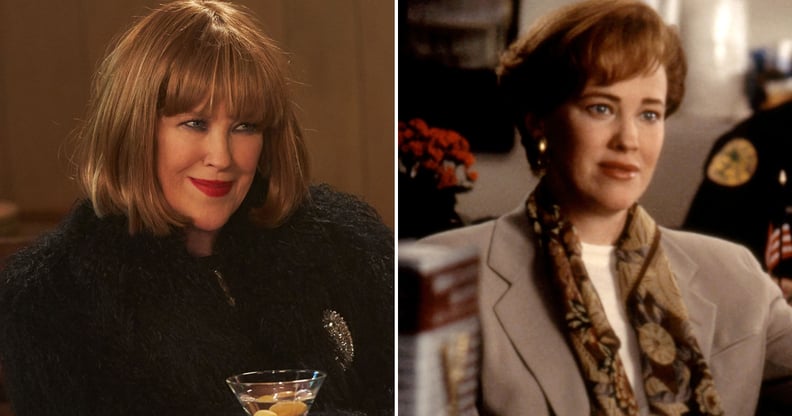 Moira Rose: woman of the world, connoisseur of wigs, and a force of her own. Since 2015, the "Schitt's Creek" star has solidified her presence as one of the wildest and most wonderful characters to grace our screens. But there's an uncanny similarity between Moira and Catherine O'Hara's character, Kate McCallister, in "Home Alone" (1990) and "Home Alone 2: Lost in New York"(1992) that has us doing double takes.
For anyone who needs a refresher on the classic holiday films, O'Hara plays Kevin McCallister's (Macaulay Culkin) mom, who infamously forgets — along with her husband, Peter McCallister, and their other four kids — to bring Kevin on the family's annual Christmas vacation, twice. Frazzled, overwhelmed, and prone to panicked shouting fits, Kate is just a mom trying to make it through the holidays and make sure her 8-year-old son is safe.
Moira is more self-indulgent and deeply in touch with her flare for the dramatic on a daily basis (see her elaborate outfits and her overly sophisticated speech pattern). But O'Hara's unforgettable facial expressions and Moira's hilarious personality definitely overlap with Kate's enough that we're convinced Moira could be Kate 30 years in the future. Just replace every time Kate yells "Kevin!" with Moira saying "David" or "bébé," and it's like they're basically in the same timeline.
Ahead, we've collected every bit of evidence that proves Moira and Kate are one and the same — or at least that they'd make great friends. Read on for a full breakdown of all the moments in "Home Alone" that prove Kate foreshadowed Moira three decades prior.
Kate McCallister's Shocked Face When She Realizes Kevin Is Missing Is Unforgettable
And Moira's Shocked Face of Delight While Listening to Family Gossip Is Perfect
Amid All the Stress of the Holidays, Kate Isn't Afraid to Be a Little Bit Sarcastic
Moira Eats, Lives, and Breathes Sarcasm Almost Every Second of the Day
Of Course, Kate Does Know How to Celebrate When the Occasion Calls For It
Used to Being the Center of These Celebrations, Moira Is Right There With Her
With So Much on Her Plate as a Mom, Kate Does Have Her Down Moments
Famously Melodramatic, We'd Be Surprised If "Chaos" and "Despair" Weren't Moira's Middle Names
Like Moira, Kate Isn't Afraid to Make a Scene When Something Goes Amiss (aka Her Child Goes Missing)
Moira Is Equally Dramatic But Has a More . . . Niche Set of Priorities
Kate and Her Husband, Peter, Are Partners in Forgetfulness
While Moira and Johnny Are Partners in Chaos
When the Going Gets Tough, Kate Can and Will Lose Her Patience
And Nobody Wants to Experience the Infamous Moira Rose Finger Waggle
Did We Mention Catherine O'Hara's Dramatic Facial Expressions Have Been Spot-On Since 1990?
30 Years Later, She's Still Delivering All the Drama We Could Ever Ask For
At the End of the Day, Kate Is Just a Mom Who Really Loves Her Kids
And Despite Not Knowing Their Middle Names, Moira Can Always Say the Same