Ghostface Follows Courteney Cox Home After "Scream 6"
Courteney Cox Completes Filming on Scream 6, but Ghostface Follows Her Home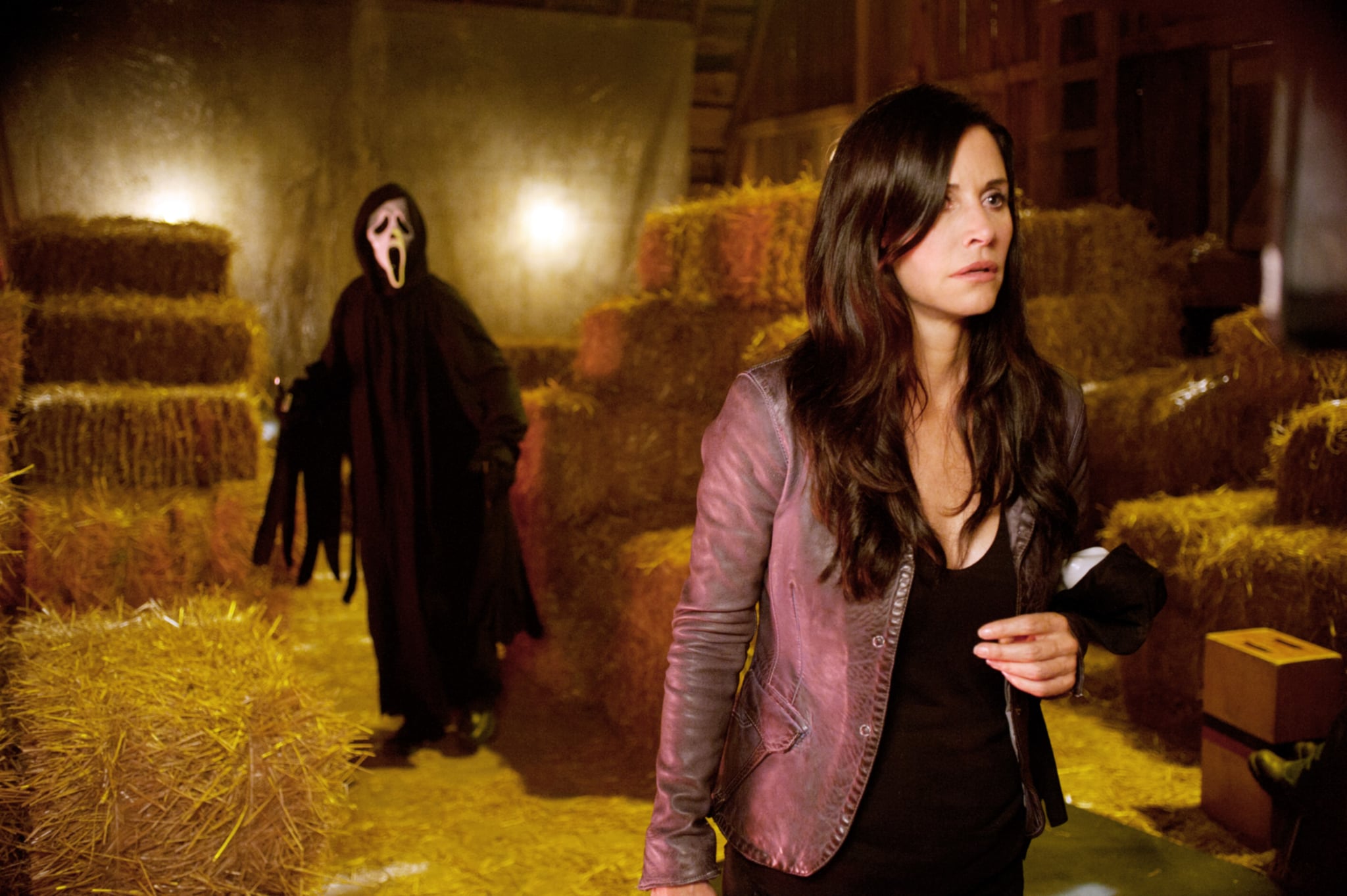 Don't you just hate it when work follows you home? On Sunday, Courteney Cox revealed she has completed filming on "Scream 6" in a video posted on Instagram. Unfortunately, her longtime nemesis, Ghostface, didn't get the memo.
In the video, Cox sits down on her couch to relax when she notices something suspicious on her security cameras. "I just finished filming 'Scream,' I'm back from Montreal, and I'm so happy to have my work behind me," the "Shining Vale" star said. However, her relaxation is short-lived when she spots Ghostface creeping closer and closer via her security cam footage. "Does this B***H ever get tired?" she captioned the hilarious video.
This isn't the first time Cox has made a special "Scream"-themed video for Instagram. Last Halloween, she celebrated the impending release of "Scream 5" by dressing up as Ghostface and recruiting a few of her friends to do the same for a dance video. "Ghostface 👻 is always someone you know . . . Can you guess which one is me?" she wrote.
"Scream 6" is set to come out March 31, 2023. In addition to Cox, who is reprising her role as Gale Weathers, the cast also includes Melissa Barrera, Jenna Ortega, Hayden Panettiere, Jasmin Savoy Brown, and Samara Weaving. Despite Sidney Prescott surviving "Scream 5," Neve Campbell will not be back for the sixth film.
"As a woman, I have had to work extremely hard in my career to establish my value, especially when it comes to 'Scream,'" she said in a statement via Deadline in June. "I felt the offer that was presented to me did not equate to the value I have brought to the franchise. It's been a very difficult decision to move on. To all my 'Scream' fans, I love you. You've always been so incredibly supportive to me. I'm forever grateful to you and to what this franchise has given me over the past 25 years."
Cox's return was confirmed after she was spotted on the set of the film a little over a month later. In a June interview with Variety, the actor appeared to be confident about Gale's future with the franchise.
"I did not die so yes you will see me," she said of "Scream 6." "Gale's pretty strong. She may not ever [die], but who knows!"