The Crown: Princess Margaret American Tour Photos
The Crown: What Really Happened When Princess Margaret Traveled to America?
The Crown's big draw might be seeing how Queen Elizabeth II, now played by Olivia Colman, got her start, but season three makes a concerted effort to flesh out other family members in her orbit. In addition to spending more time on Prince Charles's expanding role in the royal family, the second episode of the new season, titled "Margaretology," revolves around Princess Margaret's landmark first visit to the United States in 1965.
This time around, Helena Bonham Carter is embodying the spirited, rebellious younger sister of the queen, but she brings just as much verve and charisma to the role as Vanessa Kirby does in seasons one and two. The episode in question begins with a flashback to Windsor in the early 1940s, when Margaret and Elizabeth are just girls. While Elizabeth is hesitant about becoming queen, Margaret embraces the title and tells her elders she'd like to rule instead.
Although she'd be harshly turned down and relegated to second place from then on, Margaret finally gets her time to shine when Elizabeth asks her to take a trip to America with husband Antony Armstrong-Jones — which indeed happened in real life — in an effort to smooth over Anglo-American relations. British Prime Minister Harold Wilson (Jason Watkins) is said to be clashing with President Lyndon B. Johnson over the former's refusal to commit to sending British troops to the war in Vietnam, which makes the prospect of the US agreeing to give the UK (which was in dire financial straits when Wilson took office) a loan through the International Monetary Fund slim.
In The Crown, Johnson turns down an invite from Queen Elizabeth II for a visit to Buckingham Palace despite protests from his advisers. Later, realizing how rough the relationship with the US is, the British government is depicted as pinning its hopes on a splashy, glamorous visit from Margaret to patch things up with the country a bit. So, did it actually happen? Well, generally.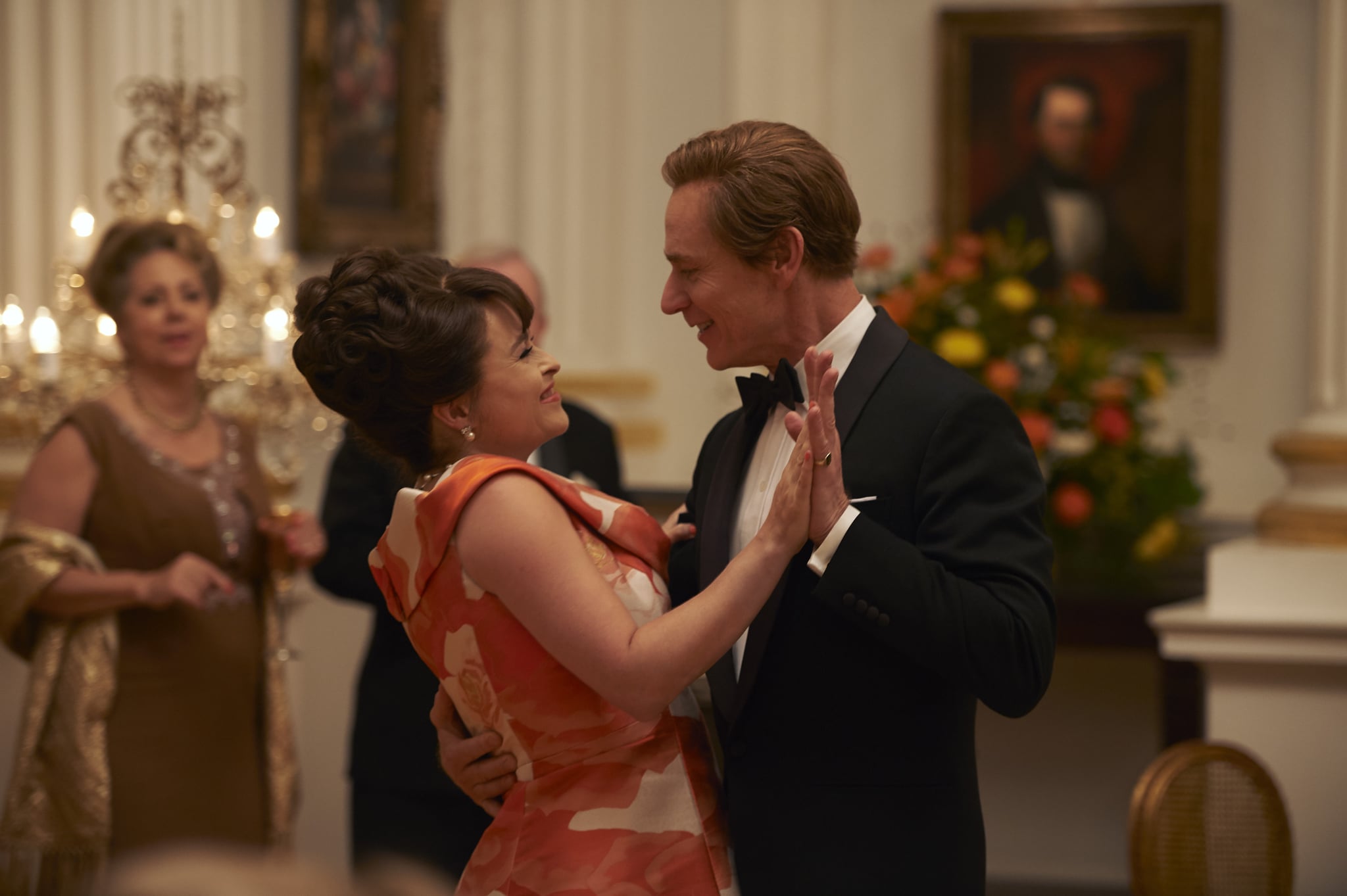 Helena Bonham Carter and Ben Daniels as Princess Margaret and Antony Armstrong-Jones. Image Source: Netflix
Yes, of the 11 presidents who have been elected since the start of Elizabeth's reign, Johnson is the only one not to meet with her. Was it as petty as the show suggests? Perhaps! The Crown also appears to take some creative license with a festive dinner party held at the White House in Princess Margaret's honor. She wins over Johnson with jokes made at the expense of the late John F. Kennedy and has everyone invited wrapped around her finger. The show then suggests that her sparkling personality and raunchy quips convince the White House to give the UK a loan.
In addition to their stop in Washington, Margaret and Lord Snowden visited San Francisco, Los Angeles, and New York, embarking on over 60 public engagements, as well as a private visit to a ranch just outside of Tucson, AZ. It wasn't depicted in the series, but the pair also met with A-list celebrities of the era, like Elizabeth Taylor, Judy Garland, Mia Farrow, and Frank Sinatra. Margaret managed to captivate the American public in a way her sister hadn't at that point, and the British government ruled her trip an "outstanding success."
Ahead, see some choice photos from Princess Margaret's whirlwind trip across the US in 1965!