Crush and J-Hope's New Song, "Rush Hour," Will Have You Vibing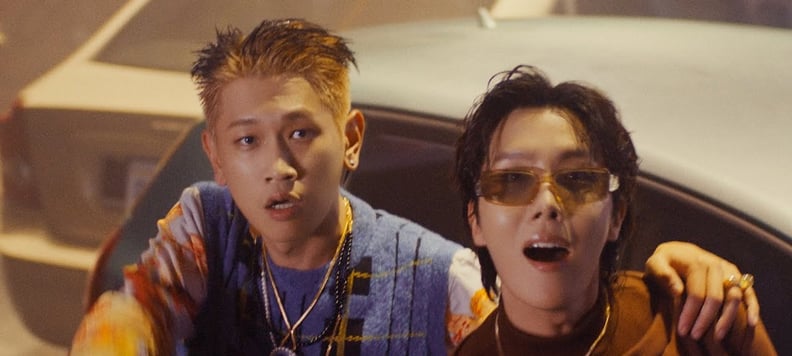 YouTube | Crush
YouTube | Crush
It seems like it was just yesterday when BTS's J-Hope dropped his solo album "Jack in the Box" and headlined Lollapalooza, and now he's already back with more new music. This time, it's a collab with Crush called "Rush Hour." The song, which dropped on Sept. 22, is a midtempo hip-hop track that mashes up Crush's smooth vocals with J-Hope's unique flow for an epic result.
The song truly celebrates Crush and J-Hope's vibes, with the pair rapping about how hard they've worked amid much adversity to get to this point in their careers, never losing sight of their roots, their individuality, and their true friends. "Set my destination to the studio 'cause I can / This is Crush hour, get out the way," Crush raps at one point. "Cameras snapping wherever I go like flash flash / Crowds of people, feels like traffic / The future I'm envisioning isn't even insured / Y'all trippin', whole lotta freaks / And now, Crush hour Imma just follow his lead," J-Hope adds when his verse comes along.
While the music video featuring Crush and J-Hope dancing on the streets of Seoul is simple, the choreography and vibrant street style fashion of the rappers and their backup dance crew are anything but. Check out the video below and read the "Rush Hour" lyrics in English to understand their instantly iconic track fully.
Music Video For "Rush Hour" by Crush and J-Hope
Crush and J-Hope's "Rush Hour" Lyrics in English
VERSE 1
Yo, I've been walking on the street, yo
From UN Village to Hangangjin Station
Passed Itaewon over the hill
Honking nonstop once I hit the road after work
It's been two whole years of this
Held my tongue for way too long
Set my destination to the studio, 'cause I can
This is Crush hour, get out the way, ayyy
PRECHORUS
We gotta celebrate, just leave it up to fate
No matter what they say or do, baby
Hey ladies and gentlemen
Do what you wanna do, baby (let's go)
CHORUS
So let me hear y'all scream hibihibi hop, just like that
Again clap clap clap and then hit that
Gather one and all like traffic jam
Get up, get up
So let me hear y'all scream hibihibi hop, just like me
Follow me, ain't it pretty easy
Gather 'round like traffic jam
Get up (get up), get on up (ho)
VERSE 2 (J-Hope)
Yo I've been walking on the street, yo
From Seoul Forest and around the block
But wherever I go now it's a red carpet feel, yo
Cameras snapping wherever I go like flash flash
Crowds of people, feels like traffic
The future I'm envisioning isn't even insured
Y'all trippin', whole lotta freaks
And now, Crush hour Imma just follow his lead
PRECHORUS
We gotta celebrate, just leave it up to fate
No matter what they say or do, baby
Hey ladies and gentlemen
Do what you wanna do, baby
CHORUS
So let me hear y'all scream hibihibi hop, just like that
Again clap clap clap and then hit that
Gather one and all like traffic jam
Get up (uh), get up (ho)
So let me hear y'all scream hibihibi hop, just like me
Follow me, ain't it pretty easy
Gather 'round like traffic jam
Get up (get up, rush hour)
Take 'em to the bridge
BRIDGE
La la la la la la la la
La la la la la la la
La la la la la la la la
La la la la la la la
OUTRO
This is Crush hour, Crush hour, Crush hour
This is Crush hour, Crush hour, Crush hour (get up, give it to)
Watch out (watch out)
This is Crush hour, Crush hour
Crush hour