The CW's Nancy Drew TV Show Review
The CW's Nancy Drew Reboot Is Like If Riverdale and Veronica Mars Had a Very Charming Baby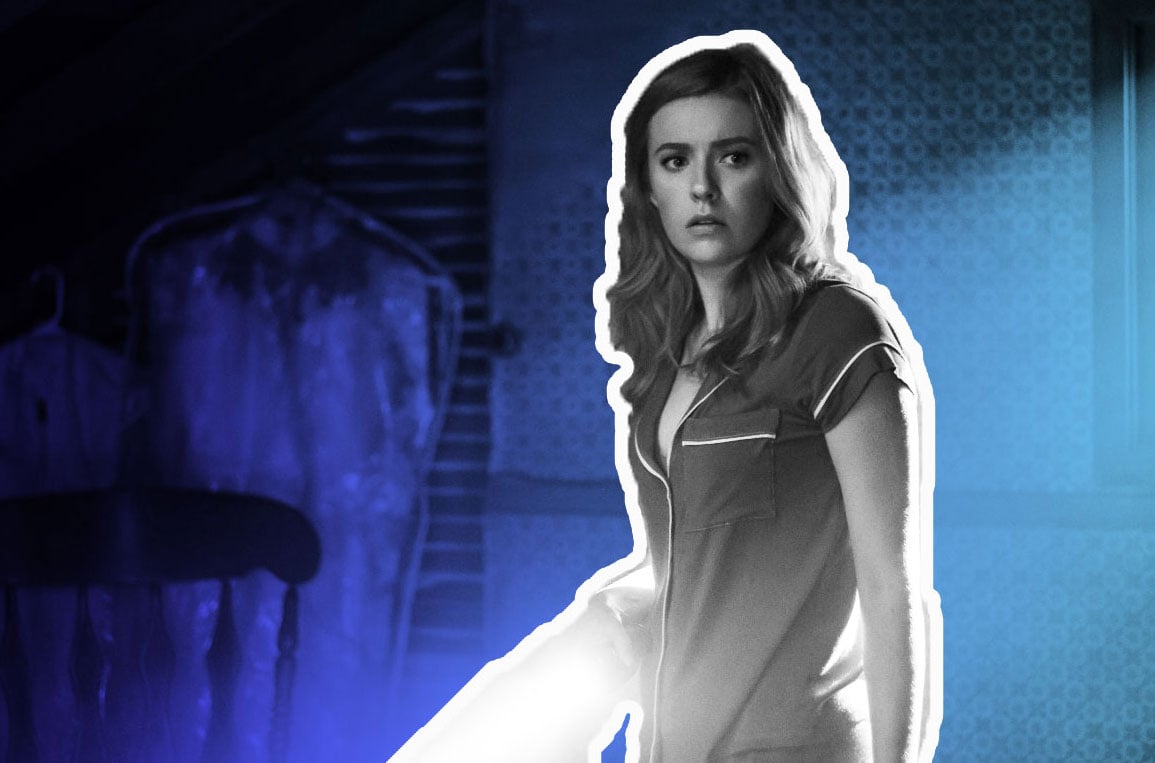 The CW's Nancy Drew reboot makes something crystal clear from the get-go: this ain't your grandmother's teen detective. Gone is the wholesome crime solver of yore, and in her place is a 2019 edition of Nancy who we first meet while she's getting it on in a garage with a mechanic she seems to barely know. This is a new Nancy, America! And she f*cks! Like Riverdale's Archie, Nancy is another ginger icon of Americana who The CW has given a dark and sexy new makeover in hopes of attracting a younger, fresher audience. And you know what? I think it works.
Like I did the first time I sat down to watch Riverdale, I immediately found myself wrapped up in the drama of the fog-covered town and the multitude of mysteries lurking there. Hollywood newcomer Kennedy McMann brings a jaded charm to Nancy that might be unexpected given the character's plucky pop culture history; she's not quite operating with Veronica Mars levels of angst, but she's close.
She's not quite operating with Veronica Mars levels of angst, but she's close.
The rest of the series is held together by a reliable set of factors that all but guarantees addictive TV: a former heartthrob playing someone's dad (Scott Wolf, replacing Freddy Prinze Jr.), a cast of hot young stars prime for shipping, and an eerie, potentially supernatural murder mystery. Unlike Riverdale, which dances around its ghostly elements, or its sister series The Chilling Adventures of Sabrina, where dark magic is the focus of the show, Nancy Drew explicitly weaves the supernatural into the story without letting it overtake Nancy's crime-solving sensibilities.
The pilot begins by giving us a glimpse of a bubbly, happy Nancy who's still in high school, fresh off of her win in the local Sea Queen pageant. She, her boyfriend, and her friends complete a graveyard ritual that pays homage to Lucy Sable, a dead Sea Queen in a blood-splattered gown who fell to her demise years earlier and now haunts the sleepy coastal town of Horseshoe Bay (or so they say). Nancy seems stable, with no major problems in her life to contend with. And then we flash forward to current day Nancy, who's put both her plans for college and reputation for solving mysteries on hold following a family tragedy. Gone are her boyfriend and her gal pals. Instead she spends her days waitressing at a seaside diner and hooking up with the charming and enigmatic Ned 'Nick' Nickerson (Tunji Kasim) to pass the time.
This all changes when socialite Tiffany (Sinead Curry) is mysteriously murdered just outside of the diner while Nancy and her coworkers — the prissy Bess (Maddison Jaizani) and sarcastic George (Leah Lewis) — are inside a few feet away serving Tiffany's wealthy husband, Ryan (Riley Smith). From there they all get pinned as suspects and soon decide to solve the crime themselves, digging up dangerous secrets and potentially awakening the vengeful ghost of Lucy Sable, who seems to be following Nancy wherever she goes. Is it a hallucination? Merely a manifestation of Nancy's grief? Or is "Dead Lucy" legit?
Though Nancy Drew is undeniably a spiritual sibling of Riverdale thanks to its moody palette, foggy atmosphere, and teenagers prone to endless expository dialogue, the similarities to Veronica Mars and its title character's teen sleuth exploits don't end with Nancy's prickly personality. Like Veronica's seaside hometown of Neptune, Horseshoe Bay is rife with crime and income inequality, as well as extramarital affairs, a potential murder cover-up, and seedy backstories for just about everyone. I have to hand it to creators Josh Schwartz and Stephanie Savage (Gossip Girl, Runaways), who clearly couldn't decide on just one genre for Nancy to root around in — they gave her basically them all.
And yet the kitchen sink approach works, putting an interesting spin on a beloved fictional icon who's been churned through the Hollywood reboot machine over and over again, as recently as last year's Nancy Drew and The Hidden Staircase. The CW's adaptation wisely checks in with Nancy not on her first foray into crime solving, but when she's a seasoned teen detective, sparing us the usual precociousness that goes hand-in-hand with the character. This time in Nancy's life also allows McMann to explore the character's issues with opening up to people (chiefly Nick) and bringing her walls down long enough to let her new, ragtag set of friends help her.
Although the first two episodes stumble here and there — so far Wolf's Carson Drew doesn't have much to do, something that will hopefully be rectified as Nancy digs deeper into the Lucy Sable mystery — there's a lot about Nancy Drew to love. Lewis's George will no doubt be a fan-favorite, and it's hard not to get sucked up in the crackling chemistry between Nick and Nancy. Between the talented young cast and compelling mysteries, I for one am more than ready to watch Nancy break out her flashlight and get to work.