Daisy Jones & The Six: Who Plays Prince Nicky?
"Daisy Jones & The Six" Introduces Daisy's New Love Interest: Prince Nicky
Watch out! This post contains spoilers.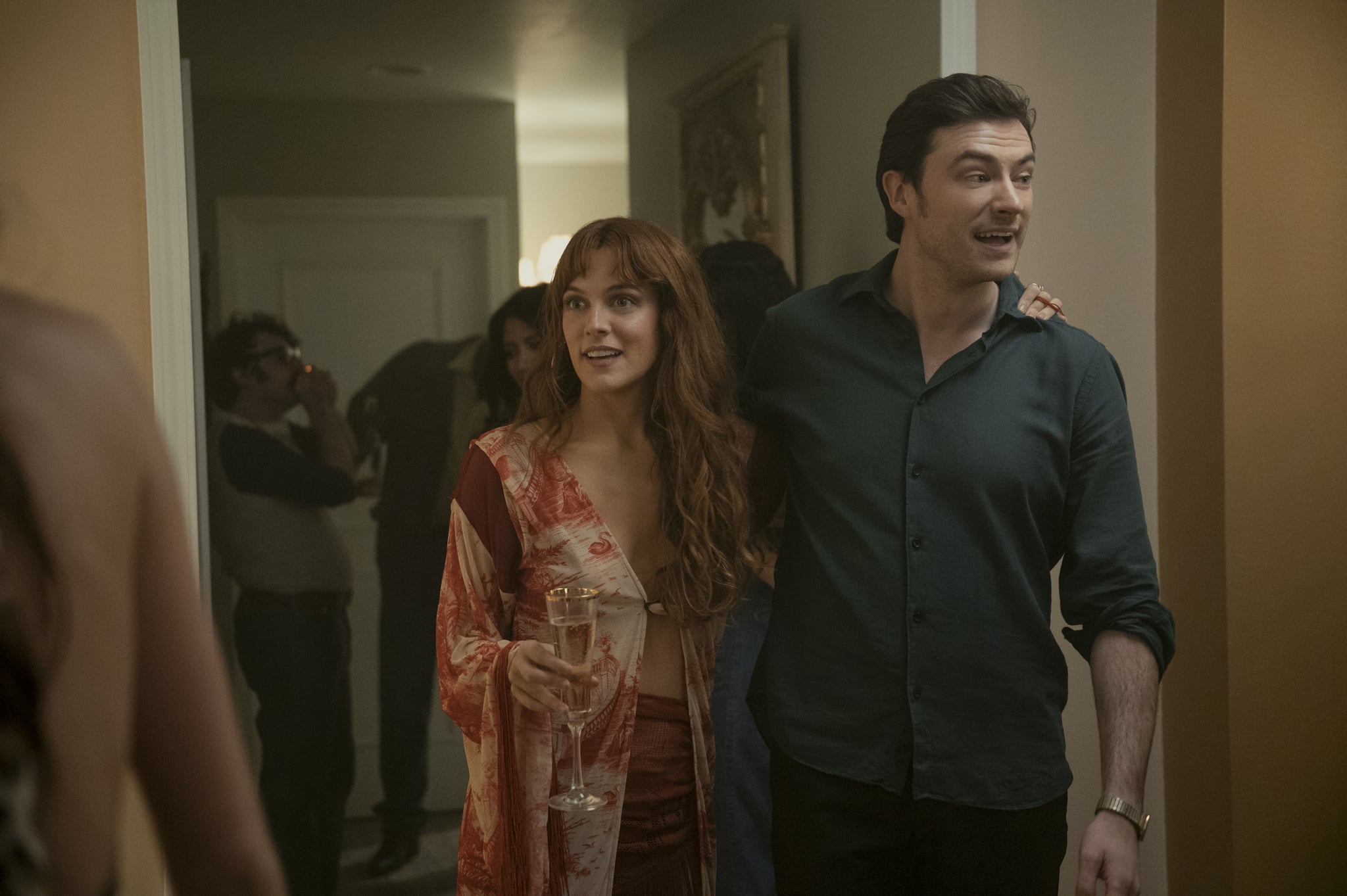 Daisy Jones's life just got a lot more complicated. In episode seven of "Daisy Jones & The Six," viewers learn that Daisy (Riley Keough) has escaped the band by running away to Greece. She finally contacts her best friend Simone (Nabiyah Be) to tell her to come meet her. When Simone and her partner Bernie (Ayesha Harris) track her down, though, they find out that Daisy has met Prince Nicky and just wanted Simone to be there for her wedding. Simone, apprehensive, goes along with it, but when Daisy reveals that she never intends to go back to the States and her life with The Six, they have a huge fight. In the midst of all of this is Nicky, who causes chaos for Daisy and her band. Ahead, we're breaking down who plays Nicky and the biggest changes to his character from the book.
Who Plays Prince Nicky?
Gavin Drea plays Prince Nicky. He's an Irish actor who lives in London. Most recently, he starred in the British action rom-com series "Wedding Season." He also appeared in three episodes of "Vikings: Valhalla" and the 2017 movie "Valerian and the City of a Thousand Planets." He's also done quite a bit of voice-over work for video games.
Drea celebrated his appearance on the show on Instagram on March 17, writing, "Episode 7 and 8 of Daisy Jones & the Six have dropped! So excited to introduce my character Nicky. This job was a dream to work on." He thanked the show's writers and crew, then wrote, "And of course to the best damn band. You guys made me feel so welcome and part of the family the second I arrived on set. @rileykeough you were the best island wife I could have asked for!"
How Did They Change Nicky From the Book?
In the show, Prince Nicky is an Irish prince with no family who falls head over heels for Daisy. In the book, Nicky Fitzpatrick is actually Niccolo Argento, an Italian prince. Book Niccolo knows that Daisy is in a band from the start, and she never says she's not ever going back. They meet in Thailand, and before Simone can come meet them, they fly to Italy and get married. We never meet his friends, and he never gets into a fight with Simone. In the show, Daisy keeps the band a secret from him until Simone gives her the Rolling Stone cover, and Nicky tries to put a wedge between Simone and Daisy. Another change the show makes? In the show, Daisy says she doesn't regret the wedding; in the book, Daisy says she doesn't regret the wedding dress.
Once Daisy does return to the band, both TV Nicky and book Niccolo cause problems during rehearsals and the tour. He enables Daisy's drug use, though the problem feels more severe in the book. In the novel, Daisy also notes that he seems to not really have any money and he's bleeding her accounts dry.
In the show, one night they go too hard and Daisy passes out. Nicky puts her in the shower, and Billy (Sam Claflin) and Rod (Timothy Olyphant) arrive to help her as Nicky flees. In the book, this event happens when the band is on a break from the tour; Nicky and Daisy are on vacation in Europe alone, and she wakes up in the shower. She realizes that if she stays with him, she will die and he will be helpless. She leaves him in Europe and returns to the band.
The final two episodes of "Daisy Jones & The Six" premiere March 24 on Amazon Prime Video.