Desiree Burch Talks Season 2 of Netflix's Too Hot to Handle
Too Hot to Handle's Desiree Burch Promises Season 2 Is a Wild Ride: "The DTF-ness Is at 11"

Image Source: Idil Sukin
Netflix's Too Hot to Handle is officially back for season two, and Desiree Burch promises this season is way more intense than the last. "Because it was filmed during the pandemic, everyone was offered the opportunity to go quarantine, go on holiday, leave their home, and go to a place where the hot people are so they can mingle in person and actually touch flesh," Burch told POPSUGAR. "The eagerness and the DTF-ness is at 11."
Burch has been narrating the reality TV series since season one, and let's face it, she's the real star. With her savage zingers and hilarious one-liners, Too Hot to Handle simply just wouldn't be the same without her. The 42-year-old comedian was initially drawn to the show because, well, it's Netflix, but also because she has a real passion for voiceover work. "I was just down for the ride, and now having done a season of it, I really actually have a lot of heart for the show," Burch explained. "I'm not necessarily a big reality show type of person, but I really enjoy that there is that personal development aspect that makes it have an arc of actual growth for each of these people and to see who they are and where they come from . . . Even if they're not walking home with cash, they're walking out with having made a connection or understanding what they want from a relationship."
"The eagerness and the DTF-ness is at 11."
As for how Burch comes up with her witty commentary, it's a team effort between her and the show's crew. "I can't take full credit for this. There are producers, other people, writers, who kind of are like, 'Here's the story as we see it.' Because by the time I'm watching it, they've already gone to whatever remote, beautiful location they've been to. They've shot the entire thing," she explained. "The producers have made a rough cut . . . so it's a rough version of what ultimately winds up on the screen and they're kind of like, 'OK, here are the bits that we want to highlight.' From there, part of it is about interpretation of the show [and another] part of it is about, 'Oh, actually, would it be funnier if we did this? Or said this?' Or just gut reactions having watched it for the first time in the studio because it's really me, a producer, and a sound engineer watching it together."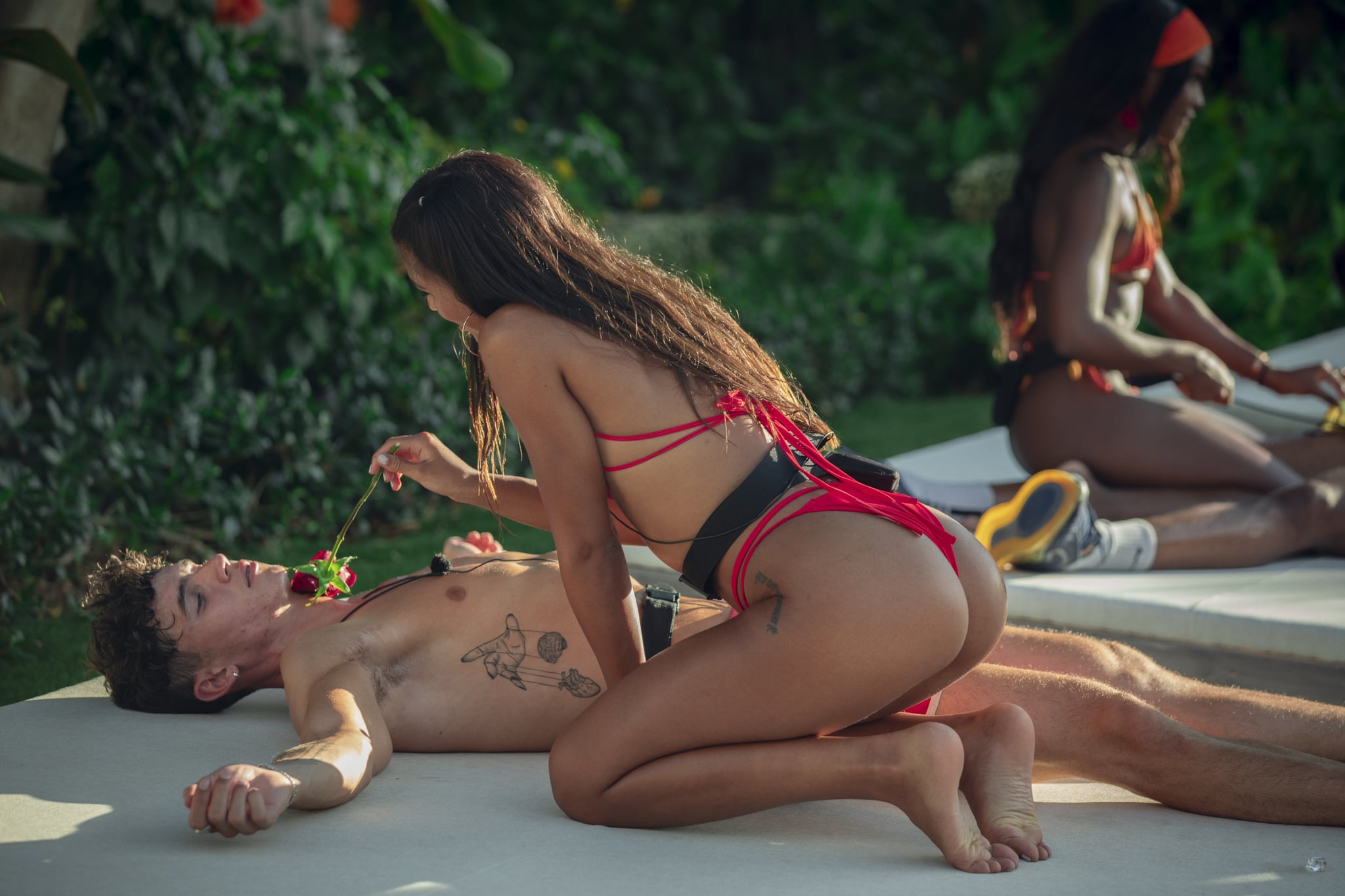 Image Source: Netflix
Unlike the previous season, season two was filmed at a luxury villa in Turks and Caicos. Aside from the location, the other big change is the reveal to contestants that they're on Too Hot to Handle. "Everyone in the world saw this, but yet people are still kind of showing up and being like, 'What? Oh, that thing, damn it," Burch said. "They don't know when they go to Turks and Caicos. They're just thinking they're doing something different, like some other reality, hot party show . . . It just feels like the intensity got dialed up a little bit more in all ways." However, the premise of the show remains the same: the 10 contestants have to resist hooking up to win a $100,000 prize. "Hooking up" means "no kissing, no heavy petting, and no self-gratification of any kind."
Without divulging too many details, Burch also noted that there will be more surprises in store this time around. "Some people will go home because they're maybe not going to get as much out of the process as others. Other people will show up and really throw them for a loop," Burch said. "And there's one couple that happens sort of in the middle of the series that seems to come out of nowhere. And I feel like it's still going, which I never would have thought that these two people would have gotten together."
Despite narrating the show, Burch has never actually met any of the contestants, but she thinks the reunion would be a great opportunity to — that is, if there is one. "I hope that there'll be a reunion episode like there was for the first series because it was a great way to meet some of them," Burch said. "I haven't met any of them this season and I think in some part it works better that way for it to be discreet . . . I want what's best for them, but I also don't know if meeting them in real life is just going to make them regular old people. It's almost like don't meet your heroes. It's not like they are my heroes, but I've already made them in my head as these sweet young people who are turning into good kids."
The first four episodes of season two of Too Hot to Handle premiered on Netflix on June 23, and the remaining six will be available on June 30. Oh, and if you're wondering if the show will be back for season three, you're in luck because it has already been renewed — and yes, Burch will be returning, too.