How "Blue Beetle" Director Ángel Manuel Soto Infuses Superhero Action With Latine Realities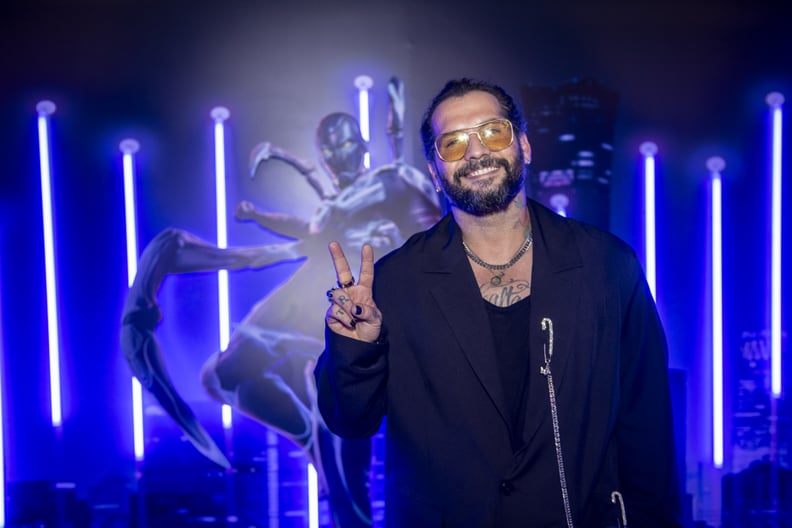 Courtesy of Warner Bros. Pictures
Courtesy of Warner Bros. Pictures
There is a scene relatively early in the new "Blue Beetle" movie where its lead character, Jaime Reyes (played by Xolo Maridueña), is seen with his sister, Milagros (played by Belissa Escobedo), sitting on the rooftop of their family's house. The two are reflecting on all the trials and tribulations they and their family have been through, some of which the audience is privy to. The conversation eventually leads to them fretting about the encroachment of the movie's fictional Kord Industries and how it's been nefariously buying up land across their fictional home of Palmera City, leaving lower-middle-class families like theirs with fewer opportunities to grow. Frustrated, Milagros says to Jaime, "We live on the other side of the tracks, and now they want to take that too." For "Blue Beetle" director Ángel Manuel Soto, who is Puerto Rican, this is a line that he knew would resonate sharply with theatergoers who come from marginalized communities, including his fellow Boricuas back home.
"We were having a conversation about what gentrification looks like. They push you away until they want that place," he tells POPSUGAR. "Then they keep pushing you away and keep pushing you away and keep pushing away until you cease to exist. We wanted to communicate that in a way that resonates with my personal experience — [Puerto Rico's] collective experience — but I think in general, the collective experience of Latin America."
In Soto's eyes, and those of screenwriter Gareth Dunnet-Alcocer, there's an organic reason to bring that theme up within the context of the movie's plot. Our hero Jaime, played with a fantastic balance of youthful naivete, bravery, and charisma by Maridueña, only finds himself as a superhero because of circumstances that led to him being in possession of a mysterious (perhaps even extraterrestrial?) scarab that gives him his powers. The events that led to that life-altering moment are intrinsically rooted in Jaime's anxiety about the gentrification of his neighborhood.
As Soto puts it, "What makes him go and do something which eventually gets him the scarab? We were talking about the things that we're not afraid of. We don't fear an alien invasion. That's the least of my problems. Gentrification is my problem. Housing security is my problem. How do I bring food to the table? Healthcare. Those are my problems. I cannot spend time thinking about aliens. So, we wanted [Jaime's] problems to be the problems that we face daily."
These and many other real-life worries faced by the cast of characters in "Blue Beetle" are a large part of why the movie works so well and feels so fresh. Whereas many superhero movies have leads that come across like disquieted Greek gods, Maridueñas's Jaime could have been plucked from off the street and thrown into the story (which he arguably was).
Soto's road to the job of helming DC Studios's newest big-screen foray is well-documented, but bears repeating: current DC Studios VP of Creative Development Galen Vaisman was at Sundance in 2020 when he saw Soto's "Charm City Kings." Unbeknownst to Soto at the time, development had already begun on "Blue Beetle" and a search for a director was ongoing. Impressed, Vaisman screened the movie for then-president of DC Films Walter Hamada. Bowled over by the similarities between what they saw and what they wanted "Blue Beetle" to be, they got in touch with Soto and offered him the gig.
The weight of the responsibility of bringing to life the first wide-released Latino superhero lead was never lost on Soto (those conditional adjectives are necessary so as to acknowledge 2019's "El Chicano" and Marvel Studios's Namor and Yo-Yo Rodríguez). For decades of mainstream movies, Latines had been relegated to either villainous roles or secondary (at best) hero roles — a "Desperado" or "Knives Out" here and there aside.
This erasure foments lasting effects in the community, as Dominican-American novelist Junot Díaz expressed in 2009 during a talk at Bergen Community College in New Jersey. "You know, vampires have no reflections in a mirror? There's this idea that monsters don't have reflections in a mirror. And what I've always thought isn't that monsters don't have reflections in a mirror. It's that if you want to make a human being into a monster, deny them, at the cultural level, any reflection of themselves," he said. As he went on to explain, not seeing oneself reflected makes one question if there's something wrong with them that justifies them being excluded from the world at large.
It's why Soto put so much emphasis on establishing every member of the Reyes family before even diving into the superheroics.
"They're heroes of his story as well, and they're all Latinos," he says. "You can see your aunt, you can see your grandma, you can see your father, your mother, your little sister, your uncle in them. We really took it to heart to be able to do that." Holding a mirror up to entire generations of people who never saw themselves reflected in the wider cultural landscape is one of Soto's proudest accomplishments. "We've been conditioned to accept [those roles]. If anything, for whatever it's worth, I hope ["Blue Beetle"] challenges that," he adds.
As with most action movies, and especially superhero movies, the element of escapism is incredibly difficult to bypass. Jaime, despite being the lead, is inexperienced enough that he becomes the de facto audience surrogate for everything happening in the film plot-wise. What's new to us is new to him, which is how he also brings viewers along as he discovers the extent of his newly acquired Blue Beetle powers. For a director, it's their job to conceive wild scenarios and set pieces that'll thrill and entertain as these unwieldy shows of energy and force are unleashed. Soto saw here an opportunity to make a long-held dream come true and also smuggle in some cathartic release.
During the movie's climax, without wading too much into spoiler territory, Jaime finds himself in a fortress. Although augmented and made more expansive with CGI trickery, this setting was partly shot at and inspired by Puerto Rico's Castillo San Felipe, known colloquially as El Morro. It's a Spanish citadel built between 1589 and 1650, meant to protect the then-Spanish colony but also used as a holding area for slaves (who were also used as labor during its construction). These days it's an attraction for tourists and locals alike, popular because of its convenient location in Old San Juan. Soto recalls visiting it when younger, and as a budding cinephile he daydreamed about the possibilities it offered.
"I'm a big fan of Indiana Jones, and I always wanted to one day shoot something there. It's a fortress! It's big and it's old and it's massive. I always wanted to do an action sequence there," Soto says. Over time, the idea gained a new symbolic angle he was also eager to tackle. "At the same time, it's a symbol of Spanish colonization and [the] genocide of the Taíno and slavery of the Africans. So, symbolically, sure — let's blow it up," he laughs.
Shooting such a high-profile, big-budget film in Puerto Rico is nearly every local filmmaker's dream, and when Soto saw an opportunity to do so he jumped at the chance. In the Blue Beetle comic books, his adventures happen mostly in the town of El Paso. For the movie, the decision was made to give him his own fictional city, akin to Superman's Metropolis and Batman's Gotham. Now, with Jaime as a citizen of Palmera City, the filmmakers had to create a new location from the ground up. Here too, Soto put on his thinking cap and along with his team pondered all the ways they could create a "superhero city" inspired by important cities they wanted to mirror in some ways.
"I wanted to still keep a lot of what makes El Paso special with its architecture, and some Easter eggs of different landmarks, and the colors and textures," he says. "But we also got inspired in Miami, Panama City, Puerto Rico. Using the neighborhoods of Puerto Rico to represent the working-class communities and marginalized communities of Palmera City. Then using the downtown elements of Miami and Puerto Rico just to tell what it's like to be in the cosmopolitan [areas]. Putting those things together, we were able to create this neon vaporwave type of '80s-nostalgic futuristic city."
"Blue Beetle" is objectively a blast — chock-full of humor, drama, romance, and action that all audiences can enjoy and relate to no matter the demographic. But Ángel Manuel Soto took it upon himself to include enough details, both subtle and not, that aim to make the film a richer experience for Latines and those who yearn for a less cookie-cutter superhero movie. He's hoping that's what people get from the movie at the end of the day. He wants audiences to understand that there doesn't need to be a line between joy and honesty.
"I think when you are authentic that people can connect to it. Anybody from all walks of life, they can actually see that and see themselves represented," he says. "Even if I'm not Mexican, even if I don't live in the Caribbean, I understand that what's happening there happens here too — it just looks different. I think that type of connection is what makes us special. I think that universality is one of the most powerful tools that cinema has."
Author's disclosure note: The writer of this piece cowrote an animated short in 2020 produced by Ángel Manuel Soto (among others), although they never met or interacted during its production.