Pick Up The Donut Trap For a Sweet Rom-Com That's More Than Just a Sugar Rush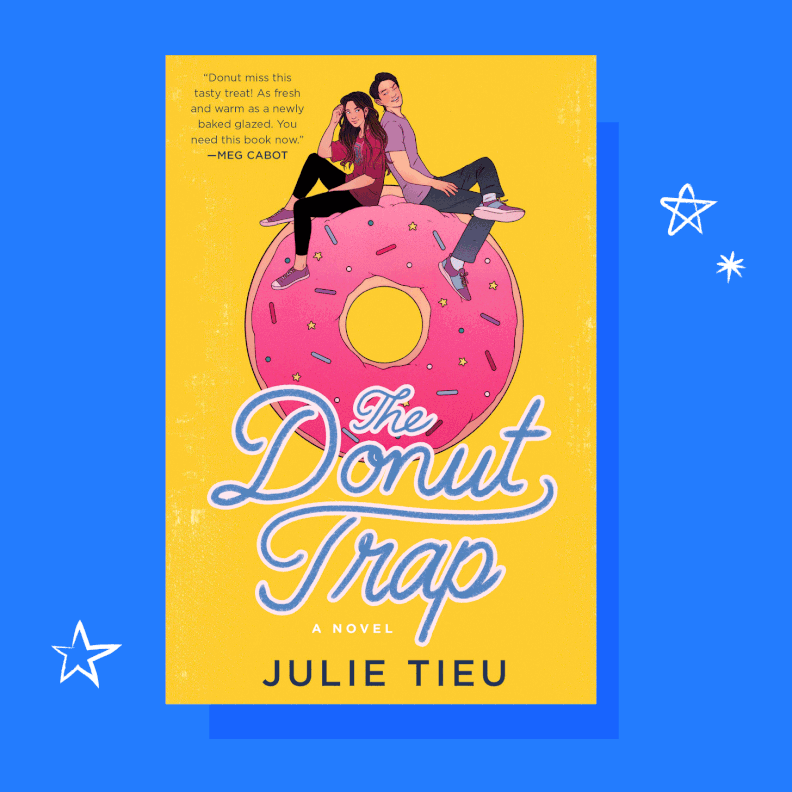 Courtesy of Avon Books
amazon.com
Courtesy of Avon Books
amazon.com
As POPSUGAR editors, we independently select and write about stuff we love and think you'll like too. If you buy a product we have recommended, we may receive affiliate commission, which in turn supports our work.
Jasmine Tran is stuck. The narrator of Julie Tieu's The Donut Trap ($14) graduated from UCLA in a tailspin, and when we catch up with her, she's already spent a year working at Sunshine Donuts with her parents, dodging her parents' intrusive questions about her love life (or lack thereof) and career path . . . or lack thereof. "I was as basic as they come," she says. "Like Helvetica, but in human form."
The monotony shatters when Jas reconnects with Alex Lai, a college crush who turns out to be hot, successful, and sweeter than she'd imagined. He introduces her to hiking, she introduces him to Dodgers baseball, and their chemistry is off the charts. Their relationship is moving fast, though, and suddenly Jas's parents are talking about marriage while Jas is still trying to figure out if she and Alex are actually exclusive. Plus the rent just went up on Sunshine Donuts, but Jas's overworked parents are stubbornly unwilling to shake things up and make the business more profitable.
At the root of Jas's problems with her parents is a generational gap they can't seem to bridge. As Chinese-Cambodian immigrants, Jas's parents came to the US as refugees and worked their entire lives to give her and her younger brother a future. Every interaction Jas has with them is shaded with this knowledge and their sky-high expectations, all while navigating a deep linguistic, cultural, and emotional divide. Jas isn't happy, but she struggles "to find the right words to explain how I was feeling without coming across as ungrateful." You can feel her frustration and helplessness as she repeatedly tries and fails to connect with her parents.
Then, in one disaster of a dinner party, she finds out Alex has been dealing with similar issues with his own mom, and it might spell trouble for their relationship. Meanwhile, Jas is applying to a job she's not sure she can do, a high school ex has popped back up, and she's lying to her parents more than ever to make it all work. The whole situation is primed to blow, and when it does, Jas's relationships — with her parents, her brother, and Alex — will never be the same.
While the sweet romance between Jasmine and Alex is at the core of The Donut Trap, Jas's very real family issues give it heart. Jas's failure to meet her parents' expectations, her struggles to communicate with them, and the way it impacts not just their relationship but every aspect of her life: these are all major plot points, not just details thrown in for authenticity's sake. The Donut Trap explores these issues from a place of empathy, and it comes together to create a quick rom-com read with satisfying depth.
Standout Quote
"To me, it was yet another reminder that my life, my work will always pale in comparison to those of my parents. I knew this very well. It didn't bear repeating. Wasn't that the point, though? Wasn't that the narrative for every immigrant and refugee who had come to the United States? To come and build a better, safer life for yourself and your family? If the measure of success was that I was living a more comfortable, easier life than they had, then why was I simultaneously penalized for it? These questions ran in my head, but they were better left unspoken unless I wanted to add inconsiderate and ungrateful to my list of shortcomings."
Read This If You Like . . .
Romances that are mostly light, but with real issues at their core. And if you like rom-com movies, shows, and books that explore inter-generational immigrant issues, especially in the Asian and Pacific Islander American (APIA) community, you'll find a lot to love in The Donut Trap. Think: Always Be My Maybe, Kim's Convenience, and David Yoon's YA romances.
Mindset
Read this one with a donut or some other treat nearby, or better yet, in your favorite coffee or pastry shop. You'll definitely want to satisfy your sugar craving while reading about the drama at Sunshine Donuts.
A book that's published in 2021
A book set somewhere you'd like to visit in 2021 (Los Angeles)
A book you think your best friend would like
How Long It Takes to Read
This isn't a short book (348 pages), but Tieu's fast-paced style will have you flying through the pages. You could get through it in a couple days of dedicated reading.
The Sweet Spot Summary
In The Donut Trap by Julie Tieu, Jasmine Tran is just trying to get her post-college life on track and maybe find a job outside of her parents' donut shop. She's not quite prepared to juggle an enticing new romance, the sudden reappearance of an old high school flame, and her charged relationship with her Cambodian-Chinese parents all at the same time, but confronting her problems might be the only way to finally figure out her life.