Enola Holmes: Who Are the Real Suffragists on the Flyer?
Enola Holmes Pays Tribute to Real-Life Suffragists With This Small Detail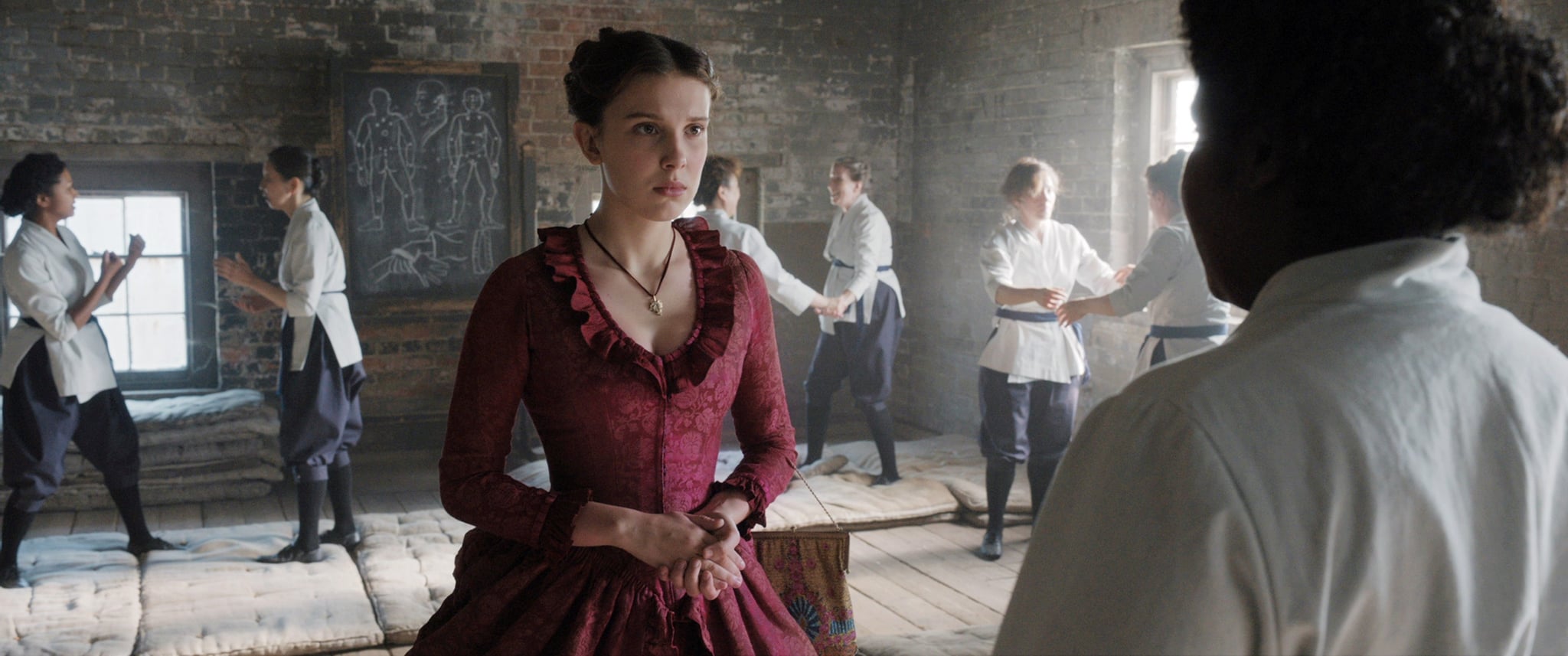 From its sketched out female characters to its subject matter, Netflix's Enola Holmes places feminism front and center in its story. Throughout the movie, we get allusions to a reform bill. While we don't know much about the law, the film indirectly references the women's suffrage movement in the United Kingdom. While searching for her mother, Enola (Millie Bobby Brown) heads to Limehouse Lane and encounters a hideout containing explosives. There, she finds a flyer with "Manchester National Society for Woman's Suffrage" printed on it. The speakers are indicated on the page as Amie Hicks, Gwyneth Vaughan, and Margaret McMillan. In case you wondered, these names aren't random.
If you sleuth the web, you'll find that Hicks, Vaughan, and McMillan were real-life European suffragists, much like Eudoria (Helena Bonham Carter) and Edith (Susie Wokoma). Here's what you should know about these three and how they moved the needle forward for women.
Amie Hicks (1839-1917)
Feminist and trade unionist Amie Hicks was inspired by her father, who participated in the Chartist movement to expand suffrage (the right to vote) to working-class men. After joining the Social Democratic Federation (Britain's first socialist party) in 1883, she began focusing on women's suffrage. In 1889, Hicks organized a union for women ropemakers, working as its secretary for ten years. She also supported groups such as the Central National Society for Women's Suffrage and the Women's Emancipation Union. In 1896, she befriended feminist Charlotte Perkins Gilman and traveled around England to speak at meetings for women's rights. Other groups she led include the Clubs' Industrial Association and the National Organisation of Girls' Clubs.
Gwyneth Vaughan (1852-1910)
Welsh novelist and editor Annie Harriet Hughes went by the pen name Gwyneth Vaughan. Her books, including O Gorlannau y Defaid (From the Sheepfold) and Plant y Gorthrwm (The Children of the Oppression), explored women's roles in society. Hughes became known as a Liberal, temperance, and moral campaigner, working with the British Women's Temperance Association. She spoke at suffrage meetings, including one for the National Union of Women's Suffrage Societies in 1906 — you'll notice that the flyer is pretty similar to the one in the movie. From 1898 to 1905, she acted as the secretary of the Welsh Union of Women's Liberal Associations.
Margaret McMillan (1860-1931)
A nursery school pioneer, Margaret McMillan was passionate about exposing and improving conditions for schoolchildren. Her sister Rachel converted her to socialism, and they were active in groups such as the Social Democratic Federation. Both contributed to the magazine Christian Socialist and gave free evening lessons to working girls in London. After visiting poor areas in Bradford, the women narrowed their focus to the welfare of impoverished children. They campaigned for bathroom installation, improved ventilation, and free school meals at elementary schools. Both McMillan and her sister also supported universal suffrage.
Obviously, Enola Holmes doesn't directly introduce us to these women. Still, the fact that they get a nod is more than telling when it comes to the film's devotion to a robustly feminist message.