What Parents Should Know About Enola Holmes | Parents' Guide
Netflix's Enola Holmes Is Packed With Action — and Positive Messages For Kids
Watch out! This post contains spoilers.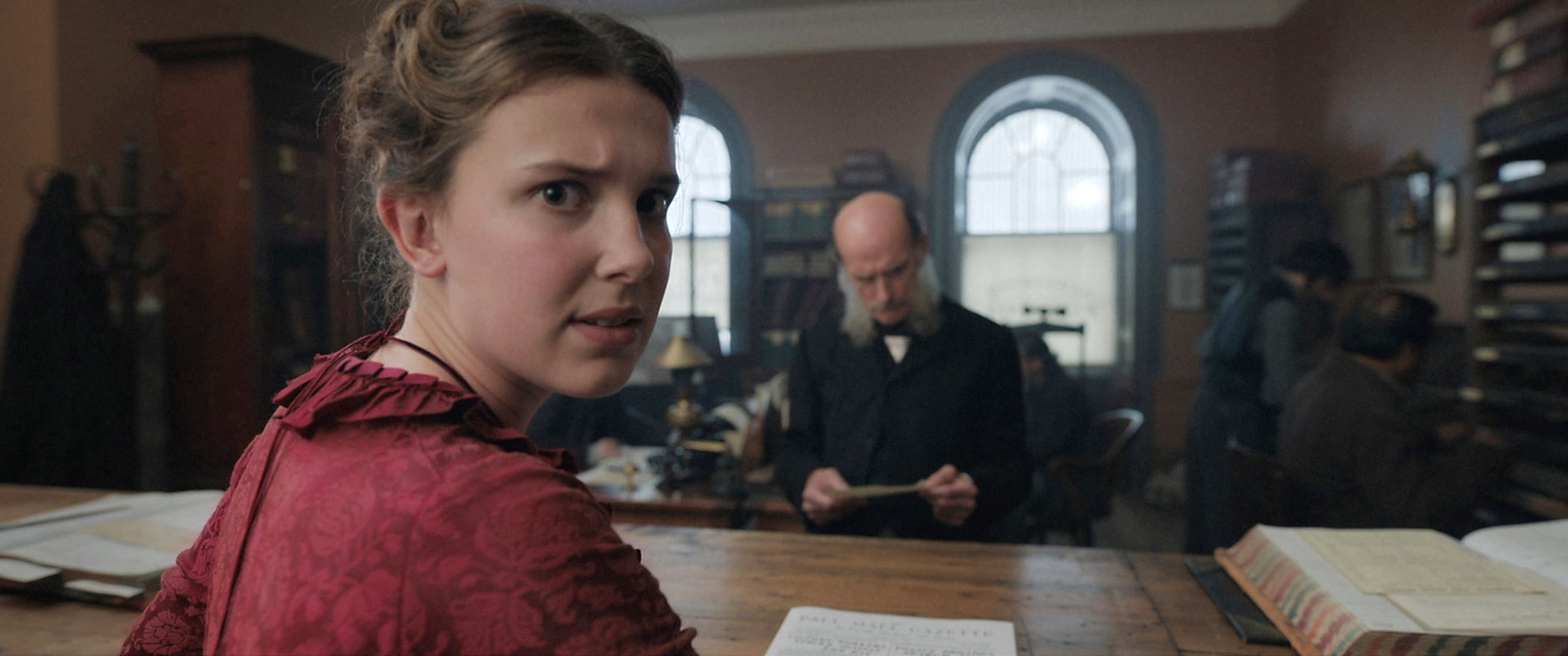 Between Knives Out and Murder Mystery, it's been quite the moment for fun whodunit movies. Now, there's a new family-friendly take on the genre: Enola Holmes. The Netflix film follows the misadventures of Sherlock and Mycroft Holmes's younger sister Enola (Millie Bobby Brown). Enola heads on a journey full of twists and turns after her mother Eudoria (Helena Bonham Carter) disappears from their quaint cottage — all while avoiding her meddling brothers (Henry Cavill and Sam Claflin). Before you stream Enola Holmes with your little ones, you might wonder how appropriate it is for your child. Well, the PG-13 rating is pretty spot on. The film isn't morbid or raunchy, keeping things light and fun with a sprinkling of action and rude humor. But before you press play with your kids, here are a few things to note.
Enola Holmes is a long film.
The official runtime is two hours and three minutes, which definitely isn't a short movie span. However, the film goes by fast, as it's action-packed and full of funny, playful moments. Because it's on Netflix, it's easy to pause and revisit for needed breaks.
The movie contains strong messages about standing up for what you believe and trusting yourself.
Enola's mother is a feminist who fights for women's rights. A brave and clever girl, Enola also learns to stand up for herself. She's always ready to push back against her brother Mycroft's sexist slights. Above all else, she trusts herself enough to look for her mother and save Tewksbury (Louis Partridge).
Enola has meaningful interactions with other women.
Enola has nuanced relationships with various women in the film, from Edith (Susie Wokoma) to Miss Harrison (Fiona Shaw). We get a developed understanding of her fun and wild relationship with her mother. Yes, Enola and Tewksbury have a romantic vibe going on, but the movie primarily focuses on Enola's search for her mother. In fact, Enola spends a good chunk of the movie refusing to be associated with Tewksbury and her brothers.
There's a fair deal of violence.
Speaking of action-packed, Enola Holmes is full of fight scenes. Stranger Things' Eleven might control things with her mind, but Millie Bobby Brown is kicking physical butt here. While the movie isn't John Wick levels of graphic, it features slamming, punching, slapping, brawling, and choking, often provoked by a creepy man in a bowler hat. There's also one death at the end of the movie after a violent sequence.
Keep an eye out for frightening situations.
Though endearing, Enola is a bona-fide troublemaker who gets in a lot of hot water. After she runs away from home, she jumps out of a moving train and escapes an exploding building. The mysterious man in the bowler hat also threatens her with knives, guns, and other violent tactics.
Enola Holmes is pretty similar to your good-old superhero movie. While the action can sometimes get a little rowdy, the film comes with plenty of positive takeaways about self-trust and feminism.