How Gente de Zona — Cuba's Best-Known Reggaeton Duo — Influenced My Upbringing in Miami
I will never forget the first time I heard Gente de Zona. It was a typical Sunday in my childhood home, which meant two things: I had to help my mom clean our house, and we were, of course, going to blast reggaeton while doing it. My dad would always fill the house with sounds from Tego Calderón, Ivy Queen, Daddy Yankee, and, at the time, an upcoming duo who went by the name Gente de Zona. As I danced en la sala with the mop in one hand and the other hand up in the air, I couldn't help but jam out for hours. Gente de Zona hit differently. The energy from their music was contagious even from early on. I knew that every Sunday, I would have those two things to look forward to: cleaning the house and listening to Gente de Zona.
Reggaeton wasn't only a major part of my upbringing, but it was and continues to be a vital component of the city of Miami, where I was born and raised.
Reggaeton wasn't only a major part of my upbringing, but it was and continues to be a vital component of the city of Miami, where I was born and raised. Millions of tourists visit the Sunshine State yearly for our delicious Cuban food, the rich culture of Calle Ocho, the warm waters of South Beach, and, of course, our irresistible music. As a city that carries urban music through its roots with reggaeton playing in every venue you walk into, it was genuinely no surprise when Gente de Zona hit Miami with full force. It's safe to say they brought the Miami heat and then some — complementing the city's music scene.
The road to success for Gente de Zona has been long and certainly didn't happen overnight. As a group, Gente de Zona have been through numerous changes, but one thing has remained the same: their impact on the city of Miami. Founded by Alexander Delgado back in 2000 along with Michel (El Caro), the duo were performing all around Cuba in towns like Alamar and Guanabacoa.
El Caro decided to go his own way in 2005. Shortly after, Jacob Forever and Nando Pro joined Delgado as part of Gente de Zona. The entrance of these artists into the group was a blessing in disguise for the group's founder: not only were they able to release the group's first album, "Lo Mejor Que Suena Ahora," with multiple megahits on the radio, but they also found their way to dominate the music scene in South Florida. If you resided in Miami during the mid- to late 2000s, I'm sure you memorized songs like "Le Gustan Los Artistas," "Soñé," and "El Animal," among others. Every restaurant, bar, and event venue in south Florida would blast the group's catchy tunes. During this period, Gente de Zona released two more albums: "A Full" and "Lo Nuevo y Lo Mejor."
After this wave of fame, Jacob Forever and Nando Pro made the decision to part ways with the group, leaving Delgado searching for musical talent once again. That's when sensation Randy Malcom Martinez — former member and composer of the Cuban group Charanga Habanera — came into the picture, completing the Gente de Zona that many Miamians have gotten to love. To date, Delgado and Martinez have topped the Latin music charts, earned numerous Latin Grammy Awards, performed for fans internationally, and joined forces with some of the biggest musical names in the industry. Their collaborations with artists like Enrique Iglesias, Pitbull, Becky G, Jennifer Lopez, and Marc Anthony have been pivotal moments in the group's career that helped put Cuba and its people at the forefront.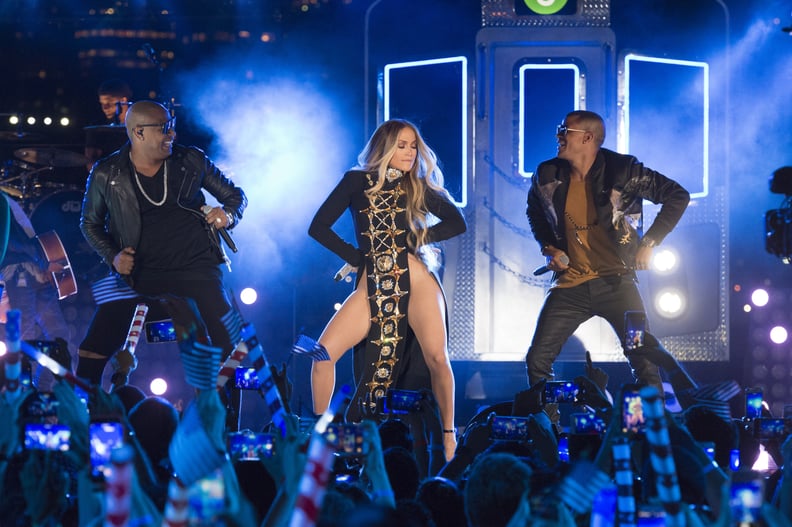 Image Source: Getty / Virginia Sherwood
The cultural references in their music quickly gained global dominance beyond Cuba and Miami. Back in 2014, when the duo collaborated with Iglesias on the smash-hit single "Bailando," it opened collaborating doors for them and took Cuba's reggaeton sound to an international stage it had never been on. The music video for "Bailando" has 3.2 billion views on YouTube, just to give you an idea of what I'm referring to. It's impressive that they managed to do this from Cuba, but most importantly that they broke the stigma that Cuban artists would never have the opportunity to collaborate with artists on an international level.
The reggaeton hothouse has unapologetically represented the next generation of Cubans. They've embraced Miami's culture as their own along the way, and with their fused music of reggaeton and Cuban rhythms, they've been able to increase Cubaton's musical movement. Not only did their music serve as the soundtrack to very special memories in my life, but you can always get a sense of Miami's energy through Gente de Zona.
Gente de Zona's beginnings are humble, and as a daughter of Cuban immigrants, it's one I can so easily relate to and admire. I'm proud of their success and looking forward to what the future has in store for them as a duo and individually. It's with no exaggeration that I say reggaeton played a major role in my upbringing and influenced the woman I am today. Nearly a decade since my father introduced Gente de Zona's music into my life, I still find myself listening to my favorite reggaetoneros with the same excitement from those Sunday mornings in Miami.
="">