All Your Questions About the Green Book Controversies, Answered
When Oscar nominations were announced in January, one of the more controversial films of the year was heavily represented. Green Book, the feel-good drama about a black pianist and his white driver in the 1960s deep South, received several major nominations, including nods for stars Viggo Mortensen and Mahershala Ali, as well as a best picture nom.
While the story of interracial friendship in the civil rights era might seem like a typical movie, Green Book has been dogged by controversy since its release. Below, we're breaking down why the award season favorite is not such a favorite in many circles.
(Not) Based on a True Story
Green Book claims to be based heavily on a true story. Cowriter Nick Vallelonga's father, Tony "Lip" Vallelonga, was the white driver (played by Mortensen) who was assigned to escort concert pianist Dr. Don Shirley through his tour in the South, and Vallelonga's film purports to be based on the men's real story. However, Shirley's family disputed the veracity of the film in an interview with Shadow and Act in December 2018.
Calling the film a "symphony of lies," the Shirley family refuted many of the plot points in the film. Dr. Shirley's estrangement from his family — and from the black community as a whole — was not true to history; he was, in fact, close to his family and active in the civil rights movement. The family also explained that Vallelonga Sr. and Shirley's relationship was purely professional, not a personal friendship, and that Shirley himself had rejected the idea of the film when Nick Vallelonga first approached him about it. Ultimately, the family criticized the movie harshly for exaggerating stories and making up other parts wholesale, all without consulting Dr. Shirley's surviving family.
For his part, Vallelonga told Variety that he got his information directly from his father and Dr. Shirley. He went on to claim that he spoke to Dr. Shirley before his death in 2013 and that the pianist gave his blessing and told him not to speak to any other sources, including his family.
Ali, meanwhile, reached out to the Shirley family after the controversy broke, as Vulture reported.
"I got a call from Mahershala Ali, a very, very respectful phone call, from him personally. He called me and my Uncle Maurice in which he apologized profusely if there had been any offense," Shirley's nephew Edwin said. "What he said was, 'If I have offended you, I am so, so terribly sorry. I did the best I could with the material I had. I was not aware that there were close relatives with whom I could have consulted to add some nuance to the character.'"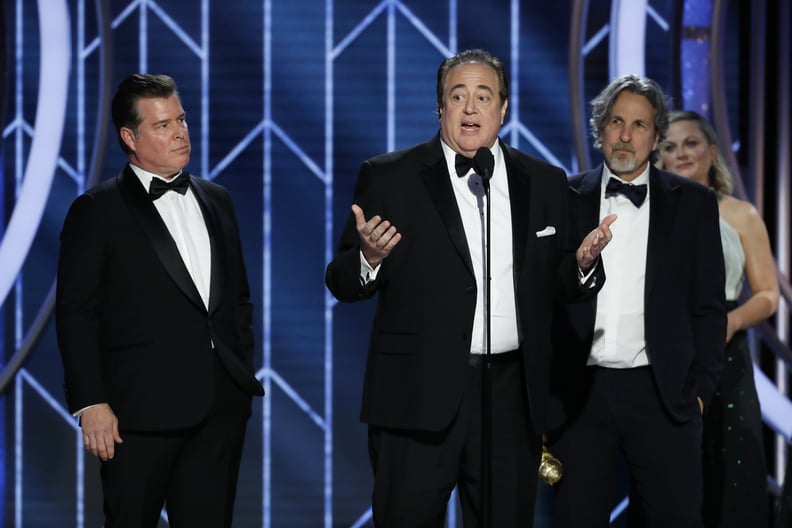 Creative Team's Past
The dispute with Dr. Shirley's family wasn't the only hot water that the Green Book creative team found themselves in. Twitter users discovered a nasty, Islamophobic tweet by Nick Vallelonga (center above, with Brian Currie and Peter Farrelly at the Golden Globes) that agreed with then-candidate Donald Trump's claims that Muslims were seen celebrating the fall of the Twin Towers on 9/11.
"100% correct. Muslims in Jersey City cheering when towers went down. I saw it when you did, possibly on local CBS News," read the now-deleted tweet. Vallelonga's claim — and the theory as a whole — was debunked after the initial theory was circulated in 2016. Two days after the tweet was discovered and then deleted, Vallelonga issued an apology "to everyone associated with Green Book... and all members of the Muslim faith for the hurt I have caused."
Vallelonga wasn't the only Green Book team member with offensive moments resurfacing. During a Q&A session for the movie and a conversation about hate speech, Mortensen spoke the N-word aloud and uncensored as an example of speech that is no longer tolerated. He swiftly issued an apology, stating in part: "I have no right to even imagine the hurt that is caused by hearing that word in any context, especially from a white man. I do not use the word in private or in public. I am very sorry that I did use the full word last night, and will not utter it again."
Director Peter Farrelly also was the focus of some controversy of a different nature. A Newsweek article from 1998, focused on Farrelly's earlier film There's Something About Mary, revealed that Farrelly and his brother, writer/director Bobby Farrelly, had a trademark "prank" that they played: tricking cast and crew into looking at Farrelly's genitals.
"You may think you're going to be examining a mysterious blotch on Peter's torso, or checking out his new watchband. The reality is a good deal more shocking," the article narrates. The Cut assembled other interviews in which Farrelly talked gleefully about this "joke"; in the present day, he issued a comment that he was "an idiot" in the days when he performed this stunt repeatedly.
Depictions of Race Relations
A warm-and-fuzzy story about an interracial friendship is just the kind of film that critics tend to love, but Green Book's particular brand of race relations has raised eyebrows. The film, which prominently features several moments in which Mortensen's "Lip" rescues Dr. Shirley from racists or introduces him to the music of prominent black musicians, has been criticized for being reductive and a "white savior" narrative that fails to reckon with the complexity of Shirley's black identity, as one critic in Vanity Fair explained. The film has also been unfavorably compared to other acclaimed films with black leads, such as fellow Oscar nominees BlacKkKlansman and Black Panther, and their depictions of racial identity and relations.
The creative team described the theme of the film to NBC News as simply "show[ing] that communication, love and shared experience... that everyone is the same, and has the same human emotions."
Despite these controversies, Green Book has already racked up some serious hardware: it won best picture honors at the Golden Globes and from the Producers Guild. It remains to be seen if the backlash will affect its Oscar hopes when the awards are handed out on Feb. 24.