Halsey Singing "Mean" by Taylor Swift Video
Halsey Takes a Stand in Taylor Swift's Scooter Braun Feud by Singing "Mean" Cover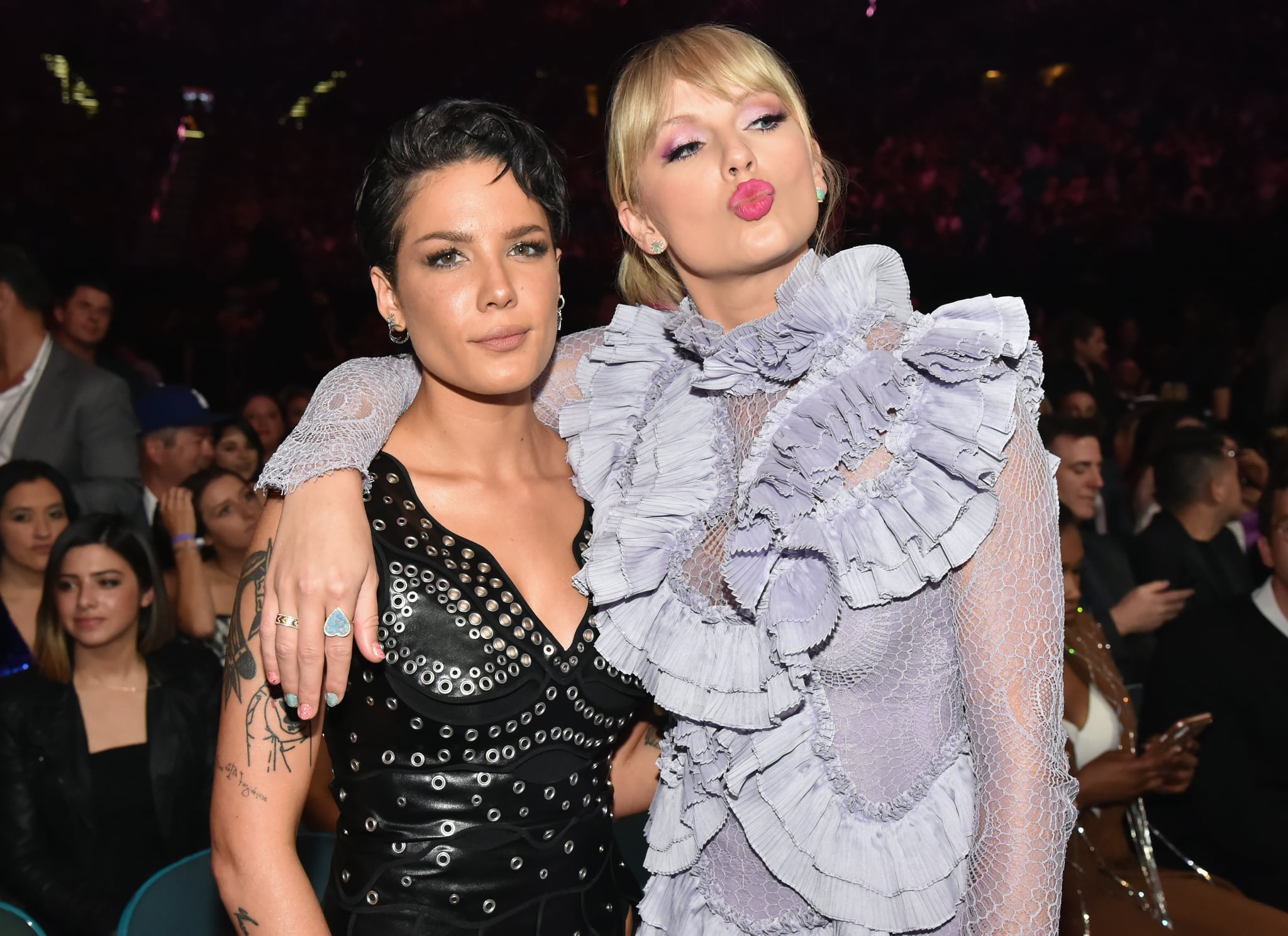 Halsey has made it crystal clear whose side she's on regarding Taylor Swift's feud with Scooter Braun. On Thursday, the singer recorded a video of herself belting out Swift's 2010 single "Mean," the lyrics of which reference Swift's personal clash with a music critic. Halsey posted the clip to her Instagram story — complete with a twangy accent — not long after Swift tweeted about her ongoing issues with Braun, who she accused of essentially stealing the rights to her music out from under her earlier this year.
This isn't the first time Halsey has praised Swift, either. At the We Can Survive concert in honor of Breast Cancer Awareness Month in October, the 25-year-old said of Lover, "The whole new album is my shower music. It's really insane. I think my assistant has like 100 videos from outside the door." To prove her point, she sang a snippet of "Lover," and the crowd went wild.
I'M OFFICIALLY, COMPLETELY, UNEQUIVOCALLY, INCANDESCENTLY, 100% A HALSEY STAN.#IStandWithTaylorpic.twitter.com/msgmU5Y3HQ

— Taylor Crave (Lite) (@mainpopgirI) November 15, 2019
If you haven't been paying attention to Swift and Braun's back and forth, the feud began in June, when Braun, a high-profile manager of artists like like Ariana Grande and Justin Bieber, acquired the rights to Swift's music in a $300 million deal with Scott Borchetta, the founder of Big Machine Records where Swift got her start. That meant Swift lost the rights to her entire music catalog to Braun and Borchetta, but later declared she had plans to rerecord all of her music, which she is "legally allowed to do and looking forward to."
Unfortunately, her upcoming performance at the American Music Awards on Sunday appears to have violated part of Braun's contract of ownership, and now he's barring her from singing the songs she was initially planning on. Swift called on her fans for support after learning of the restrictions Braun was placing on her in a tweet.
"I've been planning to perform a medley of my hits throughout the decade on the show," Swift said, referring to the upcoming AMAs. "Scott Borchetta and Scooter Braun have now said that I'm not allowed to perform my own songs on television because they claim that would be re-recording my music before I'm allowed to next year."
Don't know what else to do pic.twitter.com/1uBrXwviTS

— Taylor Swift (@taylorswift13) November 14, 2019
Braun and Borchetta have yet to release a response to Swift's accusations, but at least fans of the "You Need to Calm Down" singer can rest assured that plenty more of her A-list friends are likely going to release messages of support on social media sometime soon.