House of the Dragon: Milly Alcock and Emily Carey Recasting
The Reason Milly Alcock and Emily Carey Were Recast on "HOTD" Actually Makes Sense
As POPSUGAR editors, we independently select and write about stuff we love and think you'll like too. If you buy a product we have recommended, we may receive affiliate commission, which in turn supports our work.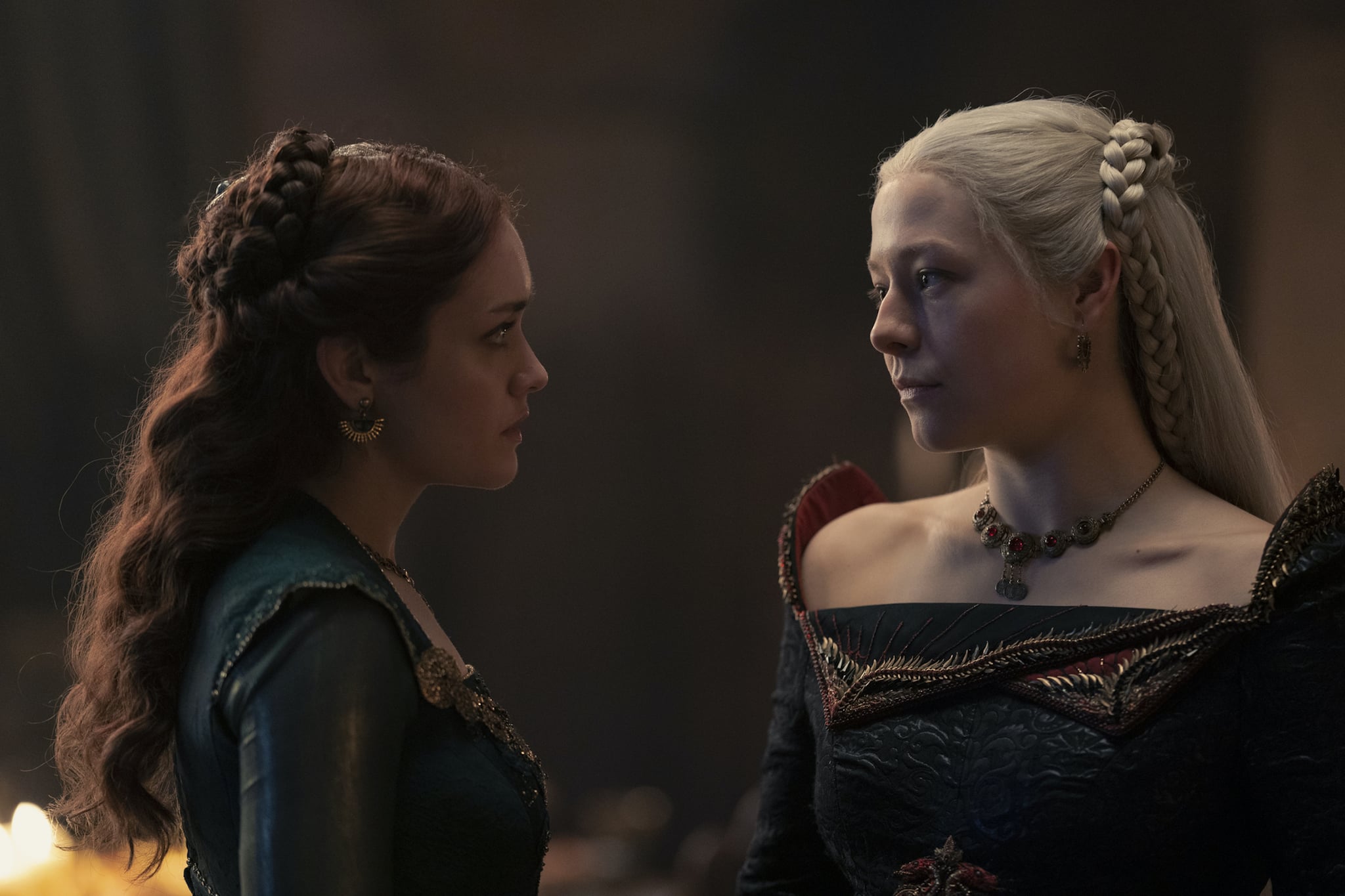 The first season of "House of the Dragon" has been racing through the timeline, covering several years in just the first few episodes. After half the season, however, we're seeing a major cast change: actors Milly Alcock and Emily Carey, who have played Rhaenyra Targaryen and Alicent Hightower, respectively, will be departing the series. Going forward, as their characters grow further into adulthood and further away from the teenagers we met them as, they're being replaced by new actors. Here's everything to know about the major change.
Why Were Milly Alcock and Emily Carey Recast in "House of the Dragon"?
The time jump between the actual "cast change episodes" (the fifth and sixth episodes of the season) is about a decade, enough time that it makes sense to have the recast happen at that point. Although that shift itself isn't necessarily a huge time jump, the show will most likely follow its characters well into their 40s, if it follows the timeline of the book "Fire & Blood." As a result, Alcock and Carey would be far too young to play their characters in the characters later years.
Which Actors Replaced Milly Alcock and Emily Carey on "House of the Dragon"?
In the first episodes of the show, Rhaenyra and Alicent are in their teens and (at least in Alicent's case) early 20s, which lines up with the actors' ages: Alcock is 22 years old, while Carey is 19.
After the decade-long time jump, Rhaenyra and Alicent will be played by Emma D'Arcy and Olivia Cooke, respectively. At this point in the story, Rhaenyra is in her late 20s to early 30s and Alicent is well into her 30s. This, again, lines up with the older actors' real-life ages: D'Arcy is 30 years old, and Cooke is 28. It's easier to "age up" those actors as needed than it would be to age them down enough to be believable teenagers, so the double casting makes sense.
The approach is similar to how other TV shows have handled timelapse cast changes when necessary. For instance, the second season of "The Crown" ends in 1964, and the third season picks up just months later. In that time, however, the cast changes to noticeably older actors in order to play the characters for the next couple of decades worth of story. For shows that cover large spans of time, it's usually inevitable that there will have to be a cast change at some point, and it's just a matter of finding the most seamless point in the storytelling to do it.
Will Milly Alcock and Emily Carey Return to "House of the Dragon"?
Even though the main cast has now changed, it might not be the last we see of Alcock and Carey's versions of Rhaenyra and Alicent. In an interview with "Complex," Alcock didn't shut down the possibility of a return to the role of Rhaenyra.
"I have no idea what the future holds. I don't even know what I'm doing next week, so I don't know," she said when asked if she could return to the show. "[The show] was completely life-changing in every aspect. I feel like I changed as an actor and as a person. I changed physically. I moved across the world, and now I live in London. It's opened up a potential career for myself. It was completely overwhelming, incredibly challenging, and indefinitely rewarding in every aspect. But it was a battle."
Sign up for HBO Max now to watch "House of the Dragon."