How Early-2000s Reggaeton Served as My Entry Point to Latin Music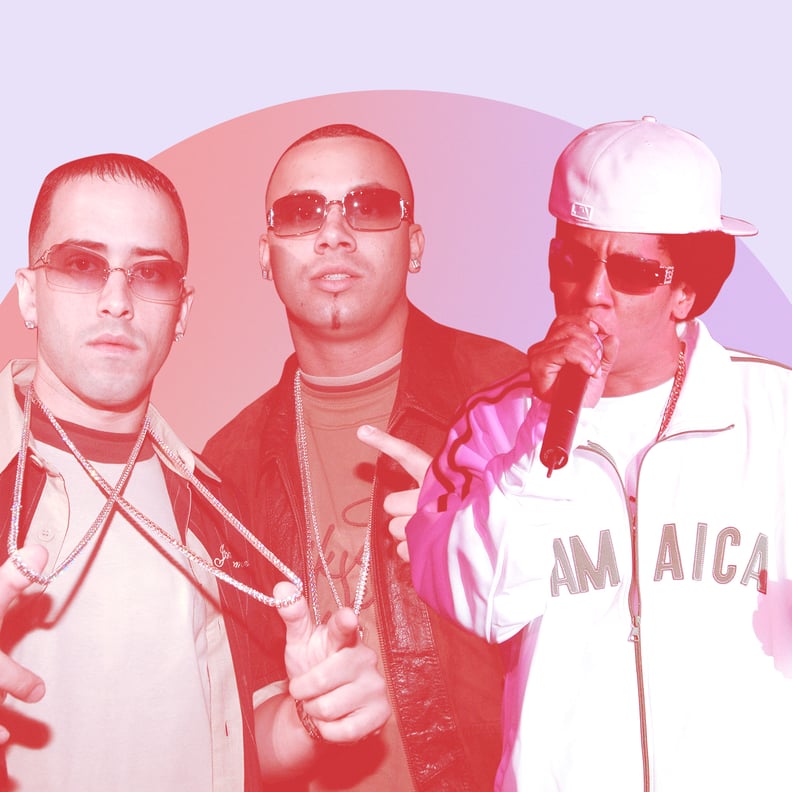 Getty | Jeff Kravitz
Getty | Scott Gries
Photo Illustration: Michelle Alfonso
Getty | Jeff Kravitz
Getty | Scott Gries
Photo Illustration: Michelle Alfonso
I still remember where I was the first time reggaeton made me look up a song. It was 2007; I was 19, sitting in my then-boyfriend's living room. He was flipping channels as I messed around on my Sidekick when MTV3 came up on the screen. He paused long enough for me to make out the song. It was Eddy Lover in dark sunglasses belting out "Perdoname" as Demphra and Joysi Love of La Factoria swiveled around in their black and red corsets with the wind in their faces. I was captivated: not just by Eddy's falsetto or Joysi and Demphra's deep commanding voices, but by the fact that this music hit so much harder than everything I'd heard up to that point.
Even though I had already lived through "Living La Vida Loca" with Ricky Martin and "Whenever, Wherever" with Shakira, there was nothing distinctly Latine about those artists aside from the "Latin flair" that came from being light-skinned Latin Americans. More so, the "Latin Explosion" from the millennium was more about making Latine artists palpable and safe for white American audiences rather than asserting their cultural pride. The old rich white men at the record labels were very much behind what they thought would be "Latin, but not too Latin."
By 2007, Daddy Yankee was already eating up the airwaves with songs like "Lo Que Pasó, Pasó" and "Gasolina" that came from his third studio album, "Barrio Fino." But "Perdoname" was the first time I saw Black people behind the mic. It was also the first time I'd heard a reggaeton song that wasn't sharing space with the English mainstream — this was not a mistake.
There was a reason white and light-skinned reggaetoneros were the only ones visible. "Reggaeton became mainstream because [of] large radio companies like SBS (Spanish Broadcasting Systems) that were owned by Univision," reggaeton historian and journalist Katelina "Gata" Eccleston tells POPSUGAR. "[Executives] recognized the ability for [reggaeton] to be shared nationwide on a regular basis after Daddy Yankee's success with 'Barrio Fino.' His album, his image, was a 'perfect product' — so much so that all bets were placed on him. Reggaeton's Black qualities were and still are very discriminated against. What contributed to its mainstream shift was finally [demonstrating] that the industry could control who would be representative of this music with artists they deemed worthy."
I remember looking up more La Factoria songs on YouTube without much success. The information about reggaeton, perreo, and other artists was very limited. Shazam was also no help at the time with lesser-known artists and didn't have much of a Spanish catalog. Being a reggaeton fan in the early 2000s meant you needed to know how to navigate torrents like Napster and LimeWire without getting a virus that would destroy your entire computer.
"I remember my cousins from New York had Napster and could burn CDs for me," CEO and founder of Rizos Curls Julissa Prado recalls. "When we would go to Mexico, the bootleggers would make me custom CDs, and that's how I would get all my reggaeton music." I didn't have an East Coast plug, so my reggaeton came from MTV3, Latino 96.3 FM in Los Angeles, and house parties in Pomona, CA. MTV3, Latino radio, and house parties also exposed me to reggaeton-adjacent Latin music that was fresh and different from what the old heads were listening to. Thus it became my entry point not only into reggaeton but into all Latin music and culture.
My earliest memories of connecting with songs were with bands like Smashing Pumpkins, The Cure, Weezer, and Destiny's Child. My dad grew up listening to Cream, Jimmy Hendrix, and Pink Floyd. My mom listened to Elvis and The Beatles. I've never in my life heard my parents listen to banda, mariachi, salsa, or cumbias; for sure, I'd never catch them bumping "Rompe." They rebelled pretty hard against the traditions of their parents, and there I was running right back to them. My Chilean grandma who lived with us loved Julio Iglesias and romanticas, but to me, that seemed like dorky old-people music that would play on Saturday mornings. "El Manisero" is probably the only song of Iglesias's I can recognize.
I was in the throes of my emo-slash-screamo phase (Taking Back Sunday, Brand New, Saosin, and Chiodos) when the reggaeton beat forced me to pay attention and start exploring. At house parties, I would annoy the DJ with a million questions, or I'd ask whoever was around if they knew what song was playing. I would text the name to myself so I could look it up when I got home. From there, Latin hip-hop/pop was the next logical progression. Pitbull's "Ay Chico" and "Culo" were always on repeat. Nina Sky and N.O.R.E. said, "If you're proud to be Latino, stand the f*ck up," and I did. In fact, it was probably the first time in my life I felt true pride in my heritage.
Reggaeton gave me permission to love my roots and to undo a lot of the harmful messaging I received about who I was as a Latina within the context of the US and English American culture.
Connecting with Latine culture was hard after growing up in white institutions that claimed they didn't see my color or my heritage. Only looking back can I see how constant and unforgiving the microaggressions and direct aggressions actually were. The music connected me with people like me after years of feeling like the odd one out. It also connected me with the different facets of Latine culture. Reggaeton gave me permission to love my roots and to undo a lot of the harmful messaging I received about who I was as a Latina within the context of the US and English American culture.
In 2007, I unknowingly stepped into the perreo galactico era (2007-2011), which was reggaeton/perreo with EDM influences that were more or less in tandem with the crunk hip-hop era via Lil Jon, Ying Yang Twins, and Crime Mob. It was then that I discovered Wisin y Yandel, Plan B, Alexis y Fido, Arcangel, Tego Calderón, and Zion y Lennox and started getting more into Daddy Yankee. According to Eccleston, perreo galactico laid the groundwork for reggaeton's current takeover. "By the time 'Despacito' came about, a movement called perreo galactico was underway," Eccleston says. "Starting in 2007, 'reggaeton fusion' (aka perreo galactico) paved the way and proved to everyone [that reggaetoneros] can make danceable, mainstream, modern reggaeton tracks. That laid the foundation for softer songs like 'Despacito' to be received both by underground fans and mainstream fans."
Today, artists like Bad Bunny have been able to "cross over" without having to sacrifice who they are and have instead been rewarded for sticking by their heritage.
Today, artists like Bad Bunny have been able to "cross over" without having to sacrifice who they are and have instead been rewarded for sticking by their heritage. Bad Bunny has openly rejected singing in English as a way to "make it" in America. By being himself, he's since become the most streamed artist in the world, breaking Drake's record and his own all-time record for the biggest streaming year for any artist in Spotify history with over 10.3 billion streams.
I truly believe I would be a completely different person if my ex-boyfriend had not been flipping channels that day. I learned to dance merengue at my friends' family parties, and I watched "El Cantante" with Jennifer Lopez and Marc Anthony as "research." And as I began listening to the songs more and more, I learned about Willie Colón. I learned about US intervention in Cuba, Fidel Castro, and Che Guevara beyond the high-school textbook that only really teaches us about the Cuban Missile Crisis and the Bay of Pigs. Although I already knew about Celia Cruz as a cultural icon, I started to listen more intentionally to her songs. It wasn't until 2012 that I started getting into cumbias sonideras and learning about the differences in cumbias like Mexican cumbia vs. Colombian cumbia. I started to circle back to Selena (we all did) and eventually started to really like electro cumbias via Raymix out of CDMX. It was fairly recently that I got into corridos tumbados and mariachi. The first time I really felt "El Rey" by Vicente Fernández was when I heard a queer woman sing it with her whole chest. It would be dramatic to say that reggaeton and perreo made me who I am today, but — low-key — it did.