Colorism Shouldn't Be Excluded From P-Valley, Because You Know What? It's Real
"Let that stage be your stepping stone, not your tombstone." That's Uncle Clifford's number-one rule at The Pynk, a strip club off exit 2-9 in the fictional town of Chucalissa, MS, that serves as the hub for Starz's breakout series P-Valley. Adapted from Katori Hall's stage play P*ssy Valley, this show offers a pan-seared view of the lives of strippers in the Dirty Delta. Hall serves as creator and showrunner of the hour-long drama that humanizes sexworkers through kaleidoscopic stories. The show is artivism at its best: an entertaining view of the Southern Black experience while honing in on the various nuances that exist within the backstories of those who occupy the same space — domestic violence, closeted gay men, racism, politricks, gentrification and, colorism.
Colorism, or shadeism, is discrimination within the same ethnic group based on your complexion. Individuals are treated differently because of the cultural meanings or stereotypes attached to the depth of their skin color. Colorism has long played a part in Hollywood in regards to casting opportunities but rarely presents itself within the script, on the TV screen, in such a "matter of fact" way as presented in this show. Aside from a Black-ish episode aimed at colorism when Diane's (Marsai Martin) class photographer doesn't know how to provide adequate lighting for Black girls (which caused her photos to turn out horrible), colorism is seen as more of an elephant in the room.
In the pilot episode, "Perpetratin'," mysterious newcomer Autumn Night (Elarica Johnson) shadows strip club vet Mercedes (Brandee Evans) on her first shift at The Pynk. As Mercedes is working the room, warming up her next client, Autumn catches the eye of Mercedes' customer causing Mercedes to invite her to share the VIP session. At the end of the night, Uncle Clifford (Nicco Annan), owner of The Pynk, congratulates Autumn on a good first night. Mercedes comments, "She ain't do nothing but lay up there looking light." Uncle Clifford responded, "Well that's what yella bitches do," slamming the topic of colorism on the table.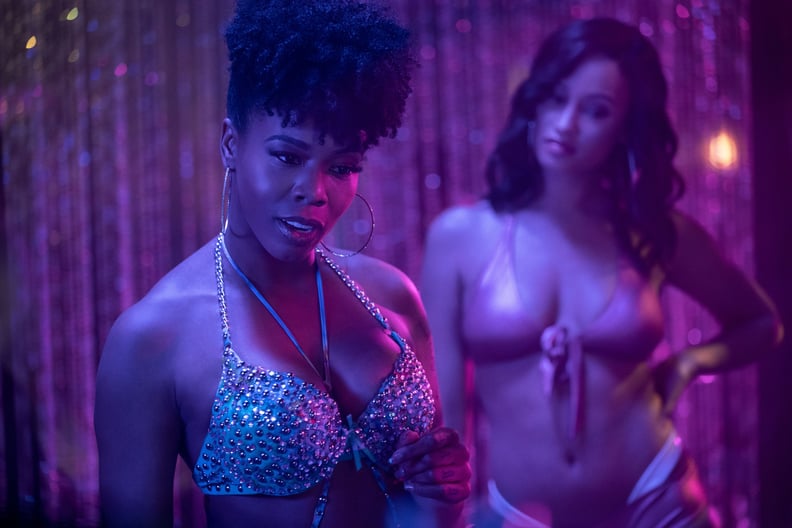 In order to present a truly authentic portrayal of life in the South, it has to include the good, bad, and the dirty. This is especially important when showcasing the Black experience in correlation to strip culture, where colorism can affect the amount of money you bring home at the end of the night. In the sexwork industry it's not uncommon for dark-skinned women to make significantly less money for dances than lighter-skinned women — or, like in Mercedes's case, have to work their ass off while the lighter-skinned girls like Autumn make the same amount or more by simply "looking light."
Without colorism being prompted by the dialogue, we see Mercedes as the hardworking queen of The Pynk dancing on the ceiling of her career both literally and figuratively. She's studied her craft and is able to spot her next client from across the room. She's held in such high regard that she can kickstart an artists' career by simply dancing to their track during her set. When Mercedes calls out Autumn's lackluster performance, she's confirming what some are already thinking: Autumn is aware of the power her skin holds and while she may not agree with it, she won't reject the harvest she can reap from it.
For example, when Autumn first arrives at The Pynk, Diamond (Tyler Lepley), the security guard, tells her the cost is $30 to get in. Autumn offers him $20 and her email address assuming that he'll fall victim to her beauty and let her slide. Now, the audacity of Autumn to assume that Diamond would accept her counteroffer and let her in, is an air of assuredness that darker-skinned Black women don't own.
These introductions to the topic of colorism received mixed reactions on Twitter. As people live-tweeted during the show, some viewers scoffed at the issue of colorism being represented in the show, claiming that the idea is unoriginal and dated. While the topic of colorism may not be new, it would be a disservice to ignore its existence while it looms overhead the Black community both on and off the pole.
"If hearing our characters constantly bring up skin color makes you uncomfortable, you should be. That's the point. Black is Black. Period," tweeted Shannon Thornton, who plays Mississippi on the show. "These subcategories of Blackness-light skin/ dark skin- is some BS. Let's change that!" Hall retweeted Thornton adding, "Sadly colorism has detrimentally impacted us all — from America to India — and we're holding a mirror up."
P-Valley has bite. Inside the vibrant energy of the show, Hall's story rhythm provides an ebb and flow that allows us to enjoy its various nuances without feeling weighed down by the exploration into these deep-seated issues. It's OK to experience conflicting emotions around these taboo themes — that's what good art can do.