I'll Be Gone in the Dark: The Grisly Story Behind the Notorious Golden State Killer
HBO's new six-part docuseries I'll Be Gone in the Dark is based on Michelle McNamara's book of the same name and describes her quest to find the notorious Golden State Killer, a serial rapist and murderer who was active during the 1970s and 1980s. McNamara worked on finding the killer and writing her book up until she died in 2016, and a man was caught and tied to the crimes in 2018.
A variety of murders, assaults, and burglaries occurred in California in the '70s and '80s, and when McNamara, a TV and film writer and true-crime fanatic, started looking into the cases, she connected the dots between them. In the 1970s, Visalia, CA, was "terrorized by 85 burglaries and a murder, a series of crimes attributed to a perpetrator known as the Visalia Ransacker," according to NPR.
In the late 1970s and into the '80s, there was a series of assaults and murders in California attributed to what the authorities were calling the East Area Rapist and the Original Night Stalker. According to CNN, the suspect's crimes ranged in location from Orange County to Sacramento. McNamara found similarities in some of the rapes and murders and drew the conclusion that all of these crimes were most likely committed by the same person. She dubbed him the Golden State Killer, and the authorities kept that name as they continued their search, despite many decades having passed.
After DNA matching became more advanced in 2001, the case got a new life as pieces started to come together. McNamara followed the trail of the Golden State Killer for years as she wrote her book I'll Be Gone in the Dark, but she died in her sleep in 2016 before finishing the work or seeing a resolution in the case.
On April 24, 2018, authorities arrested former police officer Joseph James DeAngelo Jr. after matching his DNA to that found at some of the Golden State Killer's crime scenes. He was charged with 13 counts of murder and numerous counts of kidnapping and weapons charges. His charges span six California counties: Sacramento, Santa Barbara, Orange, Ventura, Tulare, and Contra Costa, and all but Tulare and Contra Costa are seeking the death penalty.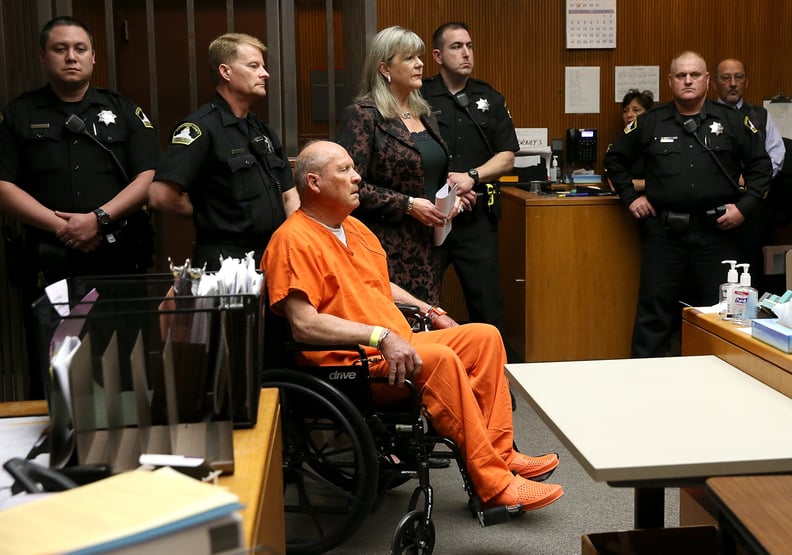 DeAngelo Jr. has not yet been sentenced, but as of March, he planned to plead guilty in exchange for a life sentence rather than the death penalty, The New York Times reported from court documents.
You can watch the whole story of the Golden State Killer in I'll Be Gone in the Dark on HBO starting June 28.