Immersive Frida Kahlo Art Installation Coming This Spring
An Immersive Frida Kahlo Art Installation Is Coming This Spring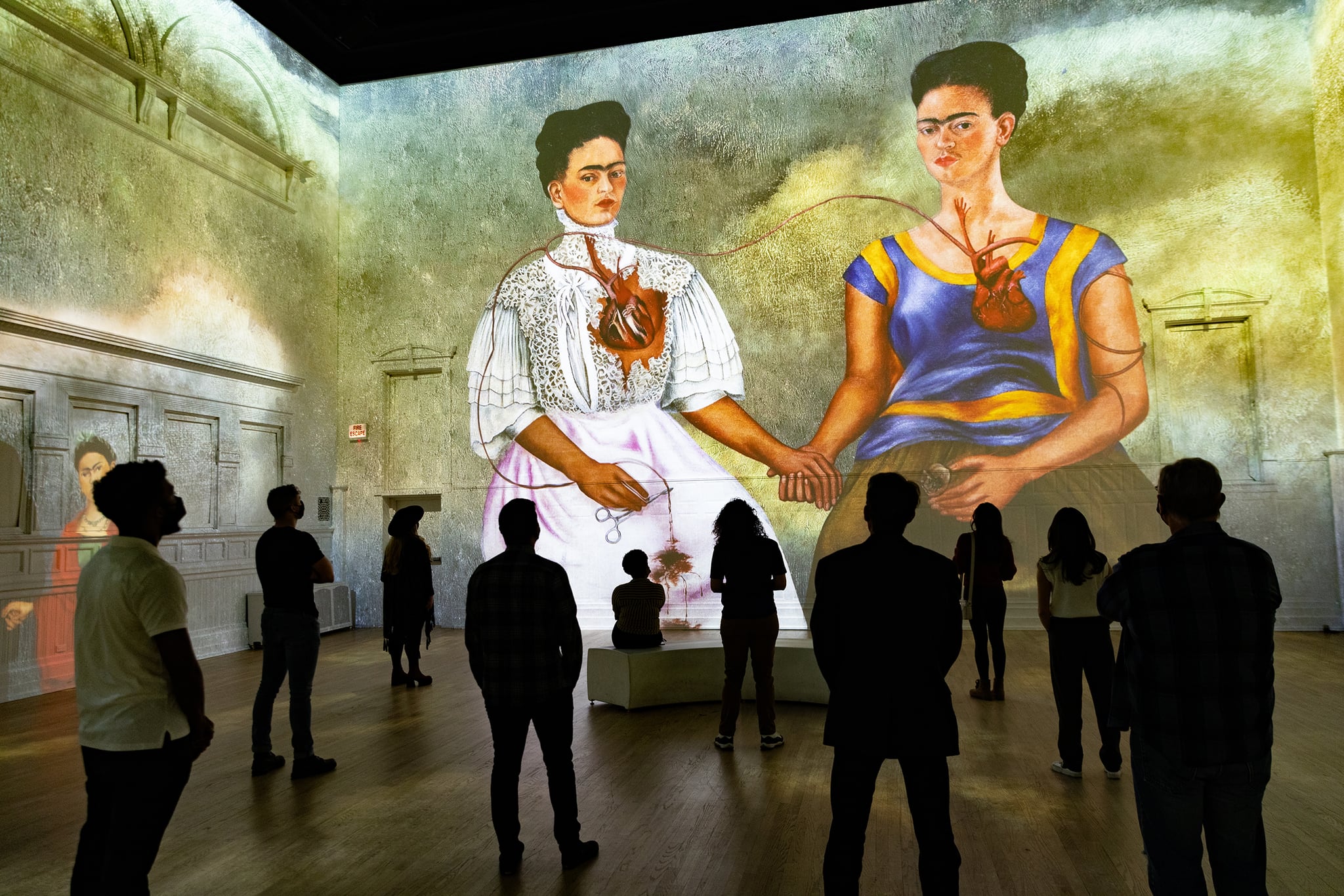 When the "Immersive Van Gogh" exhibit came to the US last year, I bought my ticket the second there was a pop-up in NYC. Gazing at the large-scale moving projections of Van Gogh's most notable works, I said to my friend, "How cool would it be to see an 'Immersive Frida Kahlo' exhibit?"
Well, it looks like I wasn't the only one, because an "Immersive Frida Kahlo" exhibit will arrive this spring. Recently announced by Lighthouse Immersive, "Immersive Frida Kahlo" will bring to life some of the Mexican artist's most compelling works, from her famous self-portraits to "pieces inspired by her life in her native country of Mexico." Works we can expect to see include "The Two Fridas" (1939), "The Wounded Deer" (1946), and "Diego and I" (1946), among others. The installation will also feature photographs of Kahlo taken throughout her life, along with several of her drawings.

"Frida Kahlo's work is uniquely suited to be explored in an immersive environment and her story is equally fascinating," Svetlana Dvoretsky, cofounder and producer at Lighthouse Immersive, said in a press release. "Kahlo lived her life as one giant journey of exploration and her art mirrored that journey. Our goal is to give our viewers more than an examination of her work; we also hope they will leave with a richer understanding of the smart, complex woman who created these timeless masterpieces."
The exhibition arrives this spring, with tickets starting at $40 for venues in Dallas (Feb. 3-April 17), Boston (Feb. 10-May 8), Houston (Feb. 17-April 17), Chicago (Feb. 24-May 28), Denver (March 3-May 30), and Los Angeles (March 31-June 11). Tickets will eventually be available for Pittsburgh, San Francisco, and Toronto.
Kahlo's popularity has continued to grow, spurred in part by the 2002 biopic starring Salma Hayek. In 2015, the Bronx Botanical Garden curated the "Frida Kahlo: Art, Garden, Life" exhibition, which featured a garden reminiscent of Kahlo's La Casa Azul (her home in Mexico City) as well as a number of her most famous paintings. In 2019, the Brooklyn Museum hosted the "Frida Kahlo: Appearances Can Be Deceiving" exhibition — the largest exhibition of Kahlo's works in 10 years and the first in the US to feature the iconic painter's personal belongings and famous dresses.
While I've attended quite a few Frida Kahlo exhibitions, there's something about getting to see her works projected through large-scale moving images on walls, ceilings, and floors. Fingers crossed the show makes its way to NYC!
Image Source: Immersive Frida Kahlo