Don't Worry, Love, Simon Fans — Nick Robinson Makes His Return on Hulu's Love, Victor Series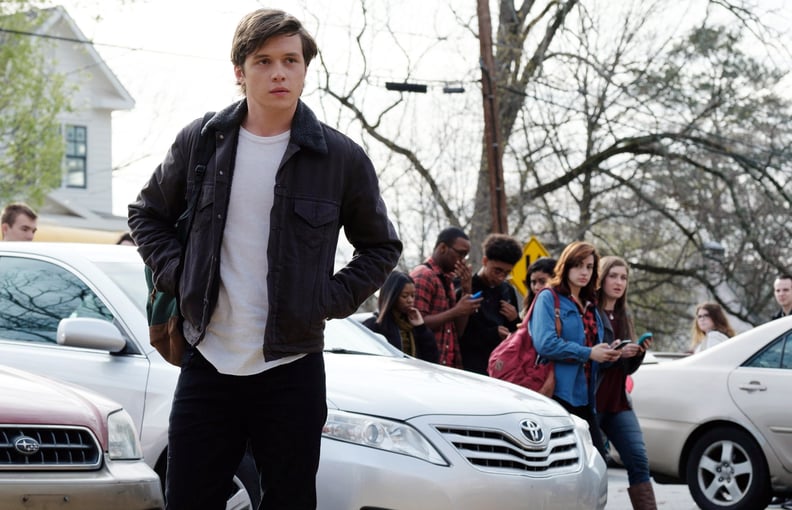 Nick Robinson's Simon Spier stole our hearts while stumbling down his path to love in 2018's book-to-film adaptation of Love, Simon, and Michael Cimino is ready to do the same on Hulu's spinoff series, Love, Victor. Cimino's Victor is a new student at Creekwood High School who, similarly to Simon, is on a journey of self-discovery. And who better to guide him as he struggles with challenges at home, adjusting to a new city, and exploring his identity than Simon himself?
That's right, Robinson brings Simon back to our screens as the Jiminy Cricket to Victor's Pinocchio. The college student connects with Victor when the latter angrily reaches out on Instagram after a disastrous first day at school. Using direct messages instead of emails, Simon acts as both mentor and confidante for Victor as he comes to terms with his various relationships and how he identifies. When Simon mentions how he was able to find an open-minded community as an undergrad in New York City, Victor jumps on a bus to visit him. Simon is initially absent because of a cousin's bachelor festivities, which leaves Victor in the hands of his boyfriend, Bram (once again played by The Flash's Keiynan Lonsdale), and their famous-faced friends, including 13 Reasons Why's Tommy Dorfman.
Bram and the crew help Victor realize that there's no shame in being out and proud and help him find confidence in who he's becoming as a person. Right when the night looks like it's going to go drastically wrong, Simon himself shows up to give Victor a pep talk that renews his courage and emboldens him to tell his family the truth when he gets back home. And in a truly touching callback to the original movie, Simon gifts Victor with his classic denim jacket, telling him that Bram has threatened to destroy it if he keeps it around. It's a really sweet moment that essentially translates to Robinson passing the torch to Cimino as he continues the Love, Simon universe and sets Victor free to continue his journey as the series progresses.