Jimin's "Like Crazy" Music Video, Lyrics in English, Meaning
Jimin Willingly Gets Lost in a Dream in His Psychedelic New "Like Crazy" Music Video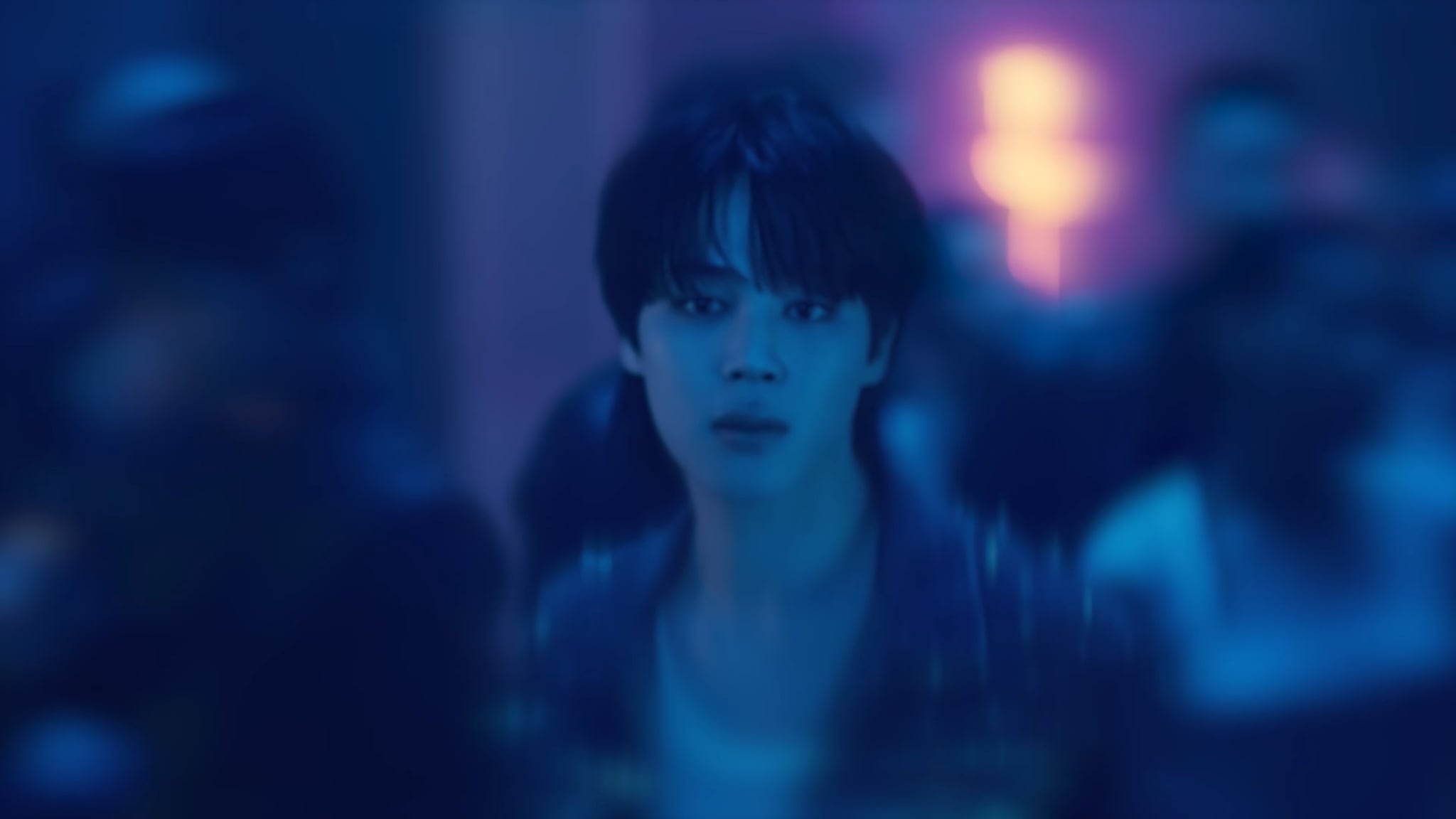 Just a week after Jimin's promotional song off his debut solo album, "Face," "Set Me Free Pt. 2," excited fans with its epic group choreography and stunning vocals, his main single, "Like Crazy," is here. Spoiler alert: it's even more epic than you imagined. The synth-pop track opens on a scene where Jimin is standing in a nightclub in a dreamlike state as dialogue inspired by the 2011 movie "Like Crazy" is heard over the music.
Check out the music video, as well as the song's lyrics and meaning ahead.
Jimin's "Like Crazy" Music Video
Jimin's "Like Crazy" music video follows along as he gets sucked into a dream in which he's letting loose and being his true self at a nightclub. As he sings lyrics like, "Keep me drenched all night so that morning gets drunk and never comes," the video cycles through scenes of the BTS member partying with friends. There's even a point where he pours champagne into glasses and crowd surfs before he breaks out on the dance floor.
At one point, he escapes to the bathroom alone and the video gets even more psychedelic. The walls shift and disappear as scenes from the night play out in technicolor in the background. Although Jimin exclaims, "No don't you wake me. I wanna stay in this dream, don't save me," at the end of the song, he ultimately wakes up, back in his apartment.
Jimin's "Like Crazy" Meaning
"Like Crazy" is all about a person wanting to stay in their dream and not wake up. In a handwritten letter to fans shared via email newsletter on March 22, Jimin explained the meaning behind his new single, writing, "'Like Crazy' is inspired by one of my favorite films. Guess what that would be!" The movie the singer is referring to is the drama film of the same name starring the late Anton Yelchin and Felicity Jones.
The song opens with some dialogue inspired by the film, which follows a man from the states and a British woman who fall in love while she's in the U.S., but their relationship is tested when she overstays her visa and is deported. In Jimin's interpretation for "Like Crazy," the characters say, "I think we could last forever. I'm afraid that everything will disappear. Just trust me."
Jimin's "Like Crazy" Lyrics
Jimin released "Like Crazy" in Korean and English. Read the English translation of the Korean lyrics (according to HYBE's official YouTube subtitles), as well as the English version of the song (which is slightly different) ahead, and then listen to them both all over again to get the full impact!
Jimin's "Like Crazy" Korean Lyrics in English
VERSE 1
She's saying
Baby, don't think about it
There's not a bad thing here tonight
Baby, it's fine if you leave
Stay with me, just for today
Watch me go
Keep me drenched all night (away)
So that morning
Gets drunk and never comes
As the loud music plays
I'm fading away
A cliché story like a drama
I'm getting used to it
Did I come too far to find the me you used to know?
Yeah I know
You know
I know
PRE-CHORUS
I'd rather be
Lost in the lights
I'm outta my mind
Please hold onto the end of this night
Each night
You spin me up high
The moon embraces you
Let me have a taste
CHORUS
Give me a good ride (Oh I'm fallin')
It's gon' be a good night (Oh I'm fallin')
Forever you and I
VERSE 2
My reflection within the mirror
I'm going endlessly crazy
I'm feelin' so alive, wasting time
PRE-CHORUS
I'd rather be
Lost in the lights
I'm outta my mind
Please hold onto the end of this night
Each night
You spin me up high
The moon embraces you
Let me have a taste
CHORUS
Give me a good ride (Oh I'm fallin')
It's gon' be a good night (Oh I'm fallin')
Forever you and I
OUTRO
This will break me
This is gonna break me
No don't you wake me
I wanna stay in this dream, don't save me
Don't you try to save me
I need a way we
I need a way we can dream on
Jimin's "Like Crazy (English Version)" Lyrics
VERSE 1
She's saying
Baby, come and follow me
There's not a bad thing here tonight
Save your reasons all for later
Stay with me a little while
Watch me go
Now, I sink down, all alone away
Where am I?
A dark haze clouding up my eyes
PRE-CHORUS
I can hear the voices listening
Don't know who they are
Trying to take the pressure off
Been reaching for the stars
Tell me, will I find myself again?
When I go too far?
Yeah, I know
You know
I know
CHORUS
I'd rather be
Lost in the lights, lost in the lights
I'm outta my mind
Can you help me numb the pain?
Each night, you spin me up high
Emotions on ice
Let me have a taste
Give me a good ride (I'm fallin', I'm fallin', I'm fallin')
Oh, it's gon' be a good night (I'm fallin')
Forever, you and I
VERSE 2
All my reflections, I
Can't even recognize
I'm feelin' so alive, wasting time
CHORUS
I'd rather be
Lost in the lights
Lost in the lights
I'm outta my mind
Can you help me numb the pain?
Each night
You spin me up high
Emotions on ice
Let me have a taste
Give me a good ride (I'm fallin', I'm fallin', I'm fallin')
It's gon' be a good night (I'm fallin')
Forever, you and I
OUTRO
This will break me
This is gonna break me
No don't you wake me
I wanna stay in this dream, don't save me
Don't you try to save me
I need a way we
I need a way we can dream on
Image Source: YouTube uder BIGHIT Music