Jimmy Fallon Is Bringing The Tonight Show to His Home With the Help of His Wife and Kids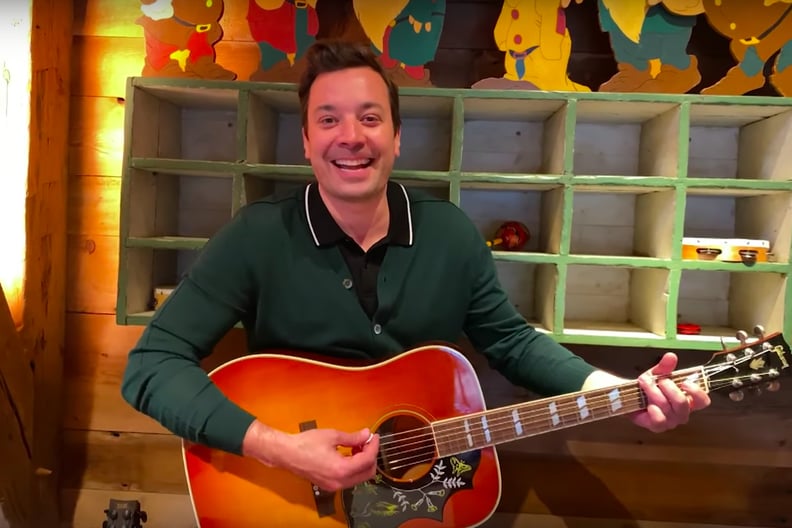 Jimmy Fallon is bringing The Tonight Show to his home turf after shutting down studio production due to coronavirus concerns. The late-night host released the first episode of The Tonight Show: At Home Edition on Tuesday with the help of wife Nancy, 6-year-old daughter Winnie, 5-year-old daughter Franny, and their dog, Gary. Although the video clocked in a little shorter than a full-length episode, it's packed with fun. The next day, he followed up with his first guest, Lin-Manuel Miranda.
In the maiden installment, Jimmy encouraged viewers to donate to food bank network Feeding America. Winnie contributed handmade graphics for the show, while Nancy stood behind the camera and provided a laugh track for Jimmy's monologue. "I'm doing the show from my home for two reasons," Jimmy joked. "First, to stop the spread of the coronavirus. Second, so I can write off my real-estate taxes." Watch the latest episodes of The Tonight Show: At Home Edition ahead!
The Tonight Show: At Home Edition
The Tonight Show: At Home Edition With Lin-Manuel Miranda
The Tonight Show: At Home Edition With Jennifer Garner
The Tonight Show: At Home Edition With J Balvin
The Tonight Show: At Home Edition With Trevor Noah and DJ D-Nice
The Tonight Show: At Home Edition With John Legend
The Tonight Show: At Home Edition With Niall Horan
The Tonight Show: At Home Edition With Alec Baldwin and 5 Seconds of Summer
The Tonight Show: At Home Edition With Tina Fey and José Andrés