Jonas Brothers Fans in Nashville Coordinated a Concert Surprise That Nearly Made Nick Cry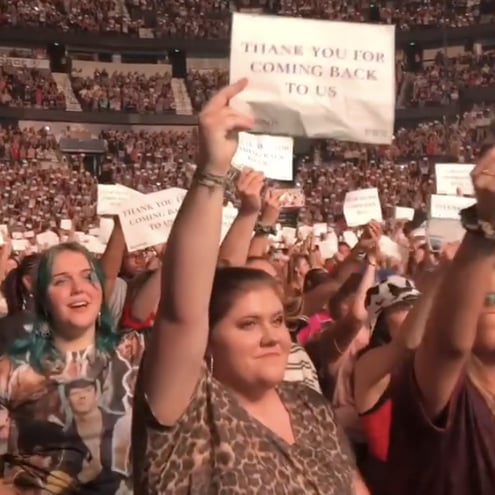 The Jonas Brothers' Happiness Begins tour made its way to Nashville on Tuesday! The trio rocked the house as usual but were met with quite the surprise when fans throughout Bridgestone Arena held up signs that read "Thank you for coming back to us." The ode was accomplished as the band played their song "Comeback" from their, well, comeback album, Happiness Begins, that dropped in June. "An arena full of signs (organized by the fans) that read thank you for coming back had my eyes feeling a bit watery," Nick captioned a video of the sweet moment. "We have the best fans in the world. Thank you NASHVILLE. We love you." According to one concertgoer, Joe also cried at the sight of fans' support.
The tour — which kicked off on Aug. 7 and will conclude on Feb. 22, 2020 — has been full of heartwarming surprises, one in particular that didn't even happen on stage. While preparing for a concert in Pennsylvania, Kevin, Joe, and Nick heard a fan wasn't able to attend due to chemotherapy. So the brothers made a special trip to the hospital to say hello — too cute! Keep reading to see more photos and videos from their Nashville set.