16 SNL Skits That Prove Kate McKinnon Should Be Protected at All Costs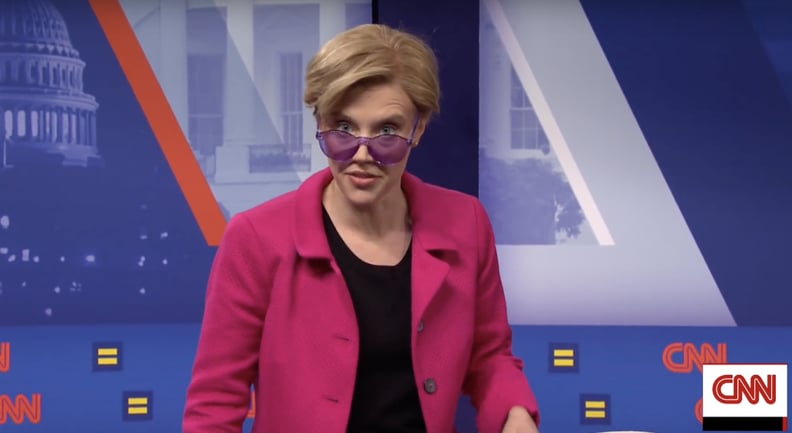 Kate McKinnon exudes comedic genius, brightening up every Saturday Night Live skit that features her. Without a doubt, her strength lies in impressions. Whether she's Hillary Clinton or a fictional human-blobfish hybrid, her devotion to makeup and costume transformations could honestly give Christian Bale a run for his money. Needless to say, she can morph into anyone or anything and put us in stitches. Even her SNL costar Colin Jost couldn't help but crack up during her recent sketch as Dr. Wenowdis. Ahead, we've compiled all of our favorite SNL skits featuring McKinnon, whom we officially crown the queen of sketch comedy!
01
"CNN Equality Town Hall Cold Open" (2019)
McKinnon was born to play Elizabeth Warren, who, according to her character, is into BDSM — bank destroying and saving Medicare. But this has to be her best Warren impression so far, where she takes Warren's viral moment at the Equality Town Hall a step further by flawlessly transforming into Sasha Velour. We can't think of anyone more deserving of an intro by Billy Porter.
02
"Teacher Fell Down" (2018)
Here, McKinnon plays a beaten-down driver's ed teacher who falls down because of her Heelys and refuses to let her students help her. This sketch is pretty silly in concept, but McKinnon's commitment to the existential dread makes it an absolute treasure.
03
"Diner Lobster" (2018)
McKinnon and Kenan Thompson made this absurd bit pure genius. One of the best SNL moments from 2018, this skit starts with Pete Davidson's character strangely ordering lobster from a diner. Two colonially clothed lobsters, played by McKinnon and Thompson, go into a full-blown Les Mis number to change his mind.
04
"Whiskers R We With Tiffany Haddish" (2017)
McKinnon and Tiffany Haddish play two cat ladies who introduce cats up for adoption in a commercial. In addition to adorable kitties, the pair also throw around some naughty feline jokes and ratchet up the sexual tension.
05
"Themyscira" (2017)
Riding off the Wonder Woman hype, this sketch follows McKinnon and Aidy Bryant as two lesbians who wander off to the all-female island of Themyscira, hoping to find love. It all ends with McKinnon and Gal Gadot making out, so we have no choice but to stan.
06
"Kellywise" (2017)
"Kellywise" just might be even more terrifying than It with McKinnon's mashup of Kellyanne Conway and Pennywise. Anyway, the title character of this sketch goes face to face with Anderson Cooper, aka Alex Moffat doing a spoof on Georgie.
07
"Weekend Update: Ruth Bader Ginsburg on Not Retiring" (2017)
The queen of impressions as always, McKinnon captures the late Ruth Bader Ginsburg perfectly here. She also downs a ludicrously huge packet of Emergen-C and throws in a joke about hiding Horcruxes in all the Talbots stores in Washington for good measure.
08
"Election Week Cold Open" (2016)
Well, this isn't all that funny, and if anything, it's kind of a deep cut. But it's real. Right after the 2016 election, it was hard to think about SNL doing one of its biting political cold opens. So McKinnon as Hillary Clinton on the piano playing Leonard Cohen's "Hallelujah" strikes the perfect chord. (Though, we shouldn't forget that SNL brought her opponent onto the show not long before the election.)
09
"Whiskers R We With Kristen Wiig" (2016)
Here's another "Whiskers R We" cat adoption ad, and this time, it's with Kristen Wiig! The signature sexual tension, cute kitties, and dark jokes are there, making for a purrfect sketch.
10
"Mermaids" (2016)
Here, a crew of sailors bump into three sisters: two beautiful mermaids . . . and a half-blobfish. Cecily Strong and Ariana Grande sound great as sweet Disney princesses, but it's McKinnon who steals the show in her slimy getup and gross fact quoting.
11
"Calvin Klein Ad" (2015)
Well, it might be too late for McKinnon to say sorry to this spoof on Justin Bieber's sexy Calvin Klein ad, but we're still reveling in its pure and unadulterated hilarity. McKinnon impersonates Bieber and gently pokes at his macho persona in the real ad, doing ridiculous things like drinking apple juice and combing her non-existent beard hair. (Looks like Bieber is still getting work doing CK undies ads.)
12
"Close Encounter" (2015)
McKinnon, Strong, and Ryan Gosling play three alien abduction survivors who share their stories. McKinnon is the chain-smoking, leg-spreading Ms. Rafferty, who recalls 40 gray aliens gently batting her knockers. What's great about this sketch is how you can see everyone losing their sh*t.
13
"Casablanca" (2015)
I mean, Casablanca is a classic, but we've got to give McKinnon credit for nailing Ingrid Bergman's affected tone to the point of ridiculousness.
14
"Back Home Ballers" (2014)
This digital short is a team effort from the ladies of SNL, who rap about how parents treat their kids when they crawl back for Thanksgiving. McKinnon enthusiastically throwing verses about how her mom went to Costco is . . . too real.
15
"Australian Screen Legends" (2013)
Australian screen legends? More like SNL legends. A certain kind of magic happens when McKinnon and Bill Hader exchange dumb jokes and deliberately act badly . . . with Australian accents.
16
"Weekend Update: Dr. Wenowdis on Trump's Televised Health Exam" (2020)
A new Kate McKinnon character? We're all for dis! McKinnon and Jost can't keep it together during this absurdly hilarious skit.