Kiran and Nivi: Get to Know the Singing Sisters From TikTok
Get Acquainted With the Twin Singers Who Blend Indian and American Music on TikTok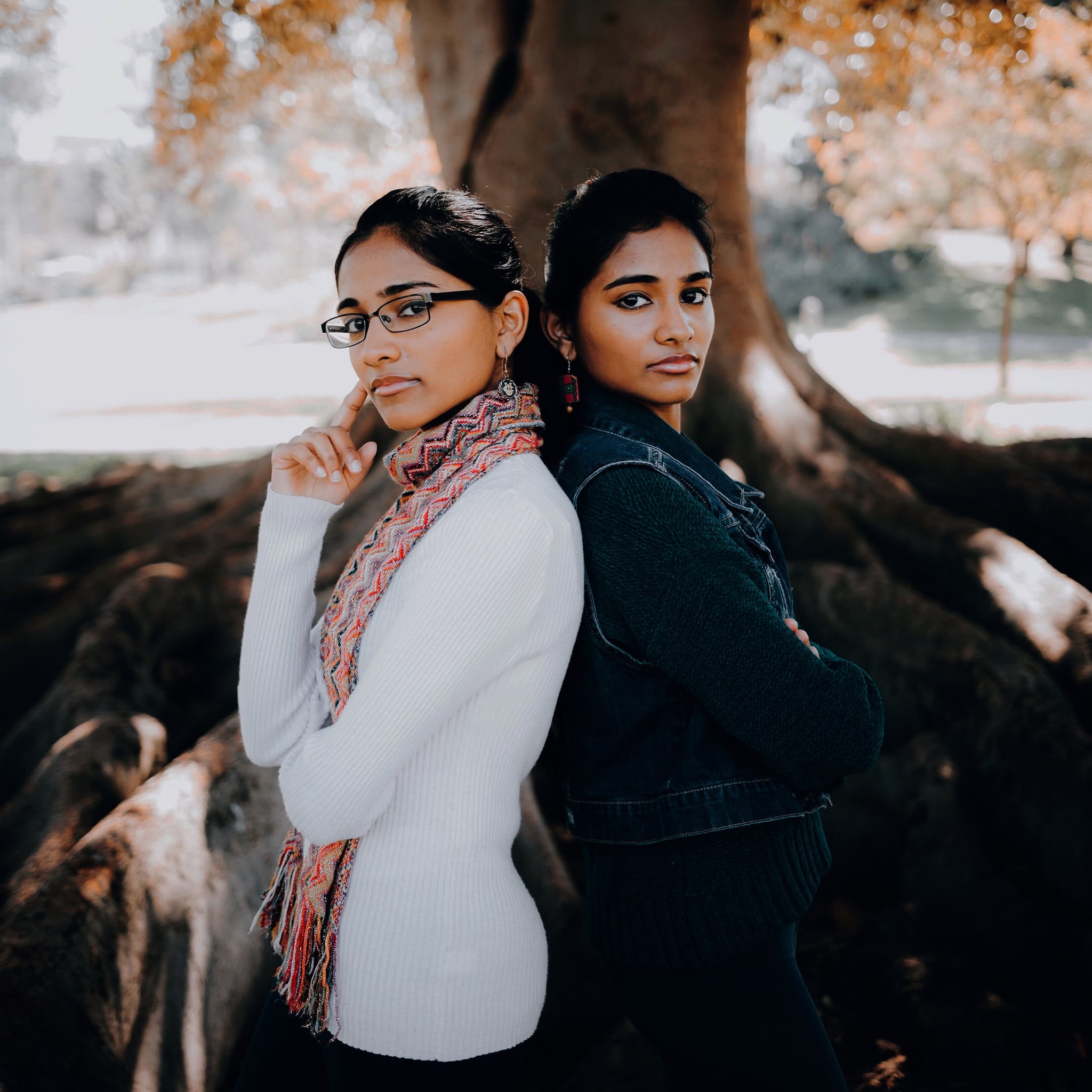 Image Source: Marilyn Nguyen
Mark my words: you'll see the names Kiran and Nivi Saishankar on the Billboard Hot 100 chart one day. The 21-year-old fraternal twin singers have mastered the art of blending modern-day American pop with classical Indian music, and if their nearly two million TikTok followers are any indication, the internet can't get enough. In addition to bringing their melodic harmonies to covers of hits like Olivia Rodrigo's "Drivers License" and Destiny's Child's "Bills, Bills, Bills," Kiran and Nivi write their own songs that sound like tracks you'd hear on the radio. With their sights set on lifelong careers in the music industry, the talented duo are ones to watch.
"It's kind of like music is a miracle for us."
Kiran and Nivi were practically destined to be performers. In fact, they learned how to sing before they could even talk. At age 2, both sisters were unable to speak yet, and after a speech therapist was unable to help, their mom tried teaching them an Indian devotional song. They wound up singing it at their church the following week with the "perfect pitch and rhythm," Kiran recalled, adding, "Our parents were shocked. It's kind of like music is a miracle for us." Their speech began improving, and by age 5, both were taking vocal lessons to learn the ins and outs of Carnatic music, which is prevalent in South India.
For those who didn't study music in college like both Kiran and Nivi did at UC Irvine, here's a quick explainer on the elements of Indian classical music they bring to their a cappella covers. You know how the syllables "do re mi fa so la ti do" are often used to teach certain notes? In the US, that method is called "solfège," but in India, it's known as "swaram," and the syllables are "sa re ga ma pa da ni sa." Kiran and Nivi compose their own rhythmic swaram sequences to fuse with whatever song they choose, and the result is nothing short of heaven to the ears.
Although Kiran and Nivi joined TikTok in the middle of 2019, it wasn't until November 2020 that they introduced their unique blend of Indian and American music for the first time. It was a cover of Royal & the Serpent's "Overwhelmed," and the angelic duet broke eight million views on TikTok, which was the most they'd seen at the time. "It was actually kind of surprising to see that because the audience, especially on TikTok, was not an Indian audience. It was a Western audience," Kiran said of their reaction to garnering so much traction. Nivi added, "It felt really great because we've grown up with this [type of music] from day one. To share it with people and to make people connect with it is one of our goals."
Since then, the San Diego-born siblings have become regulars on the #FYP, raking in millions upon millions of views on covers of tracks including Olivia Newton-John's "Hopelessly Devoted to You" (17 million), Imagine Dragons' "Believer" (five million), and Masked Wolf's "Astronaut in the Ocean" (13 million). Their talents have caught the attention of big-name artists like Shawn Mendes, Meghan Trainor, and Jason Derulo, the last of whom met them in person to collaborate on a musical TikTok video. NBD!
Between churning out one-of-a-kind covers and keeping up with their college studies, Kiran and Nivi have somehow found time to write their own songs as well. One original track that's been garnering buzz among their followers this summer is called "1 Last Bye," which is inspired by their cousin who passed away earlier this year. The emotional ballad is set to release on streaming platforms this fall, and it's clear their fans are counting down the days. "People started saying that this song healed them when thinking about their loved ones," Nivi said.
"I think we can be a part of that [Indian representation] in this industry and inspire young Indian girls and boys."
When it comes to penning heartfelt lyrics and dreaming up melodies, Kiran and Nivi are influenced by several artists who also happen to top their wish list for future collaborations: The Weeknd, Adele, Charlie Puth, BTS, and Billie Eilish. It's not lost on them, however, that this list of all-stars — and the music industry in general — sorely lacks the Indian representation they sought while finding their voices. Although they've witnessed Priyanka Chopra's transition from Bollywood icon to Hollywood A-lister and the creation of Mindy Kaling's Never Have I Ever series, they didn't have many Indian American singers to look to for inspiration — and that's a void they're hoping to fill for future generations alongside other rising stars. "A lot of teenagers our age have never found that Indian representation in any part of entertainment, and I think we can be a part of that in this industry and inspire young Indian girls and boys," Nivi said.
Now that TikTok has propelled them into the spotlight and they've both graduated from college, Kiran and Nivi plan to devote all their time to music in hopes of embarking on a joint stadium tour one day. If they want any follower, new or old, to learn anything from watching their videos, it's this: "Music has no boundaries," Kiran said. "We're just normal people here, in our house, streaming videos. If we can do it, I bet a lot of people can. We hope we can inspire people to follow their dreams."