Lorde Addressed Her Shushing Meme During a Concert
Lorde Expertly Handled Those Shushing Memes Mid-Concert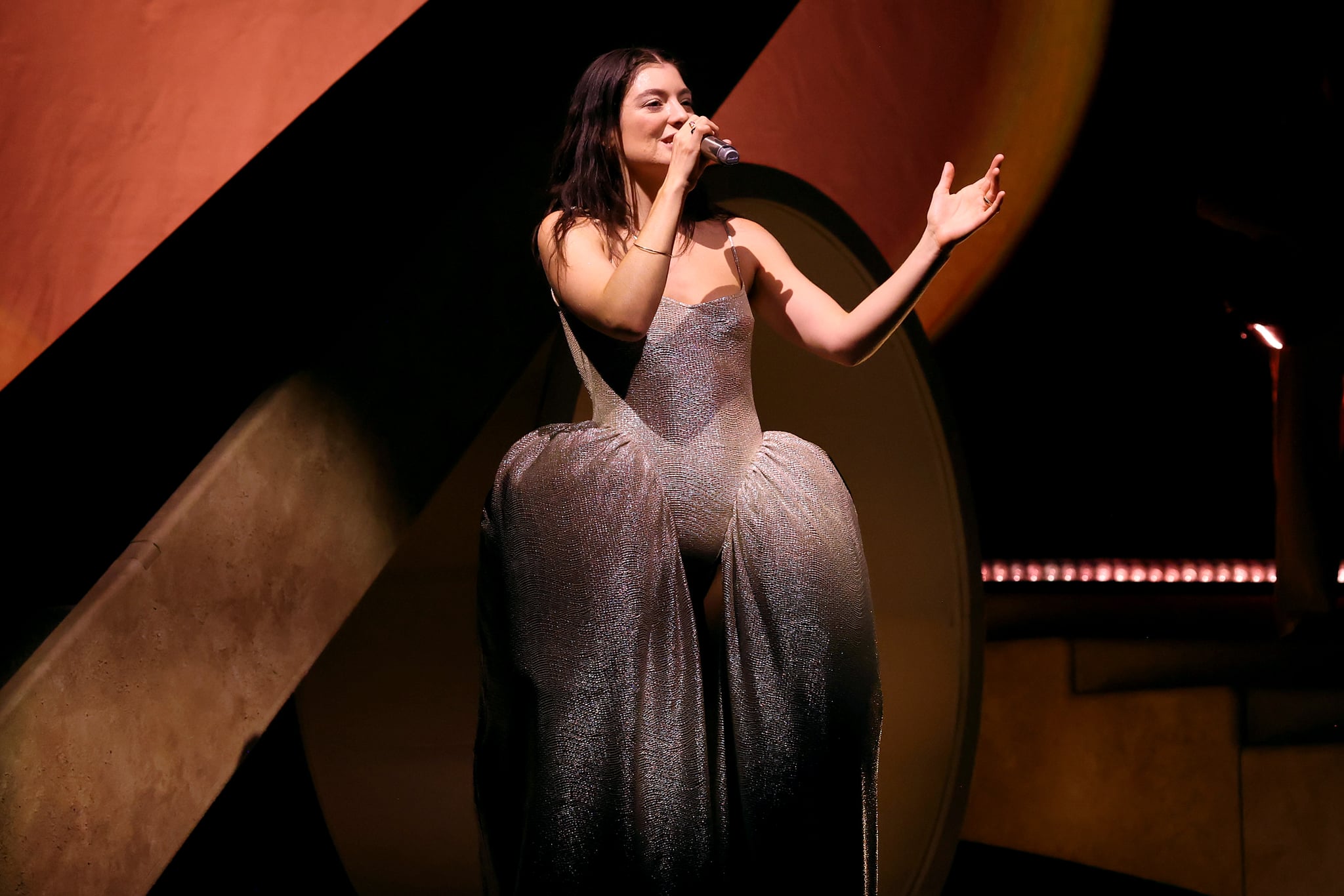 Image Source: Getty / John Shearer
Lorde will not be silenced. Despite previously releasing an album literally titled "Melodrama," the singer recently found herself the subject of a meme poking fun at the many times she's dramatically shushed her audience during a cappella performances of "Writer in the Dark," putting a finger to her mouth to silence the crowd as they attempted to join in. Following various responses, Lorde opened up about having the meme go viral at a Chicago concert on April 23.
"There's been a meme about me," she announced on stage, eliciting huge cheers from the crowd. "For those of you who don't know, several years ago, I put out a song, and I used to like to sing it a cappella, and off the mic," she explained. "I was like 19, you know, very dramatic, a lot of feelings," she said. "The internet has decided that this was very bad and very rude." Lorde went on to say she's always encouraged a "communal vibe" at her concerts, but also emphasized the importance of silence in certain moments.
Lorde also described feeling misunderstood by the meme. "I was sitting there this morning, having, like, gone on the internet, and I was like, 'Aw, people don't get me,'" she said. "And then I thought about the room full of people that I was going to be hanging out with on this Saturday night in Chicago." She added, "I know what's important, you know? We're fine."
By the end of her two-minute monologue, Lorde reminded her fans, haters, and everyone in between of her humanity, and of the art in letting go. She then launched into "Writer in the Dark" for the first time since the shushing videos went viral. Her only request? "Sing this as loudly as you like so we can show the f*cking trolls what it sounds like at one of these shows."
It's interesting to be able to see Lorde in this light — to see a celebrity not only acknowledge that they've seen the joke, but that maybe they're in on it as well. Light piano music plays in the background as Lorde continues to address the audience, and for a second, it feels as though you're listening to a close friend.
This doesn't mark the first time Lorde has addressed the meme: she previously shared a video saying, "That was something that I did in that one song a couple of times when I wanted to sing it a cappella or off the microphone so people could hear me, and because I wanted to try something different," she said at the time. "If you come to my shows you know that it's an hour and a half of all of us singing and screaming together."