The Craft: Legacy's Lovie Simone Talks Modern Witchcraft, Finding Your Power, and a Tabby Spinoff
Playing in the same sandbox as such an iconic film as The Craft can be a tricky sport, but according to The Craft: Legacy's Lovie Simone, the sequel is able to stand on its own thanks to one element: time. "This Craft is definitely similar to the other in the sense that the outsiders are the weirdos and the girls are stepping into their power," she told POPSUGAR over the phone. "I think all of that is the same, but it's for the girls now. It's for what the weirdos look like now, what witches look like now, and how a coven would thrive in today's age against this generation's brand of hypermasculinity."
While Legacy does use the standard formula of its predecessor — three witches find their fourth in the new girl at school and take her under their wing as they explore their powers — its narrative is easily distinguished because of how much society has changed since 1996. It probably also helps that Zoe Lister-Jones helmed the sequel rather than an all-male creative team like the first. Nonetheless, The Craft is about a group of women fighting against the idea that they should be cowed and bestowed with magic that allows them a voice in a world that doesn't want to hear them speak. Legacy, on the other hand, focuses on a generation of women who have gotten messages of empowerment since they were born, and they're all the bolder, brasher, and more fabulous for it.
Unlike the coven of The Craft, Tabby (Simone), Lily (Cailee Spaeny), Lourdes (Zoey Luna), and Frankie (Gideon Adlon) already know they're important and that "your difference is your power." They're remarkably less angsty than the first film's foursome (most of the time), which sets the scene for a less ominous look at witchcraft and the sisterhood of a coven.
"[Legacy] reinforced what I knew witchcraft to be," Simone explained. "And I like how the film doesn't end with the girls against each other. You don't see that in the last film, considering how it ends. I like that we get a lot more time with the girls, see them bonding, and you get to see the life of the coven."
We never learn anything about the trio's lives other than a few throwaway lines about Tabby's Blackness and Lourdes being transgender.
It's the coven that gives Legacy the meat it needs to feel like its own thing rather than a gentler reboot of the first film. Though the film centers its focus on Spaeny's Lily, who is beautifully fragile before allowing herself to harness her power, it's inarguably the witches played by Simone, Luna, and Adlon that I would have liked to have seen more from. We never learn anything about the trio's lives other than a few throwaway lines about Tabby's Blackness and Lourdes being transgender. When I asked Simone what she would have loved to add to the film, the 21-year-old actress admitted that she would've wanted more insight into Tabby's family, specifically her mother, who taught her about her power. "She's the witch with the most experience because her family's into it, so I'd want to see what her mom's version of witchcraft looks like and what Tabby runs to her mom for," she revealed, which I would be into wholeheartedly. If The Powers That Be are reading this, that is more than enough material for a spinoff focusing on Tabby and her witchy ways!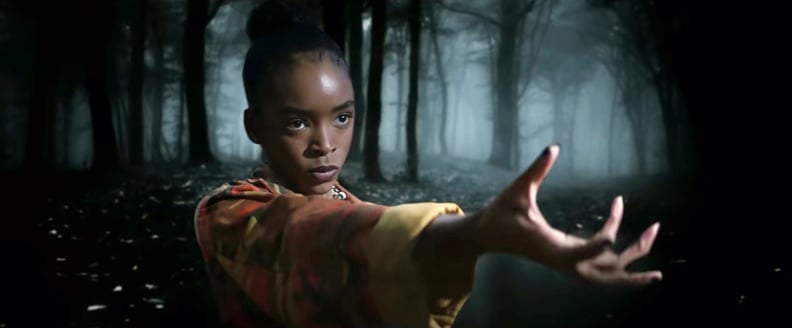 While Legacy isn't Simone's first project, it does rank high on her list of favorites, being one of the few where she's been able to work with other women her age. The actress is best known for her roles on Greenleaf and as the lead of 2019's Selah and the Spades and is quickly gaining a reputation for bringing nuanced, complex characters to life. Given her previous work, she's developed a craft for being able to slip out of herself and react authentically as the character. "I feel like that's made me a better person overall because I get a little more perspective out of life now," she said. "I try to step out of myself to assess the situation in any situation on set and in real life."
"I'm trying to show people that it's cool to explore humanity, no matter how crazy it may look or seem, because humanity is crazy."
Simone doesn't prescribe to a set criterion when she seeks out her projects, though her work has had a common thread of following young women finding their power in difficult situations. For instance, the titular Selah in the Amazon Prime Video film is a senior at a boarding school where she leads a faction of students called the Spades who sell drugs to other students. As the head of the Spades, Selah is the queen of her land, and Simone portrays her confidence with ease, an empowered young woman who I have no doubt we could have seen in Tabby if the witch had had more time to grow. I asked Simone if she purposefully sought out roles where she would be able to portray an empowered young Black woman in a world where we so rarely see it depicted.
"Yes and no," she told me, adding that she understands how seeing her in roles like that impacts viewers and future narratives for Black women. "I do want people to see folks who look like me in powerful roles and what that looks like realistically, but I also know that people who look like me aren't often put in those roles, so I want to show that as well," she said. "I'm just really interested in storytelling. So whichever way it comes and if it feels right, and if everything is in order, then I'm there."
"I'm trying to show people that it's cool to explore humanity, no matter how crazy it may look or seem, because humanity is crazy. And there's a lot of gray areas," she went on earnestly. "That's why I loved working on The Craft. I've talked about being in a Christian family and growing up in a church, and it was amazing for me to explore the other side of the spectrum where it was all about women empowerment and witchcraft. The Father, the Son, and the Holy Spirit on one end, and the Mother, the Maiden, the Chrone on the other." It's that versatility that promises this won't be the last we see of Simone's particular kind of magic.