This Is Us: Lyric Ross Says Working With Asante Blackk Makes Her "Step Up Her Game"
We all know that the cast of This Is Us is talented, and one of the show's biggest breakout stars is Lyric Ross. The 16-year-old actress first stepped on the scene as Randall and Beth's foster daughter, Deja, during season two, and the character has since become an integral part of the Pearson family. We learned a lot about Deja's backstory during season two, and we're seeing even more sides of the character this season through her blossoming romance with Malik, played by Asante Blackk.
While Ross was initially surprised about Deja getting a love interest this season, she told POPSUGAR that it's been a fun challenge working alongside the When They See Us actor. "He's so incredible at what he does," she said of Blackk. "He acts like it's nothing. It doesn't really take a lot out of him. Sometimes it's irritating because I really try to do my best and then he'll just come out of nowhere, all tired and everything, and as soon as they say 'Action' he just blows everybody away. So it's like, 'OK, I got to step up my game.' It's challenging but it's fun."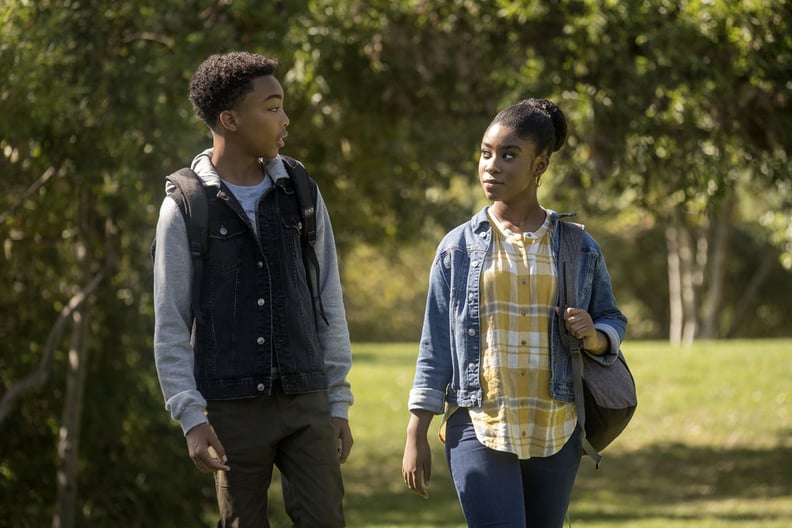 Though Deja and Malik immediately hit it off when they meet at a barbecue during the season four premiere, the young lovebirds eventually hit a snag in their relationship when Deja's parents learn that Malik is a teen father. While Randall and Beth don't take the news well, Ross teases that Randall will definitely have a harder time adjusting to Deja's new romance. "Beth is the person that keeps the family together in a way," she said. "She's a little bit stronger and has thicker skin. Randall is the type that will break down when it comes to his children or his family. So I'm pretty sure it's going to hit Randall harder."
"There's so much that you guys don't know."
As Deja and Malik's romance continues to blossom this season, Ross teased that we'll also learn more about Deja's backstory. "There's so much that you guys don't know and it's crazy because it almost seems like we touched on everything that Deja has been through," she said. "But [there's] so much more that goes through her head and that goes through the family's head when it comes to her. We're definitely going to see a lot more in detail."
While being on This Is Us has definitely changed Ross's life, it has also helped her grow as an actress. "This show has definitely helped me stretch when it comes to my craft," she said. "Before, I was really nervous about opening up and putting myself into a character. I took a risk when it came to the audition for the role of Deja, and for me to have gotten the part when I was taking a risk, that was confirmation that I was meant to do this. This journey has definitely helped me grow as an actor."