Magic Mike Live Puts the Everyday Girl's Needs First
Channing Tatum knows what he's doing when it comes to bringing the sexy — in a digestible, wholesome way that only he can. He's riled audiences into a sweaty frenzy with a blow torch and a floor grind in the Magic Mike franchise and warmed hearts in a wholesome film about a soldier and his "Dog."
And he gets me every single time.
Although I've watched both Magic Mike movies more times than I'd be able to count, the idea of seeing the show live in Las Vegas didn't seem like something I'd ever do. I've never been to a strip club; just the idea of having a guy grind on me at a bar is a very hard no from me. But in the spirit of being outside again and spending quality time with the people I love, I headed to the Sahara Las Vegas Hotel to see my first strip show, Tatum-approved. And I and my friends decided to do it like VIPs.
Our Magic Pass experience started way before we even landed in Vegas. The little love messages began early that week with a welcome postcard from Mike himself. The next day — Tuesday — I received an email from our "guy," J.D. Rainey. The MASH-style survey included J.D.'s favorite music (Erykah Badu, James Brown, and Michael Jackson), movie ("The Last Dragon"), and birthday (hey, Libra). Of course, I shared every daily nugget in our Vegas group chat, which excited us even more for our Friday flight to Sin City.
By Friday night, the three of us weren't sure what to expect, but we were still amped. My Magic Mike Live crew included myself, who spends most Friday nights watching true crime curled up with my dog; a mother of two leaving her boys home for the very first time; and one NYC cool girl who knows her way around a Vegas night out. The moment we stepped into The Sahara, though, we all felt special and like we were exactly where we belonged.
We started the evening with dinner at Bazaar Meat, a restaurant by chef José Andrés with a cheeky name and an even tastier menu. There, we feasted on unique Magic Mike cocktails, cotton-candy foie gras, pulled pork, and bite-size tres leches. It clearly served as our delicious pregame for the night. After dinner, we received our own bottles of La Marca Prosecco with classy metal straws. We never made it to the specialty cocktails (two lightweights in the crew), but we felt every bit like rockstars sitting at our table with our sexy pink Champagne bottles.
And that's when the show started.
The dancers opened the show in YMCA-inspired outfits as a smarmy emcee shamelessly complimented a woman's breasts in the first row. This is not what we signed up for. But the cringe didn't last long: our real host for the night, Chelsea, kicked out the gross dude and introduced us to guys in jeans and button-downs — with cute faces and abs — who were ready to make us feel beautiful.
From there, my N95 mask couldn't hide my smile. We watched our "guy," J.D., backflip and B-boy through James Brown's "Sex Machine." The crowd roared for Jackson Williams, with Prince Harry's boyish grin and London accent and an extra helping of ink. The performers made their way through the crowd, paying extra attention to audience members with white veils and bride-to-be sashes. Of course, they brought the raunch (again, have you seen Tatum with that blowtorch in "Magic Mike XXL"?), but the sex was also followed up with the suave. I personally loved a Justin Timberlake "Suit and Tie" number with the guys dressed in their Sunday best. There were slow grinds, but there were also slow dances. And just like Tatum does, the guys completely charmed me.
The Magic Mike Experience made it a mission to please; for some, that means no personal attention. Chelsea announced during the show that the safeword of the night was "unicorn." The dancers would move on if an audience member used the safeword. Based on what I'd heard about male revue shows, I thought I wouldn't want any of the attention that comes with a lap dance. But thanks to knowing that I was in control, I forgot about my shyness completely. Although I didn't get a special dance, I did receive a rose, which I broke with the force of sheer pleasure and estrogen.
After the lights went up, my adventure with my friends was only beginning. We met three of the dancers backstage, including Nate, one of the winners of HBO Max's "Finding Magic Mike." Our "guy" J.D. surprised us with an appearance, which is when my jaw dropped. I mean, J.D. was our man for a whole week! He playfully dropped his jaw, which made me feel like less of a goober. Even my silliness is accepted at Magic Mike Live.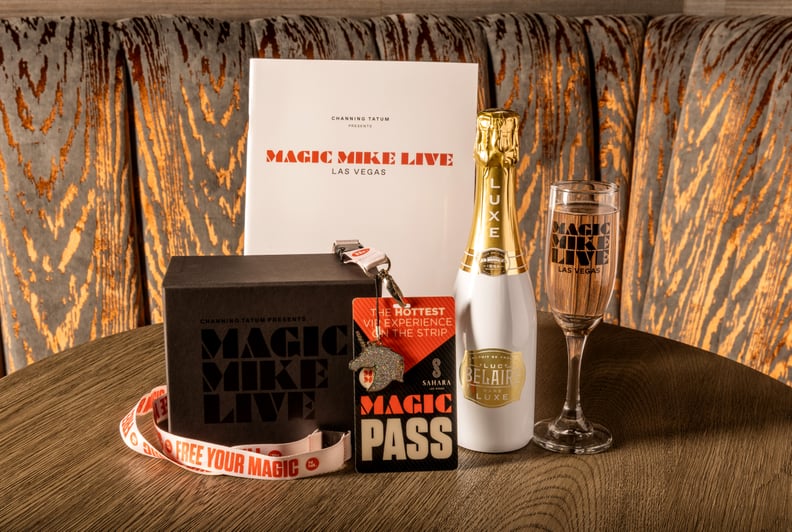 At the end of the night, we were given little black gift boxes with everything we needed for a relaxing night: a scented candle, a hair tie, ear plugs, and Sugarfina gummies. It was the ultimate "Let me know when you get home" text, and our three hearts collectively melted into a puddle.
After such an over-the-top experience at Magic Mike Live, I'm still not sold on shows like Thunder From Down Under. I couldn't ever experience hot dogs now that I've had cotton-candy foie gras. And maybe I'm planning my next trip to see "the guys" for another slow dance, another rose, and a reminder that I deserve the best pleasure imaginable.