You're Not Alone in Thinking the Mandalorian Theme Song Sounds Very Familiar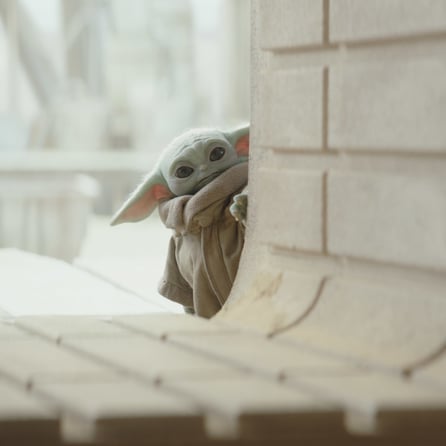 From the moment I heard the opening chords of The Mandalorian's theme song, I knew it reminded me of something, I just couldn't put my finger on what. It bothered me that I couldn't figure out what song I kept trying to hum along with it and Shazam wasn't any help — it just kept telling me the name of the theme song. Oddly enough, it wasn't until I was flipping through channels and came across Tropic Thunder that it hit me: the song it reminded me of was "Ball of Confusion" by The Temptations.
The bass line of the two songs are so similar that it's easy to start singing, "People movin' out, people movin' in," as the opening credits of each Mandalorian episode rolls. "I wanted the core soul to be organic. Then I wanted to add a tech sound to it," Ludwig Göransson, the composer of the theme song, previously told The Los Angeles Times. It's very much the cutting-edge vibe that The Temptations went for with "Ball of Confusion." Don't believe me? You can check out the mash-up of the two songs above or listen to each of the songs on their own ahead. While you're listening to the songs, try imagining The Child grooving to The Temptations while Mando shakes his head.
"The Mandalorian" by Ludwig Göransson
"Ball of Confusion" by The Temptations
"Galaxy of Confusion" — The Mandalorian X Tropic Thunder Intro Mashup