Melissa Barrera Is on Fire — "In the Heights" Was Just the Beginning
Anyone who hasn't followed Melissa Barrera's career from the beginning could easily assume that the actress became a star overnight, but that's far from the truth. Barrera, who was born and raised in Monterrey, Nuevo León, Mexico, has been working hard for years. She started in passionate telenovelas and even did a Mexican reality show called "La Academia," where she met her husband, Paco Zazueta. She landed a lead role as Lyn in Starz's "Vida," which lasted three seasons, then had her breakout Hollywood role as Vanessa in Lin-Manuel Miranda's film adaptation of "In the Heights." Things really started taking off for her from there. She took the lead role of Chama in an indie film titled "All the World Is Sleeping," about a struggling, 30-year-old Chicana woman in New Mexico fighting for her life as she deals with substance abuse and losing custody of her daughter. Then comes a role in the hit horror-film franchise Scream's fifth movie, which she admits was a dream come true. And it doesn't stop there. Barrera's latest Netflix series, "Keep Breathing," debuts on July 28, with two other film productions, "Bed Rest" and "Carmen," releasing later this year. In between all her acting projects, she somehow also managed to squeeze in time to become Clinique's first Latina global beauty ambassador. Many actresses could only dream of reaching this caliber so early in their Hollywood careers — Barrera's success is impressive and worth paying attention to.
For Latina actresses in particular, there was a time when getting as far as Barrera already has wasn't even conceivable — let alone possible. For years, if you actually landed a role, it was often limited to the "sexy Latina" with the heavy accent and the big boobs, the maid, or something related to drug trafficking — that was it. Many of these roles typically weren't driving the plot; actresses often didn't have many lines. One that comes to mind is Eva Mendes in "We Own the Night," where she plays Bobby Green's (played by Joaquin Phoenix) sexy Latina girlfriend, Amada. Her character didn't say much, but almost everyone remembers her masturbation scene.
While there's still a lot of work that needs to be done, Barrera believes the industry is changing. She's also grateful to have stepped foot in Hollywood when the industry finally became a place women could actually feel safe in.
"I think there's definitely a change — it's definitely happening — and I have definitely benefited from that wave of vocalization and demanding of representation. I came into the industry with the MeToo movement, basically," Barrera tells POPSUGAR. "So, I've always felt safe because I know now, we're not afraid or ashamed to speak up when we don't feel comfortable or when someone is crossing a line."
Barrera is very intentional about the roles she takes on. She admits to turning down work that felt stereotypical or that she feared would pigeonhole her. She has been privileged to be able to refuse jobs that didn't feel like an alignment because of the opportunities for Latinx actors that actually exist today that didn't 10 or 15 years ago.
"I remember when I was doing "Vida," I started to get all these offers and all these scripts for movies where I was playing the exact same character as Lyn, and I remember being like, I don't want that," she says. "I don't want to become just that. I don't want people to see me as just that. And I made it really clear, and it's something that I still try to do. Every time I finish a project, I want something that feels, if not the opposite, very different than what I just did. I want to keep people on their toes and keep the people that follow me guessing."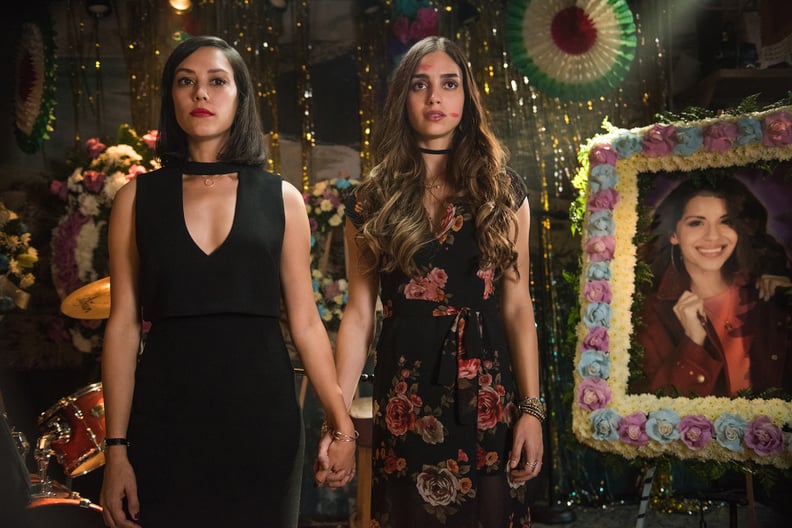 "It felt like they were saying, 'See, I told you that a Latino movie with an all-Latino cast — with an all-brown cast — was not going to do well.' And so it hurt. I was deeply hurt."
"Taking things personally is an unevolved way of thinking. I wish I didn't take things personally, because a lot of things aren't meant to be personal. And we take it to mean that and we allow it to weigh on our emotions and on our mental health. It's something that I constantly work on, but at the moment I felt that the headlines from certain press outlets were kind of glad," she says. "Like the tone that I gathered from the headlines of us not doing well at the box office — in the middle of a pandemic, mind you, with a date release on HBO Max — was they were glad. It was hard. It felt like they were saying, 'See, I told you that a Latino movie with an all-Latino cast — with an all-brown cast — was not going to do well.' And so it hurt. I was deeply hurt."
Barrera still cherishes the memories of being a part of "In the Heights," the relationships she made through it, and the impact it had on people. "It's a beautiful movie, and I think a lot of people that watched it loved it. It meant a lot to a lot of people," she adds. "I had the best time that summer. It was such a dream come true to be able to do this. I was on a high, and I should have never let anything taint that. Because no one can take that away from me."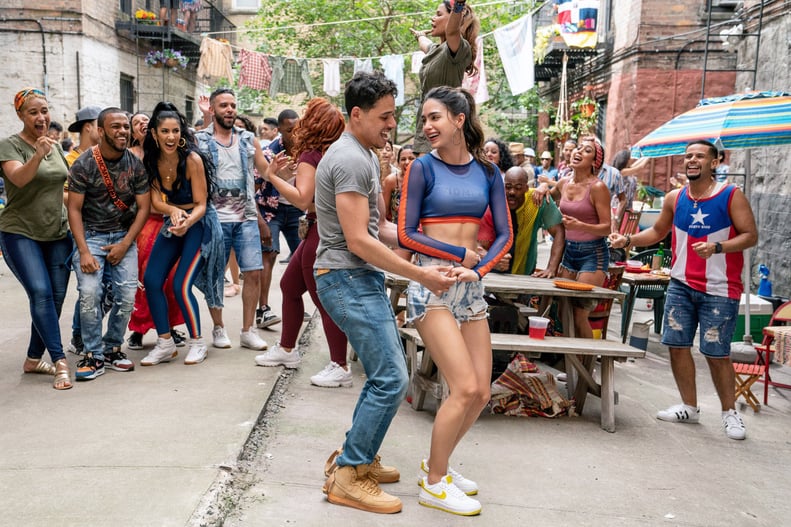 While some stars genuinely enjoy the fame and the glam that comes with being a part of Hollywood, Barrera wants more than anything to just be recognized for her work. While she understands that red carpet events, press coverage, and fancy photo shoots come with the job, that's not why she does it. She wants to be seen as a professional — for her craft. This is why representation is so important to her.
"My presence is part of my heritage, and sometimes I love it when I can just be. When we don't have to wave our flags and speak in Spanglish or talk about where we came from or our ancestry."
"My presence is part of my heritage, and sometimes I love it when I can just be. When we don't have to wave our flags and speak in Spanglish or talk about where we came from or our ancestry," she says. "It's why I love "Scream" so much, because me playing Billy Loomis's daughter and being a Latina — no one questioned it. And it didn't become the focus. Like, wait a minute, is she half? I just love to be able to represent and be a human with the same dreams, aspirations, and struggles that every human has. Without having to make people comfortable by explaining who I am all the time. I feel like that's what I'm working towards with representation, and that's what I'm working towards with the projects that I choose."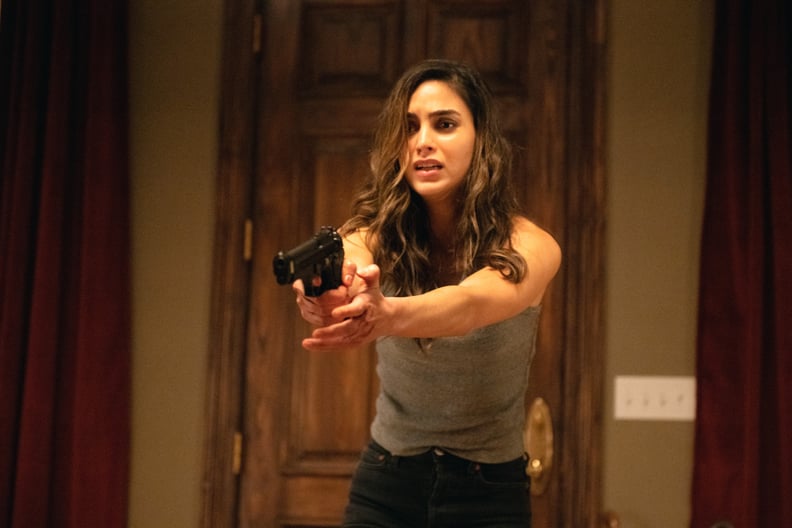 Barrera imagines a world where Latinx and other POC characters can merely exist in the way white characters have always freely been able to exist in film and television. She believes it's already happening, and she's ecstatic to be a part of the change. But Barrera is also tired of the labels constantly thrown on Latinxs — particularly those of us living in the States.
"I grew up in Mexico not identifying as anything. It wasn't until 2017 when I moved to LA that all these labels started getting thrown around [at me], and I was like, wait a second, I need to identify as something and I need to talk about it?" she says. "I'm Latina — I guess. But honestly, I identify as Mexican. Soy Mexicana — that's who I am. I also identify as an immigrant even though I moved here later in life. I made a home here in the United States. I consider this my second home."
The actress feels that the dialogue surrounding Latinx identity hasn't evolved — instead, it has become stagnant. "It feels like we were told to put ourselves into all these different boxes by someone other than us and we've been brainwashed so much that it's become this constant battle even within our community. Like, what are you? Where do you come from? Do you speak Spanish? Are you first, second, third — what generation are you? Did you move during adulthood? Do you have citizenship? Are you DACA? There are just so many things that are meant to keep us distracted," she says. "For so many years we've been battling with terms like Latinas, Latino, Latinx — like why? Why is that our priority? For me, it feels like that's not the issue. The issue is the pay gap. The issue is the lack of opportunities. The issue is scholarships. The issue is that we are kept in low-income neighborhoods and we don't even know about the possibility of the kinds of things we can achieve 'cause they want to keep us low, and they want to keep us in debt."
What keeps Barrera soaring in this industry is the belief she has in herself. She doesn't just have movie roles knocking down her door — she knows her value and what she has to offer this industry. She's a storyteller and understands the impact it has on people. So Hollywood better get ready to see more of her emerging talents, because she's just getting started.
"I think one of my purposes in life is to be an entertainer that inspires people," she says. "I know that might sound very vague, but being able to inspire someone into [taking] a step and into doing something that they didn't really think was possible until they saw someone like me doing it — that is the biggest reward. Through some dark moments, I've seen people not give up and thought, I'm not going to give up. So if I can do that for people, that's all I want."