Michael Rainey Jr. on Power Book II: Ghost's Season 2 Finale
Michael Rainey Jr. Says There's Trouble Waiting For Tariq in "Power Book II: Ghost" Season 3
Watch out! This post contains spoilers.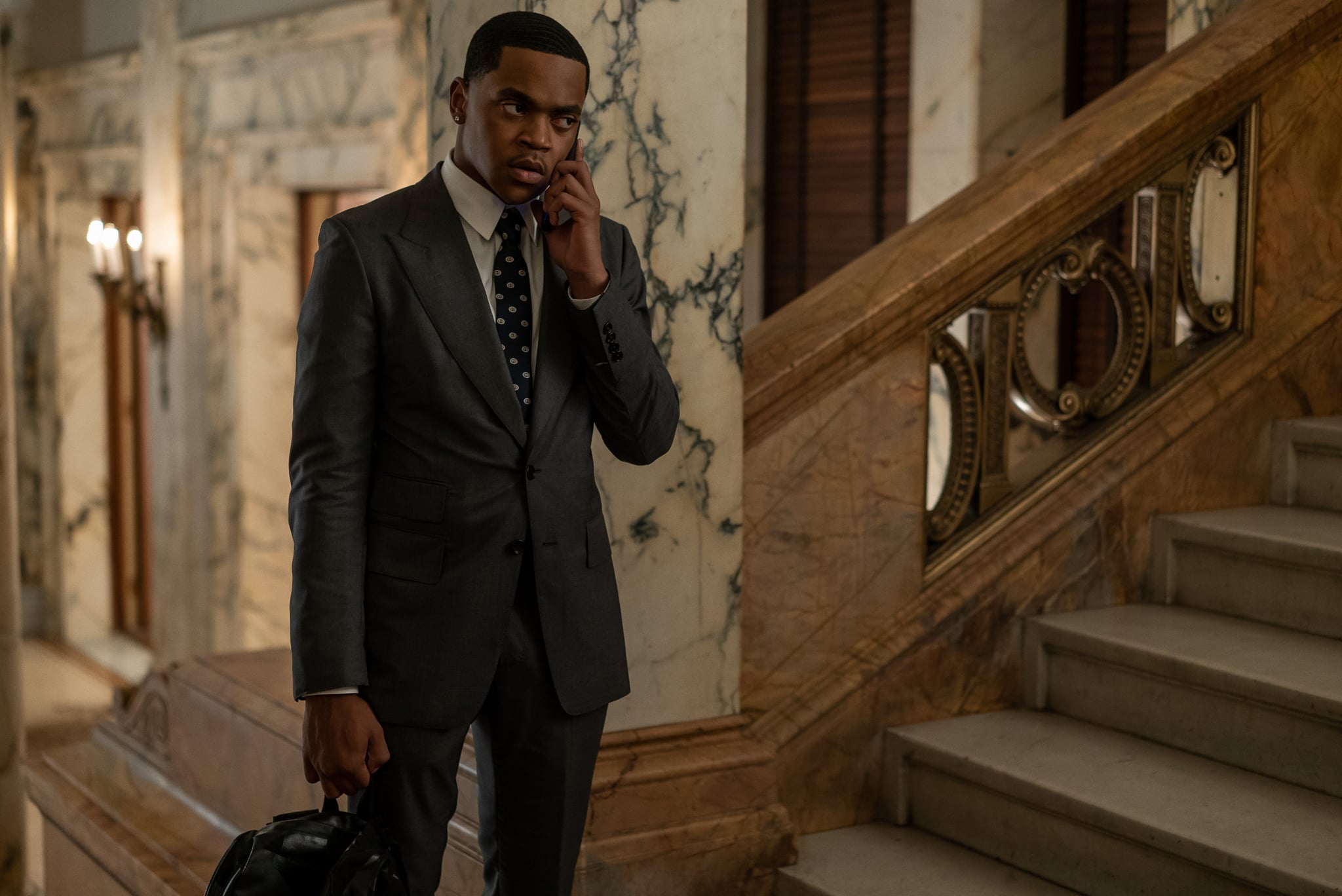 The never-ending cycle of drama continues to raise the stakes in "Power Book II: Ghost." While the show's season two finale closed the book on some characters' chapters, it opened up a whole new can of worms as more secrets and bodies piled up. The show's second season leaves off with a few cliffhangers that will certainly blow up in season three — including the murders of Monet's (Mary J. Blige) son Zeke (Daniel Bellomy) and her former lover/child's father, Mecca (Daniel Sunjata). And somewhere between all the mayhem is Tariq (Michael Rainey Jr.) who, fresh off his murder trial, will likely be roped into another investigation.
"Tariq ties up these loose ends and as soon as those get tied up, another end gets loose."
"As we saw in the end, they got [Detective] Blanca and she pulled up some pictures of Tariq, and she's familiar with him so we already know what's going to happen," Rainey Jr. tells POPSUGAR. "He ended season one with some trouble, he ended season two with some trouble, so he's going to start season three in some trouble for sure . . . Tariq ties up these loose ends and as soon as those get tied up, another end gets loose."
It's clear that no matter how much Tariq tries to avoid his inevitable fate, he just can't catch a break. "Power Book II: Ghost" has been following Tariq's story ever since he murdered his father, Ghost (Omari Hardwick). As he grapples with the idea of becoming Ghost, Tariq finds himself facing his father's same dilemma in leaving the drug game. "Right now, he's kind of fighting that choice to make," Rainey Jr. tells us. "Tariq doesn't really know what he wants to do, as you saw in the the finale . . . All the troubles he's got going on and all the money he's going to have to spend, who knows what he's going to do? He might have to step one foot back into the game. It's hard for Tariq right now. He's in a very confusing predicament."
After parting ways with his mother and little sister — both currently in witness protection — Tariq is all alone on the outside with no family to turn to. The people around him that he thinks he can trust, Brayden (Gianni Paolo) and Effie (Alix Lapri), are hiding a huge secret about his ex, Lauren (Paige Hurd), so those relationships will certainly be tested next season. "It's going to be hard for them, for all of them to hide one secret from Tariq," Rainey Jr. explains. "You know Tariq, he's smart, he's going to figure out something. He's going to get to the bottom of what he wants to get to the bottom of. So it's definitely going to be some up and downs in [those] relationships and that's one thing I'm excited to see: the rocky road that they're about to start. It's going to be crazy."
Season three of "Power Book II: Ghost" trades in its creator/showrunner Courtney Kemp for Brett Mahoney, who will now take over the series as the former begins her overall deal with Netflix. Rainey Jr. tells us he's excited to have Mahoney onboard for the ride and promises that season three is "going to be lit."
While the show is currently filming, Rainey Jr. remains tight-lipped on the premise of next season. "To be honest with you, I have no clue," he says. "I just know that Tariq's going to be making some money and obviously he's going to be fighting a lot, because he's trying to figure out what's going on with Lauren and how her situation went because he doesn't really know what happened. Then, like we said, between Brayden and Effie, they're trying to hold that truth for him. So that's going to be another thing to unfold. It's going to be a lot going on."