What the "Moon Knight" Finale Means For His Future in the MCU
After six action-packed episodes, Disney+'s "Moon Knight" has officially come to a close. The final episode, titled "Gods and Monsters," aired on May 4, and boy, was it full of mind-blowing moments, from Marc and Steven coming back to life and joining forces with Khonshu once again to Layla becoming the temporary avatar of the goddess Taweret. Oh, and who could forget that epic postcredits scene featuring the reveal of Moon Knight's other identity, Jake Lockley?
So much went down during the sixth episode, and if you're a little confused over what happened, don't worry. Here are the answers to some of the biggest questions you might have after that shocking finale.
How Do Marc and Steven Come Back to Life in the "Moon Knight" Finale?
At the end of the fifth episode, Marc goes to the Field of Reeds, while Steven is tragically left behind in the sands of the Duat, aka the realm of the dead, after sacrificing himself for Marc. During the sixth episode, Marc decides to give up paradise in order to go back to try to save Steven. When he finds him again, Marc thanks Steven for always being with him and tells him he's "the only real superpower" he's ever had. Marc places his heart in Steven's hand, then he turns to stone as well.
Suddenly, the gates of Osiris (the lord of the underworld) open up behind them, and the two revert back to their normal selves. Marc and Steven embrace, and then after the sands of Duat rush toward them like a tsunami, they head toward the gates, hoping to return to the land of the living. Taweret appears and is able to slow down the sands with her ship. "Osiris, you old softie," she says, implying he was the one who opened the gates and allowed Marc and Steven to return to their physical body. Once they're back, they're able to heal their wounds thanks to their Moon Knight suit.
Why Does Layla Become the Avatar of Taweret?
Early in the series, Khonshu reveals he plans on making Marc's wife, Layla, his next avatar. After Marc and Steven die and Arthur successfully resurrects the Egyptian goddess Ammit in order to rid the world of evil, Khonshu finally asks Layla to become his avatar, but she refuses because she doesn't trust him. Layla instead offers to fight alongside Khonshu, but after realizing the two are no match for Ammit, Layla agrees to become Taweret's temporary avatar. After joining forces with Taweret, Layla gets a cool suit of her own, which includes a pair of golden wings that allow her to fly, as well as shield herself.
What Kind of Deal Does Steven Make With Khonshu?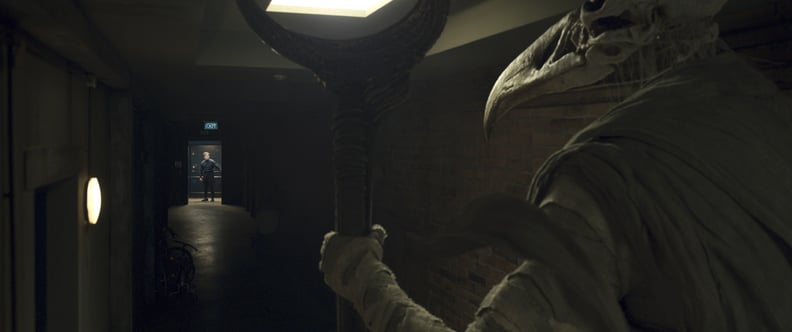 After Layla refuses to become Khonshu's avatar and Marc and Steven come back to life, Khonshu asks Marc to help him defeat Ammit. That's when Steven appears and says he and Marc will only help Khonshu if they'll both no longer serve him. Khonshu agrees, and after they successfully take down Ammit and Arthur, who's become her new avatar, Khonshu fulfills his promise, freeing Marc and Steven.
How Do Marc, Steven, and Layla Defeat Ammit?
Marc and Steven work with the newly powered Layla in order to take down Arthur and his men, while Khonshu focuses on fighting Ammit. After Ammit stabs Khonshu and Arthur uses his scepter's powers on Marc, it appears that all hope is lost. However, Marc blacks out, and after he regains consciousness, he finds Arthur and his men have been defeated and his scepter has been broken. Marc and Steven don't remember what happened but don't have time to question it. Marc and Layla take Arthur back to the Chamber of the Gods, where they use a spell to imprison Ammit inside Arthur, successfully defeating her.
Who Kills Arthur Harrow in the "Moon Knight" Postcredits Scene?
During the postcredits scene, Arthur is in a mental hospital similar to the one Marc and Steven were in during the fourth episode of "Moon Knight." A mysterious man then appears and wheels Arthur, who is in a wheelchair, out of the hospital. As they're leaving, Arthur notices dead bodies lying on the floor. Once they're finally outside, the man pushes Arthur inside a limousine, where he reunites with Khonshu, who reveals his new avatar is Marc's third identity, Jake Lockley. Jake tells Arthur in Spanish, "Today is your day to lose," before shooting him and then driving away.
The series has been hinting all along that Marc and Steven could have another, more violent identity. During the third episode of the show, Marc experiences blackouts while fighting Harrow's men in Cairo, and when he comes to, he sees bodies all around him but doesn't remember killing any of them. He thinks Steven was behind it, but Steven says it wasn't him who murdered Harrow's men. The same thing happens during the sixth episode when Marc blacks out while fighting Arthur.
Will There Be a Second Season of "Moon Knight"?
A second season of "Moon Knight" has yet to be announced. According to Variety, the show has been called a "limited series" throughout its promotional tour, including by Oscar Isaac, suggesting it would be done after its six-episode run. However, lately, there's been a rumor going around that "Moon Knight" could get another season. It all started on May 2 when the official Marvel Twitter account posted a trailer for the show's final episode that called it "the epic series finale." Just minutes later, the page reportedly took down the post and shared the trailer again, except this time, it referred to the upcoming episode as "the epic season finale." Of course, fans instantly theorized the "Moon Knight" series wasn't over just yet.
Even if the show doesn't get a second season, it's still possible Moon Knight could appear in another Marvel project down the line. After all, the franchise is known for surprising fans with cameos when they least expect it, right?