Spider-Man: How Does Jake Gyllenhaal's Mysterio Stack Up to the Comics? Let's Compare
Warning: Spoilers for Spider-Man: Far From Home below!
In case you haven't heard, yes: Jake Gyllenhaal's Quentin Beck is the big bad in Spider-Man: Far From Home. What's interesting about his take on the villain is that we, much like Peter, don't realize he's actually evil until it's too late. Before revealing his sinister plan, Beck initially presents himself as a new mentor for the young web-slinger to look up to in the absence of the late Tony Stark. So, just how close is the onscreen version of Beck to the character originated in Marvel's comics way back in the 1960s?
Mysterio, created by Stan Lee and Steve Ditko, made his debut in The Amazing Spider-Man #13 in 1964. He's introduced as a special effects wizard, stunt man, and actor who longs to make a name for himself at a big Hollywood film studio rather than toiling away at what he views as dead-end jobs. His time to shine comes when he realizes that despite lacking superhuman abilities, his expertise in illusions nonetheless lends itself well to super-villainry. Once he harnesses his new skills, he frames Spider-Man for robbing a museum in New York City, using things like gas and chemicals to fight back against Spider-Man's spidey sense and webbing.
Over the years, Mysterio's identity in the comics is adopted by not only Quentin Beck, but also Daniel Berkheart and Francis Klum. He's one of Marvel's classic antagonists, and is most typically seen facing off against Spider-Man, Deadpool, and Daredevil. Like Gyllenhaal's Quentin Beck, he uses illusions and other technological gadgets to pull off his schemes. While the vintage version of the character doesn't have the exact same origin story, it's not hard to see how the general themes of Mysterio's beginnings — like believing he deserves more fame and recognition for his accomplishments than he's been given — translate to Gyllenhaal's version of Quentin/Mysterio.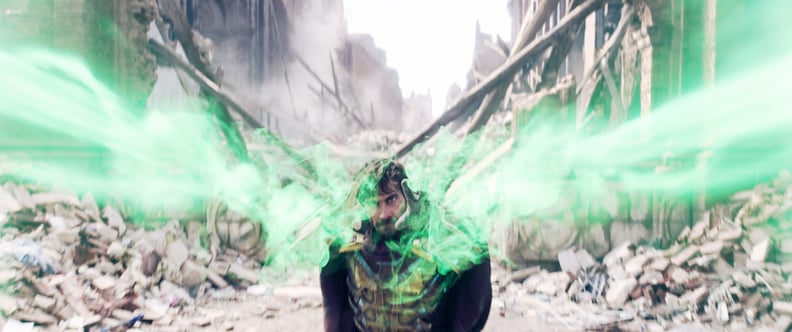 In Far From Home, Beck is introduced as a superpowered individual from an alternate universe — he says he's from Earth 833, and traveled to Peter Parker's Earth 616 to stop the monsters known as "Elementals" from destroying the planet. Following a seemingly impressive victory alongside Peter in Venice, we discover that Beck isn't actually a superhero at all — he's merely a jilted scientist who uses impressive "illusion tech" to trick people into thinking he's flying around and fighting giant monsters, when in fact, he's cloaked from view on the ground controlling it all with some high-tech gadgets.
Rather than working in the movie industry like Beck does in the comics, this version of the character has a history working for Stark Industries. It was there that he developed the complex and intricate illusion tech, which Tony reportedly claimed credit for. Furious, Beck left Stark Industries and slowly begin gathering a group of people who held similar vendettas against Tony.
Beck is the leader of the crew, which also includes William Ginter Riva — yes, the Stark alum who Obadiah Stane screams at about "a box of scraps" in Iron Man. Together they team up to steal back some of the glory that they think was taken from them by Tony by creating the only superhero who's able to defend major cities around the world from the destructive Elementals.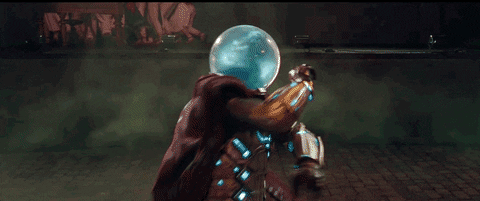 Overall, Far From Home's interpretation of the character nails Mysterio's essence — he's a power-hungry charlatan at his core, desperate for the type of fame and glory that Tony Stark earned before his tragic death. The Marvel Cinematic Universe also does a pretty faithful job of recreating Mysterio's suit from the comics. The green-tinted bodysuit covered in metal panels is there, as well as the gold gloves and the cape in deep purple.
At the end of the day Beck does earn notoriety, but it's not the kind that gets you a meeting with the Queen, no matter how wrinkle-free your cape is. He might not be around to witness it, but thanks to that post-credit scene, we know that Peter will be feeling the effects of Mysterio's decisions for years to come.