Devi's Messy Grief on "Never Have I Ever" Helped Me Mourn My Own Dad's Death
I can still picture myself in April 2020, sitting on the couch, streaming the very first episode of "Never Have I Ever" on my laptop. I had been excited about the show for weeks, a lone bright spot. We were still in the height of COVID-19 lockdowns, afraid to even venture to the grocery store. And to me and my family, the pandemic wasn't some distant thing — my dad had been on a ventilator in an overcrowded Brooklyn hospital for about two weeks before dying on a gorgeous Monday afternoon earlier in April. Because of restrictions at the time, we weren't able to see him before his death.
The day Netflix released the first season of "Never Have I Ever," my dad had been dead 21 days and I was desperate for a distraction. That's not what I got.
The show's marketing had disguised, at least to me, that the inciting incident of the series is Devi's (Maitreyi Ramakrishnan) loss of her own dad (Sendhil Ramamurthy) — his death due to a sudden heart attack during her orchestra concert. Devi is destroyed by her father's death, as is her mom (Poorna Jagannathan).
And at first, I was angry. My dad was already dead! I didn't need this dead-dad content right now!
But yet, I kept watching. I wish I could say this was because I realized it might be good for me, but in reality, a friend told me Devi's dad's death was not a central part of the plot. She could not have been more wrong, but I'm grateful for her mistake — otherwise I would have missed this special, sparkling show.
There's something about grief that makes you feel like you are the only person who has ever experienced it, and Devi is a reminder that's not true. I see myself in her anger, her pain, her rash decisions. Crying with Devi during season one helped me start to unlock my own grief about my dad in the early days after his death. Yes, she is a fictional character 12 years younger than me, but I saw myself in her. I have perhaps never felt more understood and comforted in my entire life than when, at the end of season two, Devi's therapist (played by Niecy Nash) tells her, "Devi, you feel a lot. Which means sometimes you're gonna hurt a lot. But it also means you're going to live a life that is emotionally rich and really beautiful." Devi's choices sometimes feel like implicit permission to express all the messy feelings I spend so much time trying to keep in.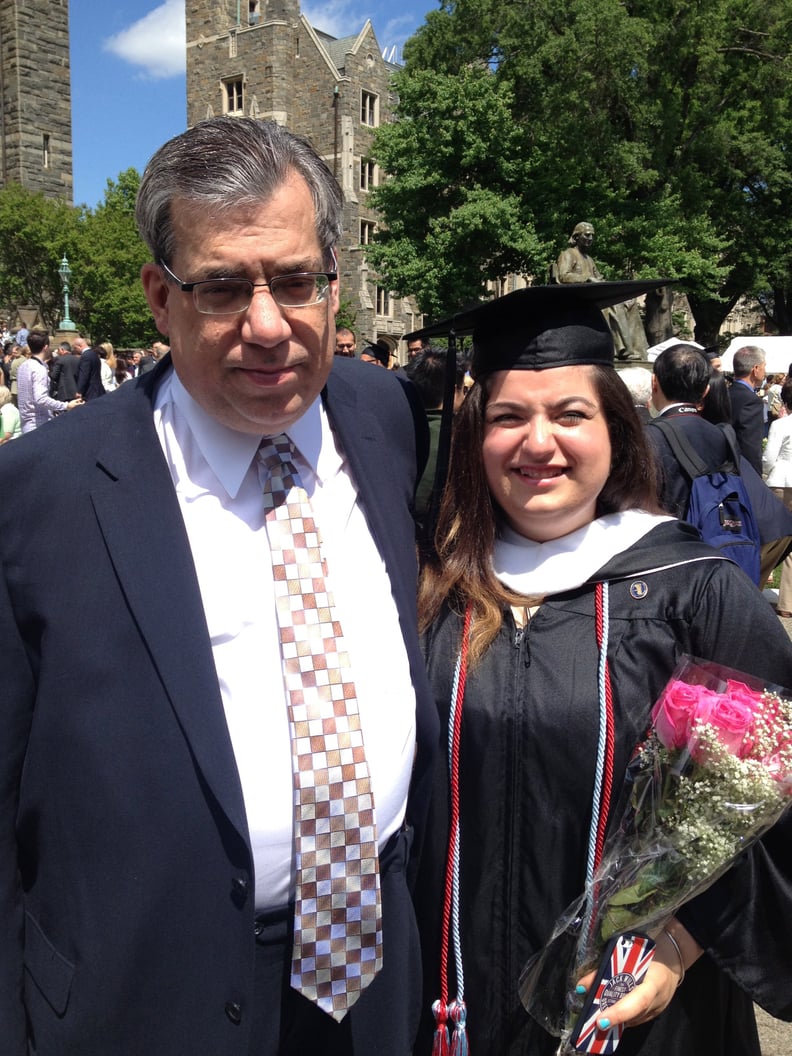 Season three of "Never Have I Ever," released Aug. 12, perfectly shows the next step on the grief journey. This version of Devi, in the end of her junior year of high school, is doing a lot better than when viewers first met her. I, too, am doing better than I was in April 2020. But good days don't mean the pain has disappeared. Sometimes, the good days make everything worse. You remember your loved one is gone and question how you could experience happiness when they're not here with you to also enjoy it. Sometimes Devi's dad's death sneaks up on her just like that, in ways I can deeply relate to.
Devi is also still grappling with the timeline of her "healing," a very common American push for speed in doing so best illustrated on the show by the plot with Des (Anirudh Pisharody) and his mom, Rhyah (Sarayu Blue). Rhyah seems understanding of Devi's grief and anxiety, only to ultimately decide that she needs to keep her son protected from Devi's "issues." It's horrible, but it's not a rare sentiment. It's one I've even internalized sometimes, the way "crazy" Devi can, too; why can't I be healed enough already to be around other people? Why must I infect my friends and acquaintances with this massive grief inside me? Why can't I be "normal" again? I didn't ask for all this trauma! I didn't ask to become the type of person who uses the word trauma on a regular basis! Maybe that's why I can never choose between Team Paxton and Team Ben — both boys have moments where they go above and beyond to understand Devi during her moments of grief, and I can't help but melt every time.
Grieving is hard, lifelong work. It never goes away completely.
Anyone who's lost a loved one can tell you that dead parents and relatives are everywhere in movies, on TV shows, and in books. But it's not till you lose someone yourself that those inclusions really stick out. A lot of other stories minimize that person's grief: it's a small obstacle for them to overcome, or something for the leading lady to shed one delicate tear over before finding her happily ever after. Aka plot devices. "Never Have I Ever," though, is all about complicating that simplistic narrative. Grieving is hard, lifelong work. It never goes away completely.
I've seen a lot of people on social media joke that Devi is their "toxic queen." But I don't think of Devi as toxic. I think of her as complicated, as trying her best, as someone with a big heart and a lot of grief who's just trying to figure out where to put it all. Some days, I am too hard on myself. "Never Have I Ever" is a reminder that I am Devi, on my own messy journey, and I should extend to myself the same compassion I can so easily give her as a viewer. We're both just trying our best under the worst of circumstances, in a world where nothing feels guaranteed because it's not. When the fourth and final season airs, I won't be ready to let Devi go, but I'll always be thankful to have had her by my side during the worst times of my life.