Anirudh Pisharody Says Joining "Never Have I Ever" Felt Like "Being the New Kid at School"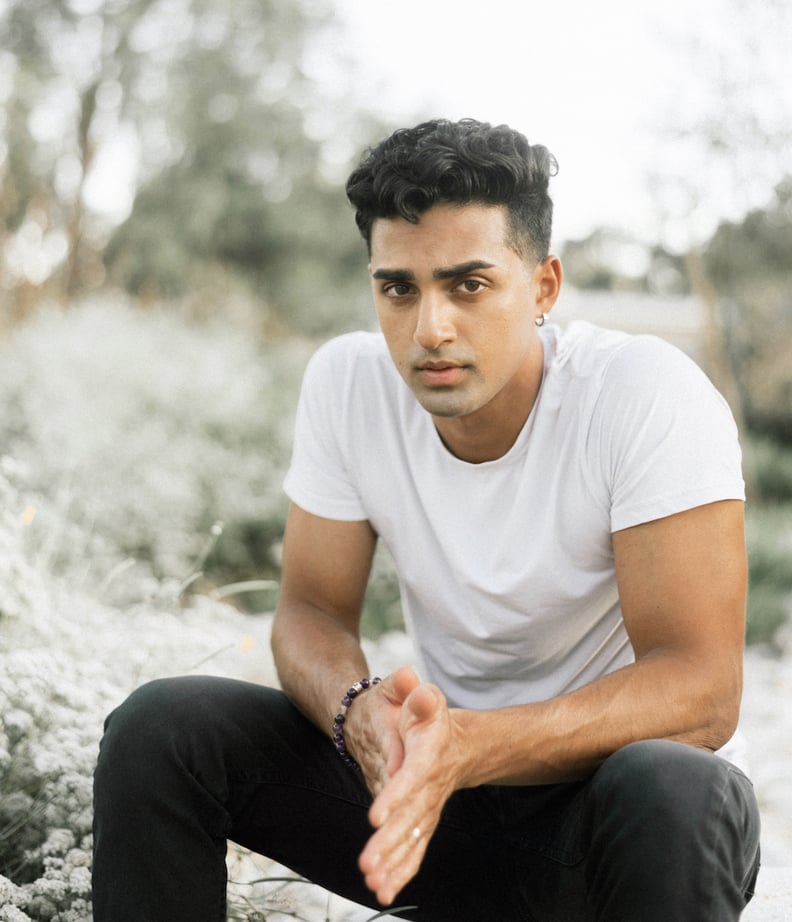 Wanderlust Creatives
Wanderlust Creatives
In our Q&A series "POPSUGAR Crush," we get to know some of our favorite celebs' more intimate details — from their first celebrity crush to the best love advice they've ever received. This month, we're crushing on "Never Have I Ever" star Anirudh Pisharody.
"Never Have I Ever" is back for another season filled with "steamy romance," and there's a new kid in town vying for our favorite nerdy teen's heart. Season three, which premiered on Aug. 12, marks a major milestone for Maitreyi Ramakrishnan's Devi: she's finally dating Paxton (Darren Barnet). But as their on-and-off-again arc continues, a "really hot Indian guy" (as creator Mindy Kaling puts it) named Nirdesh (Anirudh Pisharody) swoops in like Devi's knight in shining armor.
"They really welcomed me with open arms."
Initially, Pisharody — known previously for Fox's "911" — wasn't a diehard "Never Have I Ever" fan. In fact, he'd only seen the show's pilot until it came time to audition. "When I got the audition, I was like, 'OK, I definitely need to sit down and rewatch it,'" Pisharody tells POPSUGAR. "But I got hooked just based off the audition. Within a couple of days, I had finished the entire first season."
And like his "Never Have I Ever" binge-fest, the 28-year-old actor booked his recurring role within a matter of days, which he describes as a "pinch me, I'm dreaming" moment. Even though Pisharody is a newcomer to the close-knit cast, he says he still received a warm welcome. "It's like being the new kid at school, like a transfer student, you know? But I got to say everyone was super kind, super generous, and super welcoming. We're all good friends now," he says. "They really welcomed me with open arms . . . even the crew. All the directors were ready to take me under their wing and show me the ropes, so it was awesome."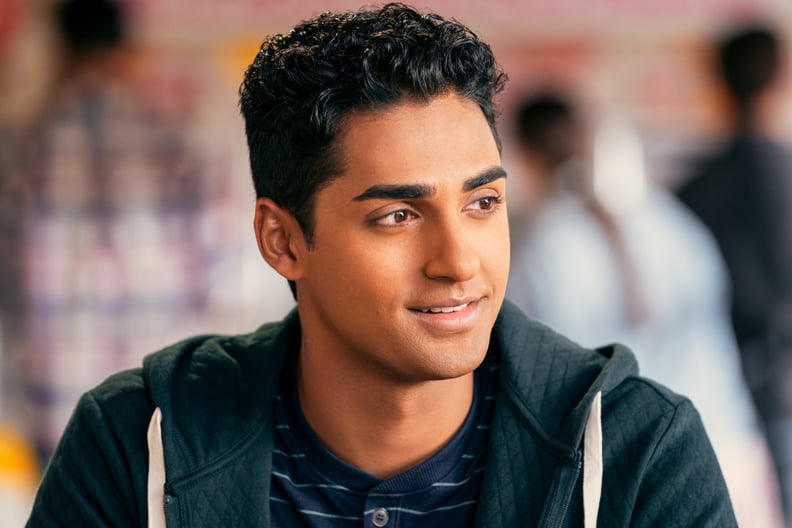 Surprisingly, Pisharody has yet to officially meet the brains behind "Never Have I Ever." According to him, he's only spoken to Kaling online, and the latter confirmed the same in a separate POPSUGAR interview, though they both hope to meet at some point during season three's press run. On the other hand, Pisharody has developed a close friendship with his costar Ramakrishnan. "We spent a lot of time together, and obviously, we have intimate scenes and things like that. But our shared love of anime really cemented our friendship ('Attack on Titan' and 'Demon Slayer,' to be exact)," he shares.
"It was such an inclusive atmosphere, I just felt right at home."
Gaining new friends is just one benefit Pisharody has found in "Never Have I Ever," but, to him, the best part about being on the show is its accepting environment. "It's so rare to be a part of a cast and crew that's so diverse ethnically," he notes. "Obviously [the show] is centered around South Asian characters, and myself being South Asian, I had never experienced that being on set. That also lends to the fact that everyone was so welcoming, and I felt a lot more like, 'Oh my God, these are my people.' It was like a, 'Yeah, you're one of us' kind of vibe. That was the greatest part about it. It was such an inclusive atmosphere, I just felt right at home."
"Never Have I Ever" has been a dream come true for Pisharody, but he has even more pie-in-the-sky goals for his acting bucket list. "I would love to be in something Marvel-related, be a superhero," he shares. "But in the meantime, I would love to do something else really high action, too. Something that's maybe more grounded in realism, like a CIA agent. I feel like you never see South Asian people portrayed that way. We're always on, generally, the bad side of things, so it would be cool to have that unique take on it."
Check out the rest of Pisharody's interview ahead and meet his new character on season three of "Never Have I Ever," now streaming on Netflix.
What was your high school experience like?
Definitely [didn't] have a normal high school experience . . . by the time I got to high school, I had done so many productions, I was basically a theater kid. I was kind of involved in [ROTC], too. So I was like this military-minded theater kid. Obviously I went one way and not the other but, at the time, I thought it was really cool. Definitely was trying to figure out what exactly I wanted in my life.
If you could go back and change anything about high school, what would you do differently?
I went to my [senior] prom. I didn't go as a junior, but I wish I had.
Who was your first celebrity crush?
Jennifer Aniston on "Friends." It was one of the first sitcoms that I saw when I moved to the United States from India, and as a little boy, that's what caught my eye. I was like, "OK, OK. Right on."
What's your go-to coffee/tea order?
I'm no frills. I don't need all the syrups and the foam. I just like an iced café au lait, little black coffee, little smidge of milk in there. Ideally a blonde roast.
What's your favorite thing to cook or order for takeout?
Have you heard of Monty's in LA? They've got a couple locations, but it's a vegan burger place. Everything is vegetarian and I'm vegetarian myself, so obviously I can't have normal hamburgers and stuff like that. But this place, they do a double cheeseburger with impossible patties, and then they have these amazing tater tots on the side. Love it. You feel pretty bad after you eat it, for sure, but it's still delicious.
What would your dating profile say about you?
So I'm actually married now. I've been married for three years, but I did have a dating profile at one point in college. I think it said "here to party," or something like that. It was pretty direct, pretty bad. Looking back, it's a good thing I didn't go down that rabbit hole, but yeah. Here to party.
What's your ideal first date?
[My wife and I] love going to the movies because we're both in Hollywood. We love the movies, so it'd probably involve something with a movie theater. But what would be awesome is like a drive-in movie . . . a drive-in movie followed by dinner somewhere in Venice near the ocean.
What is the most romantic thing you've ever done or that's ever been done for you?
So, this was with my wife when we were dating early on. She's from Hong Kong originally, and I wanted to visit her over the summer while she was there. But my parents, they didn't even really know about her. If I said, "Oh, I want to go to Hong Kong," they'd have been like, "Oh, are you sure?" You know, immigrant parents and all that. So I made up this whole elaborate scheme about going to this science conference because I was working in a lab at that point, a bio lab. I was like, "Oh, yeah, I'm going to attend this conference in Hong Kong" . . . Basically, I lied out of my ass. They were definitely a little sketch at first, but then they were like, "OK, all right, sounds good" . . . I flew to Hong Kong and I didn't really surprise [my wife], but it was like, it's a great gesture. I made it work.
What is the best trip you've ever been on?
Couple years ago, I went to Japan and we stayed in this like 1700s-looking Japanese castle almost. There was a hot springs there . . . it was snowing, and it was beautiful. Also, near that area is a zoo for capybaras . . . I think that's one of the best trips I've been on.
When you're not working, what do you do for self-care?
I love a good massage, like go to a massage parlor. There's a gym that I go to that's really good. I think it's bad because every time I've gotten a massage, I fall asleep. So I want to say that my actual answer to this is napping. I think naps are essential, you know?
What's something most people don't know about you?
I didn't move to LA to be an actor. My girlfriend at the time, she was here and the job that I was doing in DC, I really wasn't happy with it . . . So my initial plan was, "Hey, I'm just going to go over to LA and I'll stay there for a few months, see what happens." [I said] I'll go to UCLA medical school and I'll be a doctor on the West Coast. Fast-forward five years, that didn't happen. But I am an actor now.
What's the biggest lesson you learned from "Never Have I Ever"?
Being on that show, it really taught me to be able to take more risks, at least from an acting perspective . . . Being married to the words and the script, oftentimes that will keep you from fulfilling your true potential. It'll keep you from really blooming, so to speak. "Never Have I Ever" was really good, and it comes back to that inclusivity thing because all of our directors were women and people of color. There was this level of like, "It's OK, do whatever you want" kind of, or "take a risk, take a chance" and that was really awesome. Now I'm seeing on this show that my whole mindset and psyche has been totally altered because of that, and that's a really valuable thing.