Princess Anne and Camilla's Love Triangle From The Crown
Yes, The Crown's Royal Love Triangle Totally Happened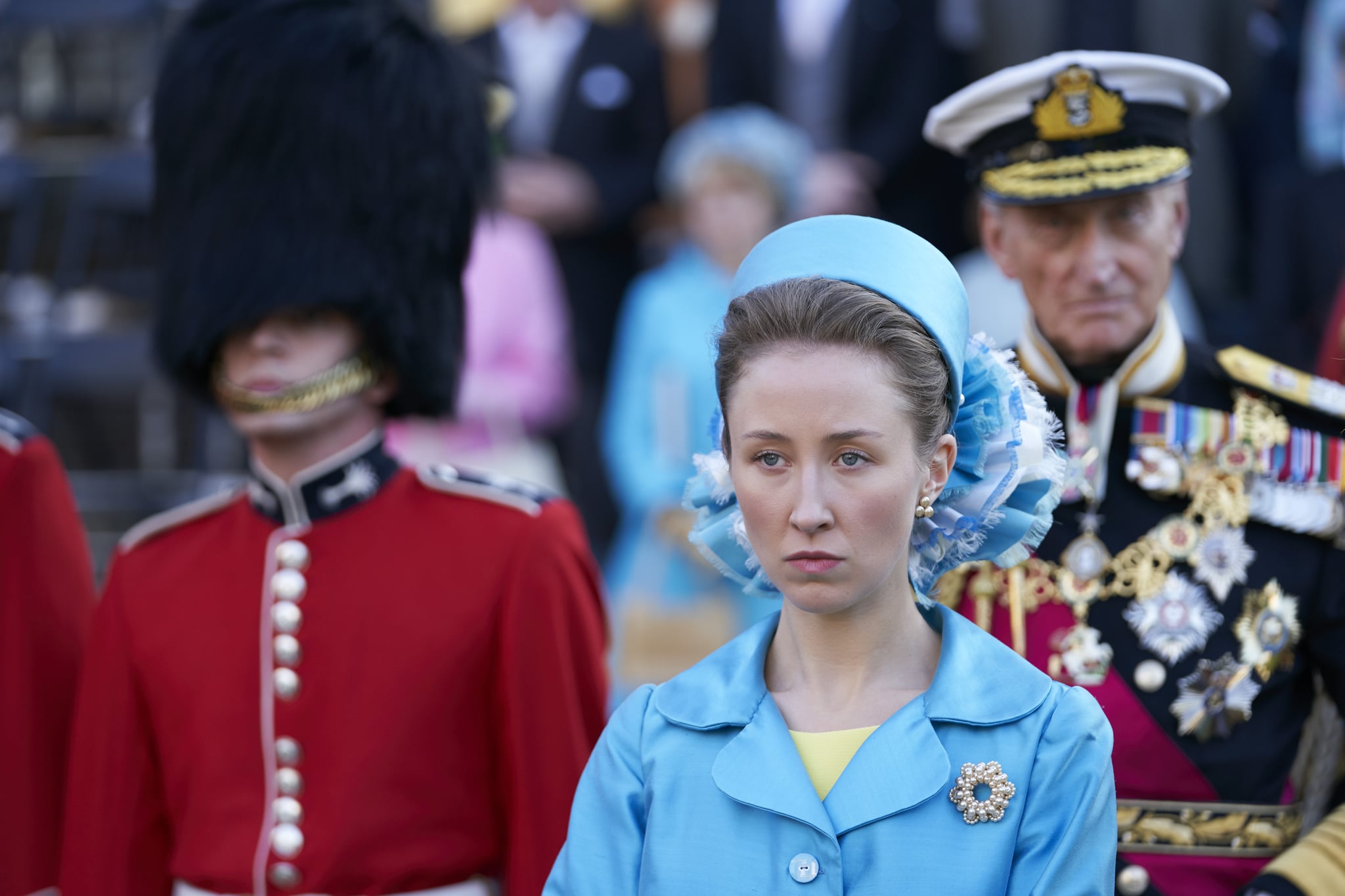 The next generation of royals are stealing the spotlight in season three of The Crown, and that's thanks in large part to their love lives being every bit as dramatic as an episode of Days of Our Lives. The sudsy storyline involving Princess Anne and Camilla Parker Bowles's love triangle is all too real. It seems that both Princess Anne and Camilla were involved with British Army officer Andrew Parker Bowles in the '70s — and poor Prince Charles ended up being roped into the drama as well when he fell for Camilla.
Royalty biographer Penny Junor detailed the tangled love lives of the young royals at last year's Henley Literary Festival, per Harper's Bazaar. "[Camilla] was passionately in love with [Andrew] but he was a cad, he was bonking other people, some of her friends," she reportedly said. It seems his dalliances extended to Princess Anne, who was said to have fallen for the officer. This didn't sit well with Camilla, who may have taken an interest in Charles to get a rise out of Anne and Andrew.
"So when she was introduced to Charles and he thought she was pretty special . . . he thought she was a bit of alright and she thought, 'Andrew is at the moment off with Princess Anne, you know her brother, teach Andrew a lesson,'" Junor said. "So she had a fling with Charles." For Charles, the relationship was much more than a fling. He fell hard for Camilla and even told his uncle, Edward VIII, that she could be "the one."
It's unclear just how close Anne and Andrew were, but by all accounts it seems that they truly fell for one another. But their relationship could never have ended in marriage for reasons that had nothing to do with Camilla. As Express pointed out, Andrew was a Roman Catholic, and he was forbidden from marrying an heir to the throne under 1701's Act of Settlement. Even though their romance couldn't last, Anne and Andrew remain close friends today, but their dalliance had a lasting effect on Anne's brother Charles's love life.
Because Camilla was so close to Andrew, the queen and the rest of the royals were against her relationship with Charles. They were so against it that they reportedly arranged a meeting between Andrew's and Camilla's parents to ensure that the pair would get married, leaving Charles heartbroken. In her 2007 biography, The Diana Chronicles, Tina Brown wrote of the situation, "There was a romantic re-enactment of 'La Ronde' on the dance floor at Annabel's one night in 1971 when it was clear that Princess Anne was in love with Andrew Parker Bowles, Camilla was in love with him too, and Charles was in love with Camilla."
Princess Anne went on to marry Mark Phillips in 1973, but the pair divorced in 1992. Anne later married Timothy Laurence. Ultimately, Camilla did end up marrying Andrew, and Charles married Princess Diana. But Charles and Camilla ended up together anyway when they tied the knot in 2005. As for Anne and Camilla, they seem to have left their romantic rivalry in the past.