Silk Sonic Covered Nelly's Hot in Herre at Grammys Party
Silk Sonic Performing Nelly's "Hot in Herre" Is the Ideal Grammys Afterparty Vibe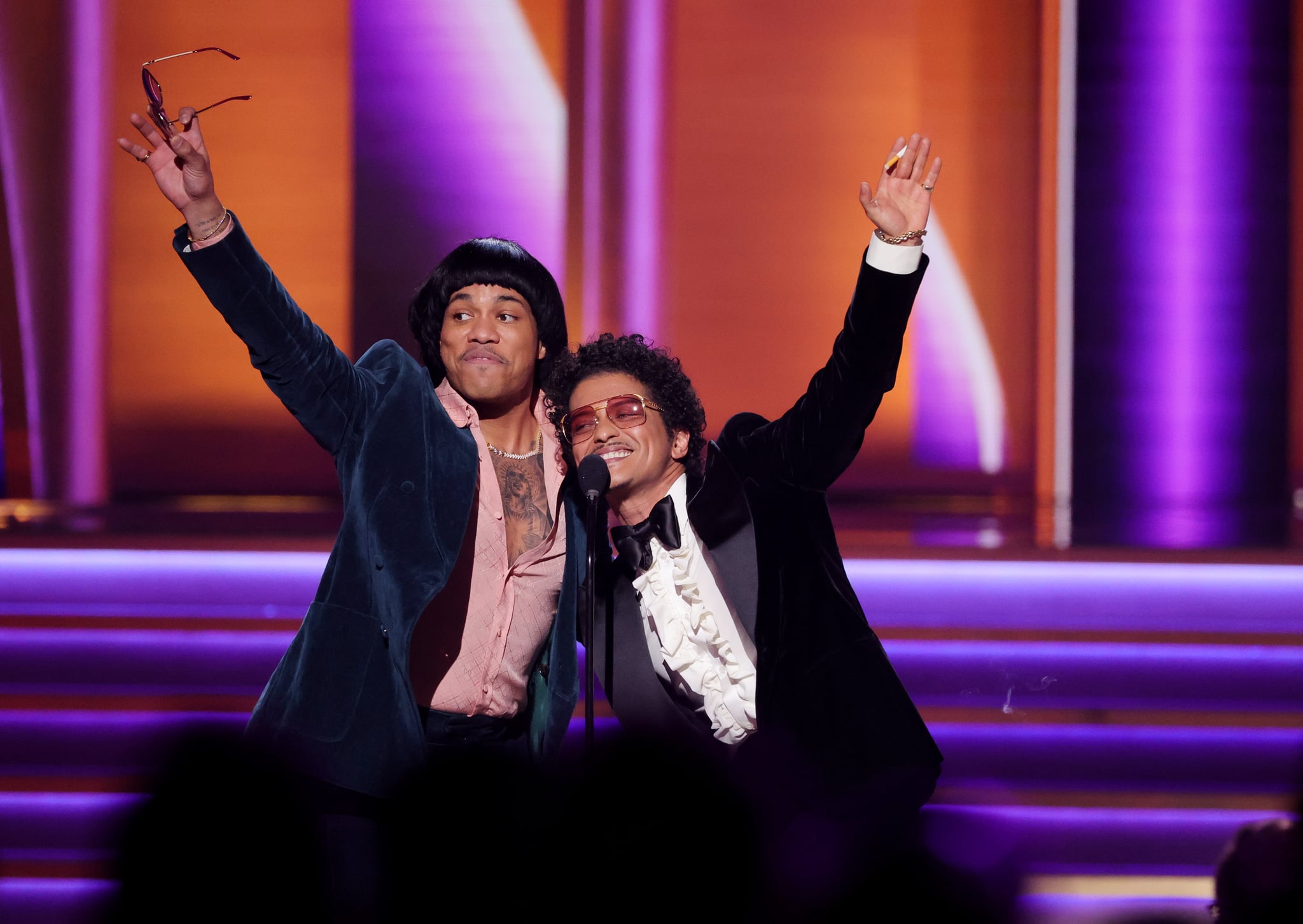 Image Source: Getty / Rich Fury
Bruno Mars and Anderson .Paak are all about keeping the party going. On April 3, Silk Sonic quite literally swept the Grammys when they took home all four awards they were nominated for: best R&B performance, best R&B song, song of the year, and record of the year for their smooth hit, "Leave the Door Open." "In the industry, we call that a clean sweep," .Paak said after winning their fourth award. Silk Sonic also opened the award show with a groovy performance of their song, "777."
But you best believe their big night didn't stop after the show wrapped. Mars and .Paak attended a Gala Music afterparty at Delilah in the Wynn Hotel, where they delivered a surprise performance with covers of classic songs. According to Variety, Silk Sonic put their own funky spin on Nelly's "Hot in Herre," Eve's "Let Me Blow Ya Mind," and the Jackson 5's "I Want You Back." After rewatching the clip of "Hot in Herre" too many times to count, we've decided it's impossible to watch and not get up and dance. With Mars working his magic on the guitar, and .Paak slowing down the vocals of Nelly's massive 2002 hit song, their groovy spin has us hooked.
The duo is thriving in Las Vegas, as they're currently in the middle of their residency at the Dolby Live theater inside Park MGM. "An Evening With Silk Sonic" brings their infectious energy to the stage with .Paak's beloved mushroom-cut wig and the duo's '70s vibe. After the Grammys, however, they displayed their timeless talent with covers from early 2000s. Watch Silk Sonic's performance of Nelly's "Hot in Herre," and bow down to the gift that is Bruno and Andy.