Zoey's Extraordinary Playlist Strikes a Perfect Chord With Skylar Astin
When it comes to musicals, Skylar Astin is a seasoned pro. In addition to his role in the Pitch Perfect films, the actor has starred on Broadway and made appearances on shows like Glee and Crazy Ex-Girlfriend. Now, he's stepping right back into the spotlight with his role on NBC's new musical dramedy, Zoey's Extraordinary Playlist. The show follows the life of a computer coder named Zoey (Jane Levy) who suddenly develops the ability to hear people's inner thoughts through popular songs, including that her best friend Max (Astin) has been harboring secret feelings for her.
"We use a different kind of imagination. It's a little bit more cerebral and ethereal in how music is interwoven."
While the show certainly feels reminiscent of Glee or Pitch Perfect, one of the main things that drew Astin to the script was that it offers something completely new to the musical genre. "[The characters on Glee and Pitch Perfect] get to sing in context of their own choir room and in context of performances that they have and we are a [bit] different," Astin told POPSUGAR. "We use a different kind of imagination. It's a little bit more cerebral and ethereal in how music is interwoven and introduced throughout the series. It comes as a surprise every time, which I think is really special. With Pitch Perfect and Glee, since the singing and the performing gets talked about so much in the narratives, it doesn't come as much as a surprise because we are anticipating this big performance that's going to happen probably at the end of the episode."
Of course, the show does have quite a few fun connections to Astin's past projects. Not only does it share the same music producer of the Pitch Perfect films, Harvey Mason, Jr., but Astin even gets to sing a song from one of the movies. While Astin wouldn't give too much away, he did tease that it wasn't a song he originally sang in the movies. "Nobody actually ever sang it in the Pitch Perfect movies, because the actual song itself is in the score of the film." He also really enjoyed putting his own spin on the Jonas Brothers' hit "Sucker." "When I heard [Mason's] demo, I thought it was perfect. I added my own vocal player to it, but what he did to the tempo and just kind of giving it a stronger downbeat, I was like, 'Oh, I am right in the pocket of this song and totally understand what we're going for here.'"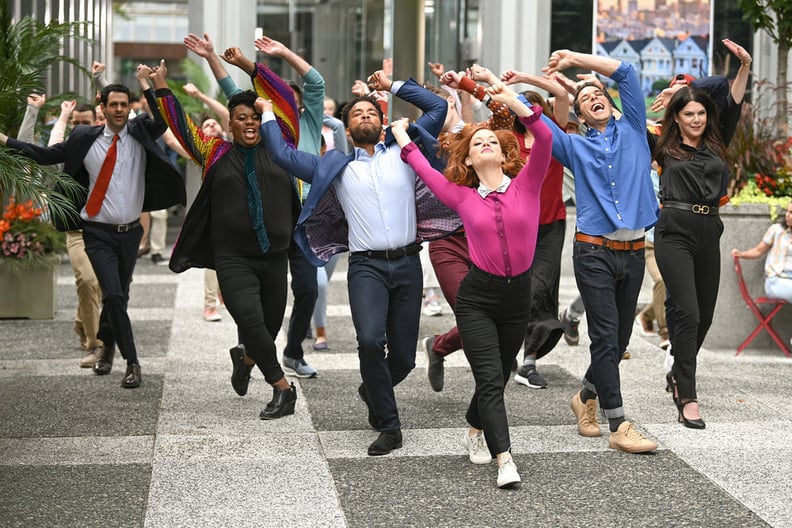 Since Zoey's mind has been uploaded with countless playlists, that means we'll be hearing many different musical genres this season. As a Broadway alum, Astin is especially excited about all of the showtunes. "I love that," he said. "I would not like it if we were just throwing it in just to fan about it. But if there is a time and place for it, I'm so happy that our channel is open to that. I want to cash in on that genre for sure." In addition to musical theater, you can also expect some jazz ballads, rap, and even some opera from Astin later this season.
The first episode shows how Zoey deals with her newfound abilities, and it seems like her powers will only continue to evolve this season. "There's an episode in the later half of the season where [Zoey's powers] completely glitch and it really goes out of control," he said. In the episode, the tables turn and Zoey is the only one who can sing. "It's really thrilling because we get to hear Jane [Levy] sing. Everyone really brought out the big guns for that episode. It's fun to play with it and provide its own challenges there."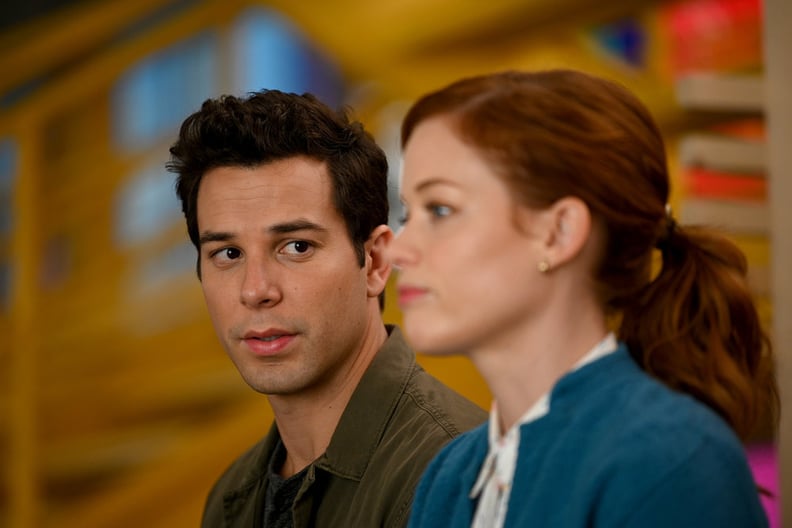 As Zoey copes with her powers this season, she will also face some life struggles along the way, including her father's neurological disease PSP and a potential love triangle with her best friend Max and coworker Simon (John Clarence Stewart). While Astin is a little biased, he definitely appreciates the dynamic between his character and Zoey. "I just love that Zoey's at ease with Max," he said. "They truly get along, they truly make each other laugh. Their banter is really lovely and at the end of the day, Max [has known] Zoey for a long time. He knows her parents. He knows [her father] Mitch, who's dying, and he has his own relationship with Mitch. They go all the way back and there's a lot of chemistry there."
"There is a real depth and, at times, a heaviness to the show."
Much like how music helps people escape from reality during difficult times, Zoey's Extraordinary Playlist perfectly balances cheerful musical moments with tough life moments. "The way people see it in initial trailers is, 'Oh wow, it looks so uplifting and wonderful,' and it is true, our show is often funny and uplifting, but there is a real depth and, at times, a heaviness to the show that's really grounded emotionally. There are several numbers throughout the scenes throughout the season that will be tearjerkers, undoubtedly."