Stranger Things Fans Will Love These Candles as Much as Eleven Loves Eggos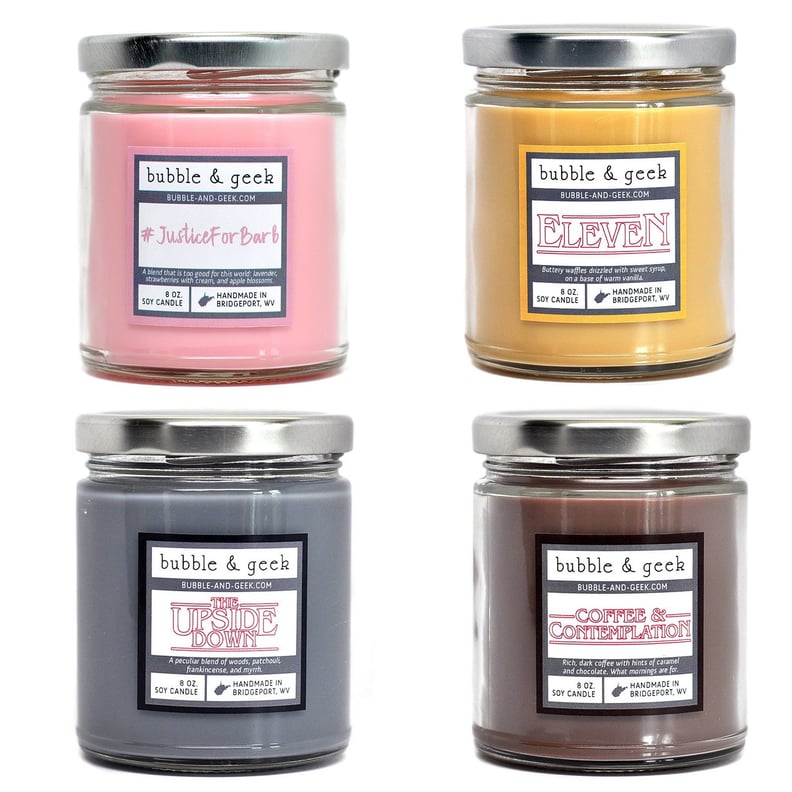 As POPSUGAR editors, we independently select and write about stuff we love and think you'll like too. If you buy a product we have recommended, we may receive affiliate commission, which in turn supports our work.
After binge-watching season two of Stranger Things faster than Dart devours Dustin's 3 Musketeers bars, we've been rabidly searching for something to satisfy our Hawkins obsession while not-so-patiently waiting for more details on season three. That's why we could barely contain our excitement upon hearing that candle collections inspired by the Netflix series exist out there on the internet.
Though there are many independent retailers now selling candles that cater to the devoted Stranger Things fan base, Bubble & Geek's are at the top of our wish list. The company produces both handmade soy candle jars and wax melts with scents that pay tribute to different aspects of the show, like one of Jim Hopper's most infamous quotes and a certain character who passed away too soon (*cough* #JusticeForBarb *cough*). These candles may not be quite as hypnotizing as that epic candle that "bleeds" wax just like Eleven's nose, but hey, they're certainly a bit nicer on our budgets, as each eight-ounce jar only costs $16.
Whether you're dying to fill your own home with the scents of Hawkins or looking for the perfect holiday gift for your Stranger Things-obsessed pal, you can shop all four of Bubble & Geek's Stranger Things-themed candles ahead.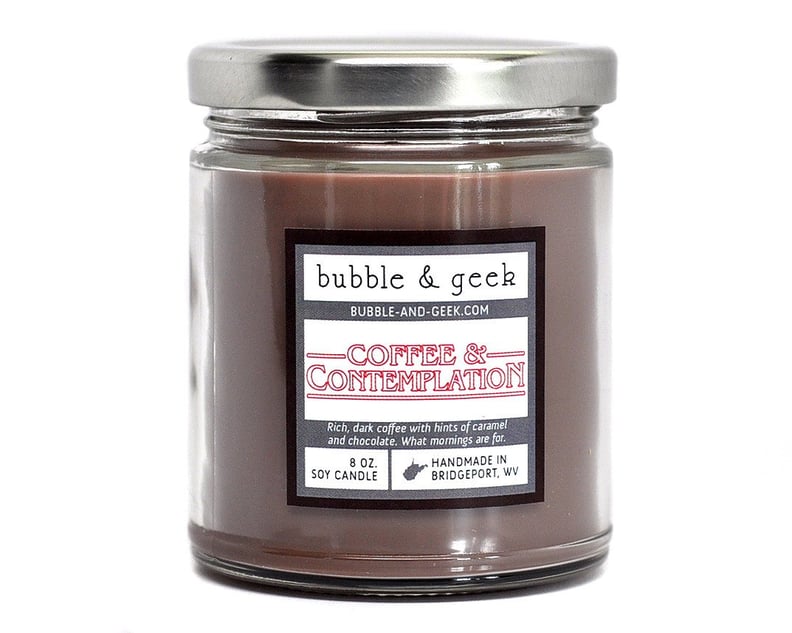 Coffee & Contemplation
Scent: The first time we're introduced to Hawkins Police Chief Jim Hopper in season one, he arrives at the station late and hungover. When the office secretary, Florence, nags him about the fact that Joyce Beyers has called for him multiple times that morning, he reminds her that "mornings are for coffee and contemplation" and nothing more. An ode to Hopper's necessary morning cup of joe, this candle smells like "rich, dark coffee with hints of caramel and chocolate."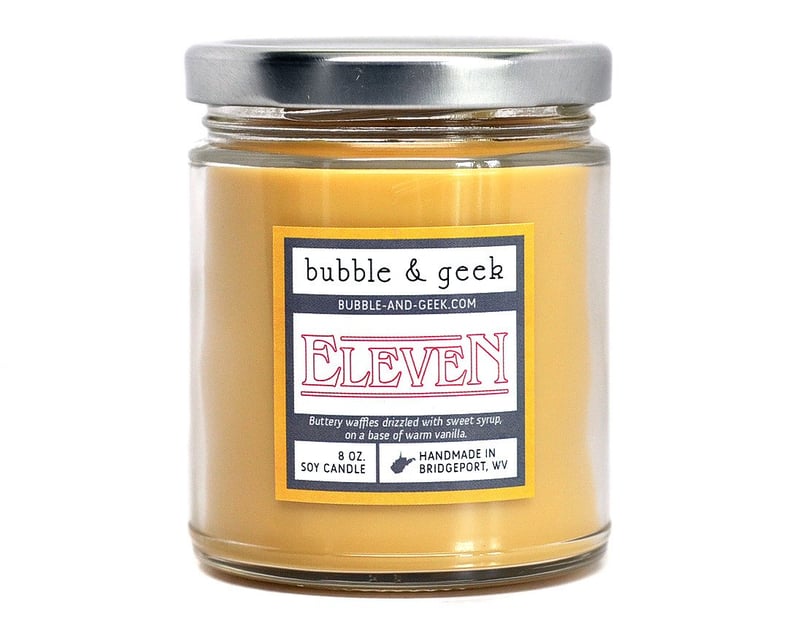 Eleven
Scent: Of course there has to be a candle that pays tribute to Eleven's undying obsession with Eggo waffles! The Eleven-scented candle smells like "buttery waffles drizzled with sweet syrup on a base of warm vanilla." Sounds pretty darn cozy and sweet to us.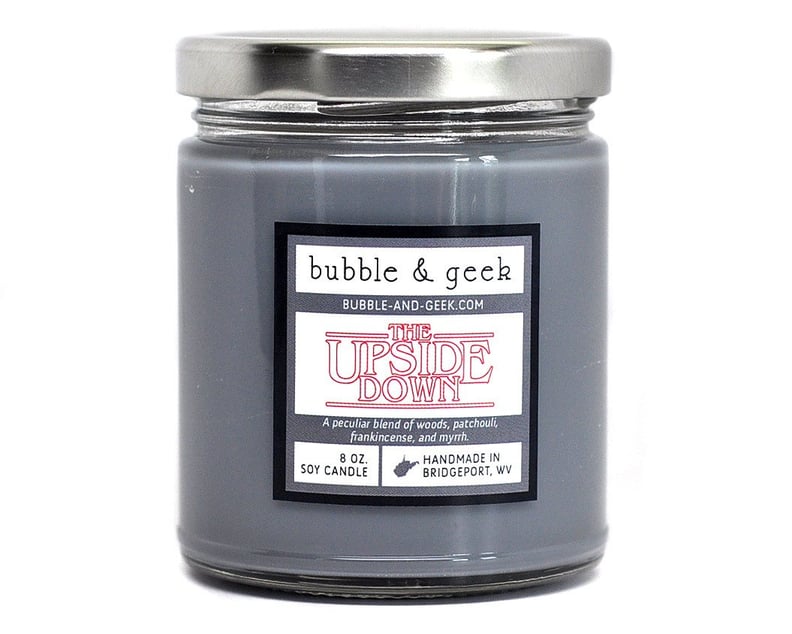 The Upside Down
Scent: Don't worry — sniffing this candle won't summon a demogorgon or banish you to the underworld. The Upside Down candle actually sounds delightfully musky, offering "a peculiar blend of woods, patchouli, frankincense, and myrrh."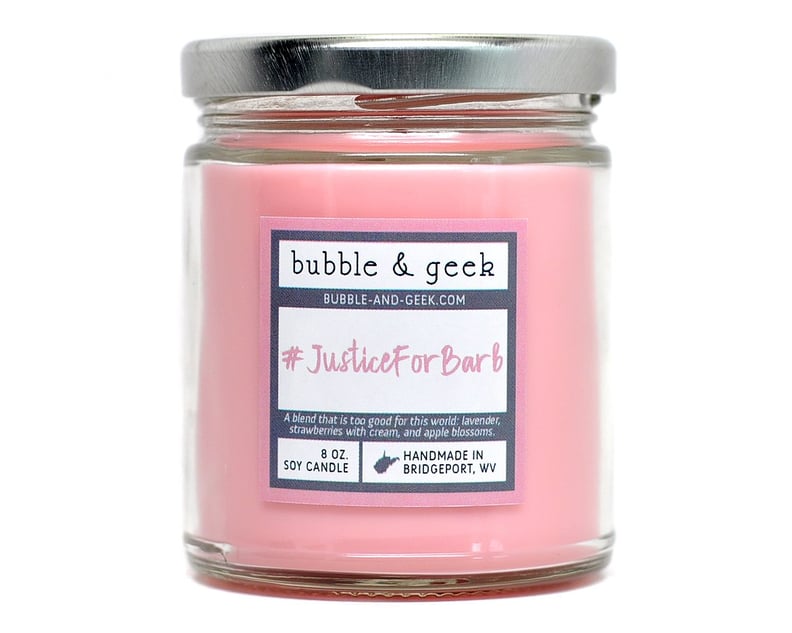 #JusticeForBarb
Scent: "Justice For Barb": it was the rallying cry heard 'round the internet after Barbara Holland's untimely death in season one. Rather than focusing on the last snippet of Barb that we see (when she's covered in slugs in the Upside Down), this scent hones in on just how pure of a character she was, giving off the smells of "lavender, strawberries with cream, and apple blossoms."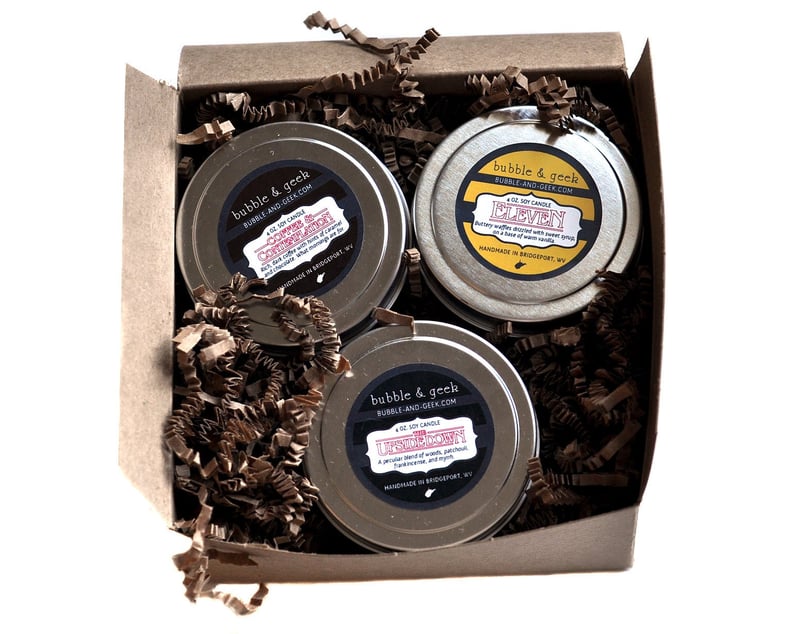 Candle Tin Set
Can't decide on just one candle? We can hardly blame you! Instead, you can opt for this Candle Tin Set ($30) for a three-in-one deal that's hard to beat.