Go as AFC Richmond's Finest This Halloween With One of These DIY Ted Lasso Costumes
The first idea that popped into my head when deciding on mine and my husband's Halloween costumes this year was Ted Lasso, and we are running with it like Dani Rojas (because football is life). Although we're choosing to go as Ted and Coach Beard for our couple's costume, there are so many characters from the Emmy Award-winning series that would be fun to go as for Halloween, especially if you need costumes for a big group.
From Keeley and Rebecca to Nate and Roy, keep reading to learn how you can achieve a DIY Ted Lasso Halloween costume for any of AFC Richmond's finest.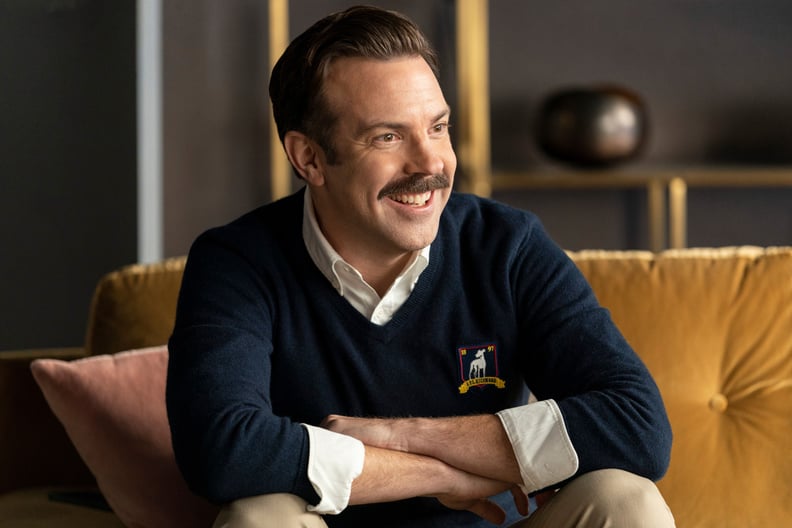 Ted Lasso
What to wear for Ted: A white button-down under a navy sweater with the AFC Richmond logo, khakis, and his classic mustache. Be ready to mutter things like "Be a goldfish," and "You can fill two internets with what I don't know about football."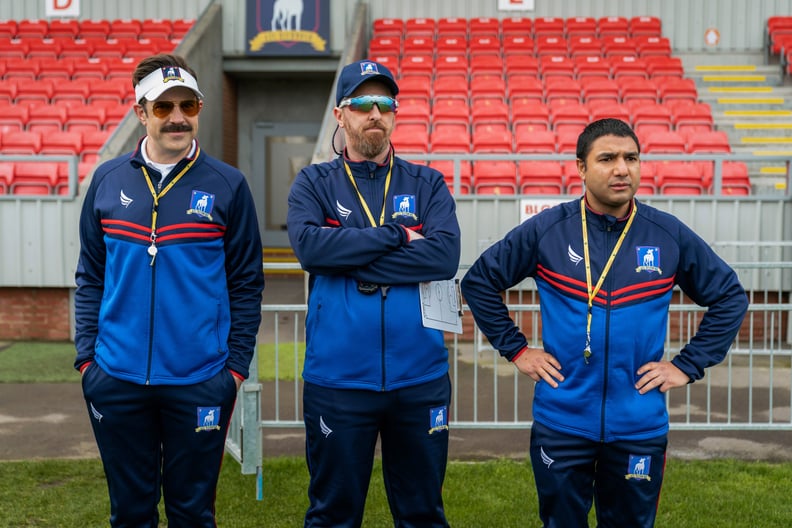 Ted, Coach Beard, and Nathan Shelley
What to wear for actively coaching Ted: A navy sweatsuit, a yellow whistle lanyard, a visor, aviator sunglasses, and his classic mustache.
What to wear for Coach Beard: Like Ted, Coach Beard sports a navy sweatsuit and a yellow whistle lanyard, but you can also grab a hat, sports sunglasses, and a clipboard. If you can grow a beard, that's just a bonus!
What to wear for Nate: Nate is the easiest of the three — just go with the sweatsuit and whistle, then channel Nate's sweet demeanor and newfound self-confidence.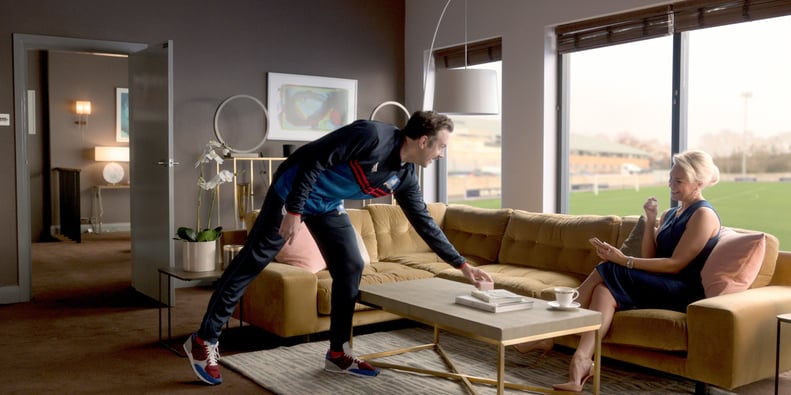 Rebecca Welton
What to wear for Rebecca: A fitted dress (and a blazer if it's chilly!) with heels are what you need for Rebecca's signature look. Pair the clothes with one of her blond hairstyles, and don't forget a phone in one hand and a pink box of Ted's biscuits in the other.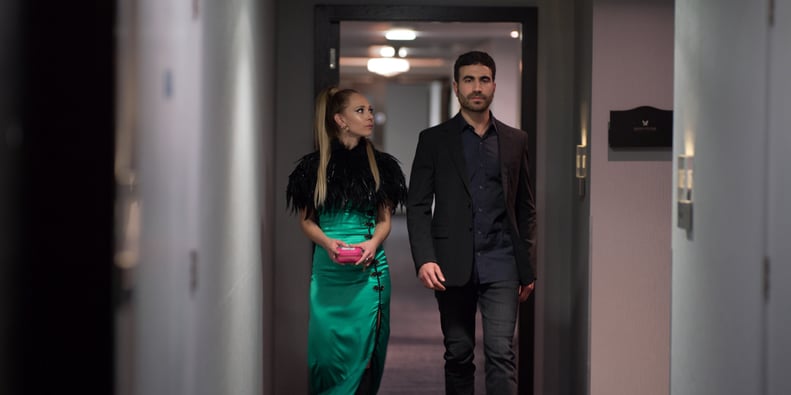 Keeley Jones and Roy Kent
What to wear for Keeley: Bold prints, midi skirts in bright colors, great jackets and puffer coats, fun sweaters, and amazing hairstyles (especially super-high ponytails) are Keeley's MO.
What to wear for Roy: All-black everything — Roy looks his best in an all-black suit (if we do say so), but a black T-shirt with a leather jacket will do the trick as well. You could also go as Roy in his UFC Richmond uniform if you're going for more of a season one Roy look. No matter what your clothes look like, you'll need to channel Roy's sarcasm and potty mouth if you want to be convincing.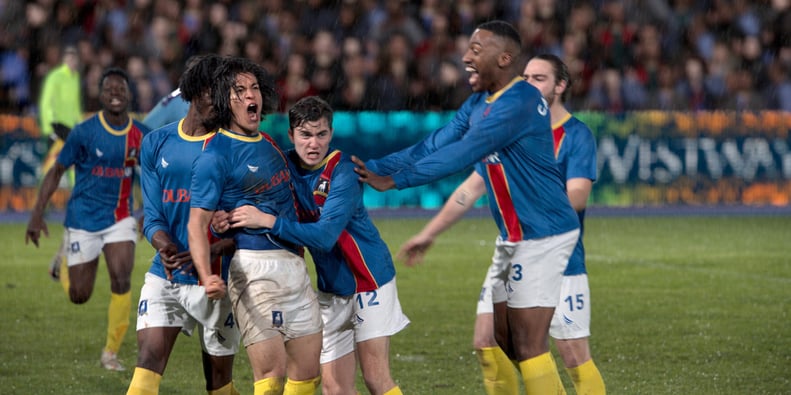 Dani Rojas, Sam Obisanya, Jamie Tartt, and other AFC Richmond Players
What to wear for the AFC Richmond Players: Grab a blue sports shirt and white shorts — don't forget to add the Richmond logo to them! — and top off the look with long, yellow soccer socks and cleats.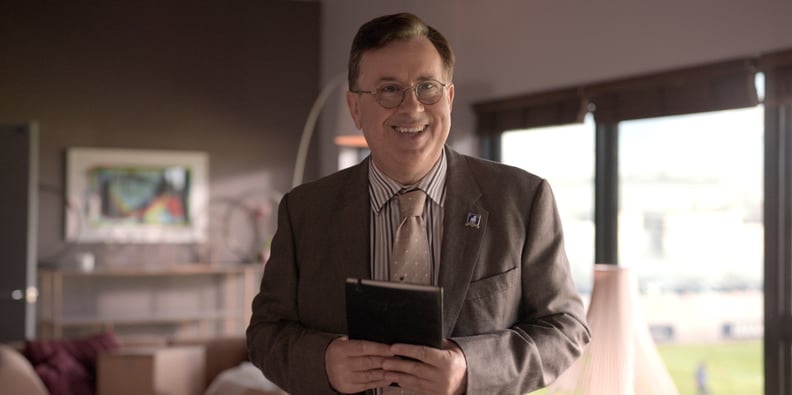 Leslie Higgins
What to wear for Higgins: A suit, patterned shirt and tie, and glasses are all you really need for Higgins. Go the extra mile by acting hilariously awkward with a notebook in hand.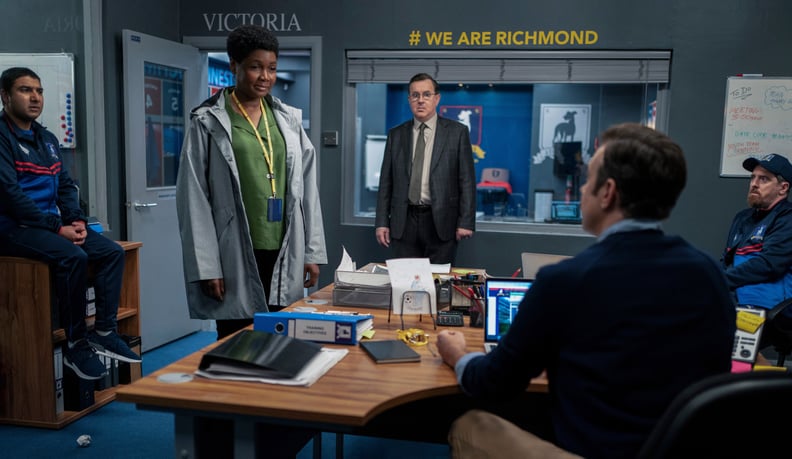 Dr. Sharon Fieldstone
What to wear for the Doc: Pair the Doc's iconic gray windbreaker and bicycle helmet with a bold colored shirt, black pants, and a yellow lanyard.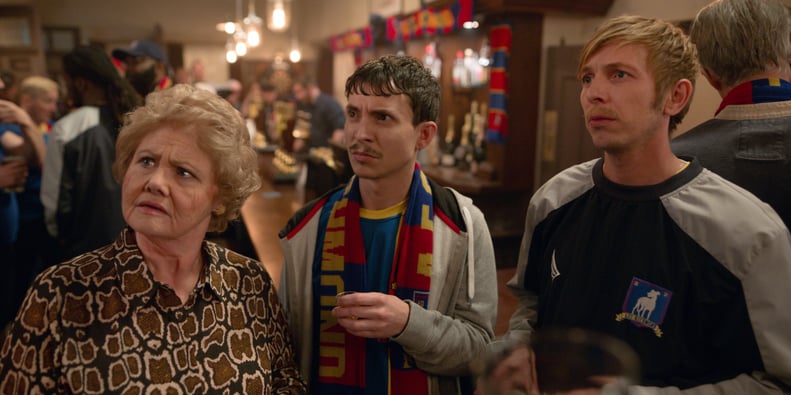 Mae and the Pub Regulars, Baz, Jeremy, and Paul
What to wear for Mae: Mae is a fan of bold prints, however, it's all in the attitude for this icon.
What to wear for Baz, Jeremy, and Paul: The pub regulars are nearly always seen in their AFC Richmond jerseys and scarves — sometimes with a hoodie over top — while they watch the games and drink pints.