The Bachelorette: Why Tayshia and Ivan's Date Is Important
Tayshia and Ivan's Bachelorette Date Feels Revolutionary Within the Franchise's History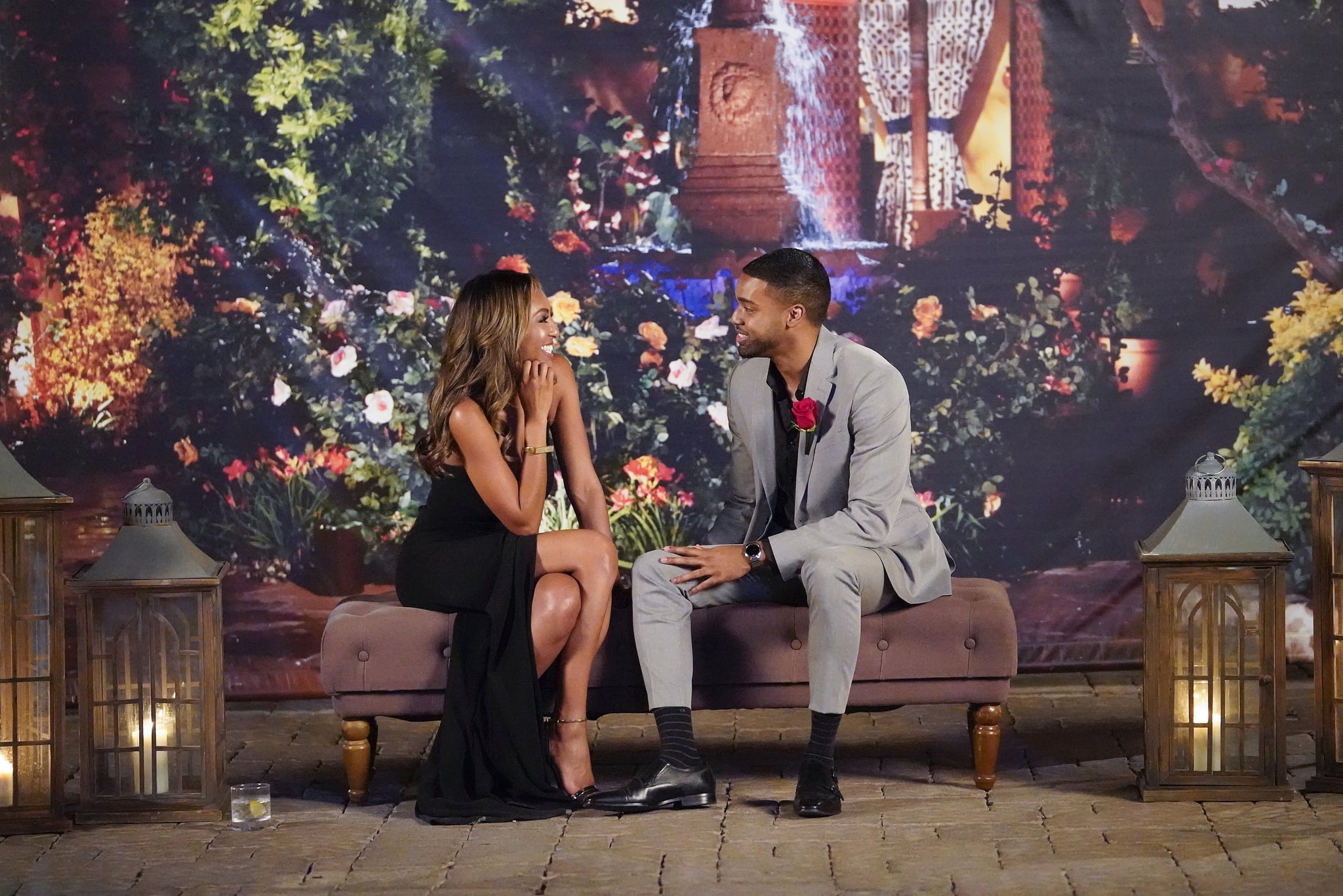 I don't know if you've heard, but The Bachelor franchise has a bit of a diversity problem. The show has been called out by contestants and fans alike, and after 40 seasons, 18 years, and one Black lead, the nation got two biracial leads: Tayshia Adams and Matt James. Tayshia's season of The Bachelorette feels like a godsend of drama and authentic romance, but a date during the most recent episode highlighted exactly how badly the show needs diversity.
On Nov. 24, suitor Ivan Hall won a private date with Tayshia after wooing her during an impromptu singing competition. After what could be the most wholesome date in all of Bachelorette history (Twister and home movies were involved), Ivan and Tayshia sat down for a serious conversation. The 28-year-old aeronautical engineer dug deep, opening up to Tayshia about his younger brother, who spent four years in prison after dealing with substance abuse. Ivan, who is Black and Filipino, explained how the death of George Floyd impacted him differently because of his brother's experience in prison. "It made me check myself, especially this year, 2020," he said, sharing his brother's exposure to police brutality in prison. "It's been crazy stuff that's happened this year."
"I'm realizing that I've been trying so hard my whole life to blend in, because I knew I was different."— Tayshia
Tayshia, who is Black and Mexican, admitted that she grew up around people who didn't look like her, and the rise of the Black Lives Matter movement affected her in a way she couldn't express before. "I'm realizing that I've been trying so hard my whole life to blend in, because I knew I was different," she said. "I didn't really want to cry about it or open up about it, but hearing people yell Black Lives Matter, it hit me more than I realized, just because those are people in my backyard who I've been trying to prove for so long that I'm the same as them."
The conversation is one that has never happened in the entirety of the Bachelor franchise for the simple reason that there was no one to have the conversation. This is notably the first time we've had two Black people have such an open and honest talk about race and culture, a conversation that is timely, vulnerable, and real, and it felt SO good to see. So much of the Bachelor franchise centers on whiteness despite having a diverse audience, and it's about time that production centers on another perspective. The fact that the show actually showed the pair having the conversation, especially when it's always attempted to be as "apolitical" as possible, is downright revolutionary!
I know ABC was not about to have a black Bachelorette (who they pushed to the forefront as a bandaid on their 18 years of black & brown erasure) & NOT show this real ass conversation about what it means to be black in America in 2020. THANK 👏🏾 YOU 👏🏾 #TheBachelorette

— 2 Black Girls, 1 Rose (@2BlkGirls1Rose) November 25, 2020
Tayshia said it herself, Ivan is the only man she could have opened up with in that way because he can understand her in a way that none of the other men could, regardless of how much chemistry she has with them or how vulnerable they are with her. Him also being biracial doesn't mean he's the only man for her, but it led to an incredibly raw conversation that we wouldn't have gotten with the usual white lead and predominantly white cast. It's a moment that we could have more of if the franchise featured more diverse contestants, which means more than just having leads of color.
As many people have said many times before — especially former bachelorette Rachel Lindsay and fan-favorite contestant Mike Johnson — ABC sustains the franchise's lack of diversity by selecting similar people every season. When Johnson was passed over in favor of Peter Weber to be season 24's bachelor, he pointed out in an interview with Entertainment Tonight that the choice of lead typically determines the contestants of the season. "If Peter likes one thing — not saying what he does like and he doesn't like — but if he likes Caucasian women for example, then there may be a higher percentage of it being a Caucasian bachelorette," he said.
And that's exactly what's been happening! Lindsay echoed his sentiments in a blog post, writing, "Yes, more diverse contestants do appear on the show now, but is the lead truly interested and open to dating outside of their race? It is a naive expectation to believe that leads will authentically start an interracial relationship for the first time on national television."
She added, "The sad reality is that people of color become placeholders as the token person of color to add some flavor to the second half of the season."
There's no doubt that a part of sharing this moment was ABC's way of using Tayshia and Ivan to prove that they're down with the cause, similarly to their surprise announcement of Matt James as the first Black male lead. But it's still a moment that we're going to take as a win, because that conversation felt more heartfelt than a majority of other moments in the entire franchise. It was a reminder that Tayshia is a Black woman who lives in a world where these are the issues that matter to her, that she wants to talk about, that she needs to talk about. Ivan gave her the space to do that from a place of understanding, a situation she couldn't have with anyone else.
Bringing more diversity into the franchise will only lead to more real conversations that the audience can relate to and will find more enjoyable than watching another disaster season.