8 Moments From The Fresh Prince of Bel-Air That Emotionally Wrecked Us
The Fresh Prince of Bel-Air might be a comedy, but make no mistake, the series is also a real tear-jerker. Throughout the show's six-season run, Will Smith and the Banks squad tackle serious issues such as grief, racism, and drug use. Who can forget when Uncle Phil and Will develop a new level of respect for each other in the very first episode? Or when Carlton buys a gun after Will saves him from being shot? And, of course, we all remember Will's emotional breakdown when his father comes back into his life only to leave again. So many heart-rending moments have stuck with us over the past 30 years, and we're revisiting some of the most memorable. Get your box of tissues ready.
08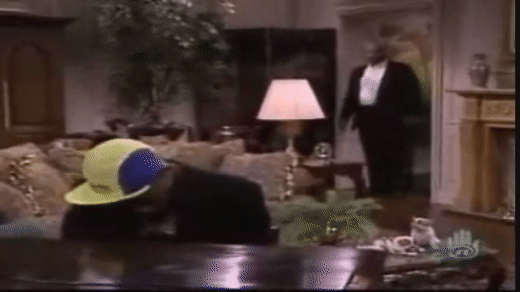 When Will and Uncle Phil See Each Other in a Different Light
When it wrecked us: Season one, episode one ("Pilot")
Why it wrecked us: Will and Uncle Phil get off on the wrong foot from the get-go. While Uncle Phil thinks Will is just an irresponsible child, Will views Uncle Phil as a stick-in-the-mud who forgot about his Black roots. But at the end of the episode, Uncle Phil talks about reading the works of Will's hero Malcolm X and hearing the activist deliver an address in person. He then leaves the room but returns when he hears Will playing Beethoven on the piano. Both characters realize they've misjudged each other as the scene lays the foundation for their dynamic throughout the entire series.
07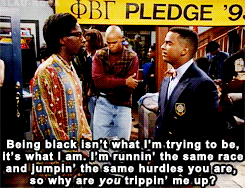 When Carlton Is Rejected by an All-Black Fraternity
When it wrecked us: Season four, episode eight ("Blood Is Thicker Than Mud")
Why it wrecked us: Will and Carlton hope to be initiated into an all-Black fraternity at their college, but the members resent Carlton for his privileged upbringing. They label him as a "sellout," but Carlton refutes such a characterization, saying the way he grew up doesn't make him any less Black. It's a potent exploration of nuanced Black experiences, as well as the hurtful effects of identity degradation.
06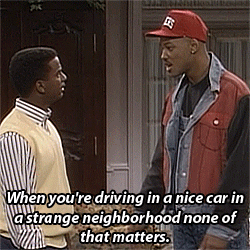 When Will Teaches Carlton About Racial Profiling
When it wrecked us: Season one, episode six ("Mistaken Identity")
Why it wrecked us: On their way to Palm Springs, Will and Carlton are pulled over by the police, who believe they're driving a stolen vehicle. They're taken into custody and eventually bailed out when Uncle Phil and Aunt Viv straighten things out. Back at home, Carlton says the officers were just doing their jobs, but Will asserts that they were taken in because they were two Black men driving a nice car in a predominantly white neighborhood. Although Carlton wants to believe that the system works, he's visibly hurt and frustrated when he's forced to reckon with the reality of racial profiling.
05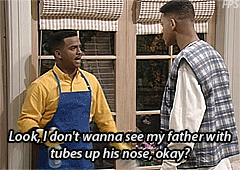 When Carlton Refuses to See His Father in the Hospital
When it wrecked us: Season four, episode 10 ("Home Is Where the Heart Attack Is")
Why it wrecked us: When Uncle Phil has a heart attack and goes to the hospital, everyone rushes to be by his side — except Carlton. Will goes back to the house, where he sees his cousin frantically cleaning the kitchen. Carlton admits to feeling scared about seeing his father, whom he considers Superman, lying in a hospital bed. Will, who never knew his biological father growing up, reminds Carlton to be thankful for having a dad and encourages him to be there for Uncle Phil.
04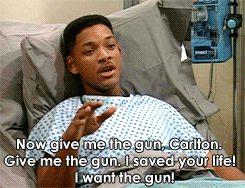 When Carlton Buys a Gun After Will Is Shot by a Robber
When it wrecked us: Season five, episode 15 ("Bullets Over Bel-Air")
Why it wrecked us: While withdrawing money from an ATM, Will and Carlton are suddenly held up by a gun-toting robber. The assailant pulls the trigger, and Will gets shot when he shields Carlton from the bullet. A guilt-ridden Carlton becomes angry when the attacker isn't found and blames his naivety on Uncle Phil, who made him believe in law and order. Carlton secretly purchases a firearm for self-defense, but when Will finds out, he tearfully begs Carlton to hand over the gun.
03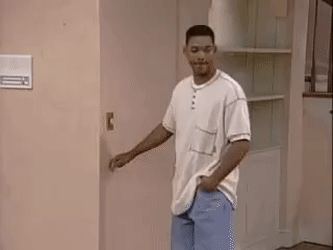 When the Banks Family Moves From Los Angeles, and the Series Ends
When it wrecked us: Season six, episode 24 ("I, Done Part 2")
Why it wrecked us: Everything about the series finale is emotional — all the farewells, the final hugs, etc. But when Will turns off the living-room light after the Banks family moves out, there's an overwhelming feeling of melancholy as six seasons of laughs, tears, and iconic sequences finally come to an end.
02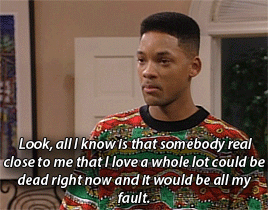 When Carlton Unknowingly Takes Speed From Will's Locker
When it wrecked us: Season three, episode 19 ("Just Say Yo")
Why it wrecked us: Will struggles to balance school, work, and his social life, so a classmate gives him speed to help him stay alert in the days leading up to prom. Will keeps the drugs in his locker, but on the night of the dance, Carlton takes the amphetamines, thinking they're vitamins. He ends up overdosing, which lands him in the hospital. At home, Will breaks down and admits that Carlton got the drugs from his locker. He apologizes and becomes emotional, realizing that if Carlton died, it would've been his fault.
01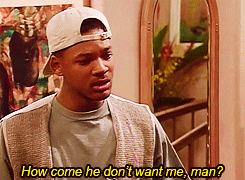 When Will's Father Leaves Him Again
When it wrecked us: Season four, episode 24 ("Papa's Got a Brand New Excuse")
Why it wrecked us: This is undoubtedly the most poignant, heartbreaking scene from the series. When Will's deadbeat father, Lou, comes back into the picture, the two seemingly start to become close. Will is happy to have his dad back in his life after years of absence, but his joy dissipates when Lou leaves again. Will attempts to brush it off in front of Uncle Phil but breaks down in tears, asking, "How come he don't want me, man?" Uncle Phil then consoles Will with a hug.
During The Fresh Prince of Bel-Air's reunion special on HBO Max, Smith opened up about sharing that special moment with his late costar James Avery, saying, "I fall into his arms at the end of the scene, and he's holding me, and, you know, the shot pans off, and he whispered in my ear, 'Now that's acting.'"