Tiger King Memes Inspired by James Garretson's Jet Ski Scene
It Should Hardly Come as a Surprise That Tiger King's Jet Ski Scene Is Inspiring Memes
There are truly too many absurd moments in Netflix's Tiger King to count, but if I had to dub one as the most meme-worthy of them all, I'd undoubtedly choose James Garretson's jet ski scene. In true "they saved the best for last" fashion, the moment in question unfolds in the final episode of the bonkers, seven-part docuseries. Garretson, a former strip-club owner and big-cat enthusiast turned FBI informant, is discussing his involvement with Joseph Maldonado-Passage — aka the Tiger King himself, Joe Exotic — when suddenly, out of the blue, we're treated to a 30-second, slow-motion montage of Garretson riding a jet ski. His bowl cut flows in the wind oh so majestically. His royal-blue life jacket matches his shiny sunglasses, which he slides up onto his head whilst idling in the ocean. And, to really set the mood, Survivor's "Eye of the Tiger" plays in the background the entire time.
There's no explanation for the inclusion of these clips — except perhaps the fact that he did, at one point, work for a water-sports company in Florida — and, quite frankly, no explanation is needed. The b-roll footage is a true cinematic masterpiece, and although the internet has already supplied us with sufficient memes inspired by it, I couldn't resist adding a few takes of my own, detailed below: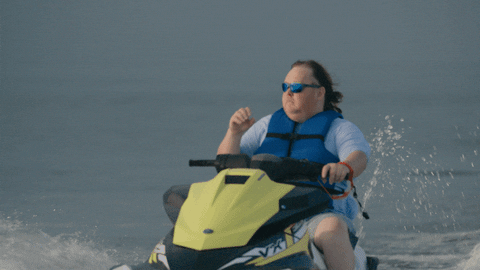 Image Source: Netflix via Giphy
Me on the way to the kitchen for my seventh snack of the day
My anxiety every time I go to sleep
Me, two hours after an argument, coming back with five more sassy one-liners I brainstormed in the shower
Me running away from 2020's bullsh*t
Me, months from now, showing off all the unnecessary online clothing purchases I made while social distancing
Me, three glasses of wine deep, sliding into a celebrity's DMs just for fun
Everyone on the internet heading to the App Store to download TikTok while self-isolating
Me sprinting to hug my friends for the first time after being cooped up in self-isolation
Me on my way to rescue a friend when a creepy dude is hitting on her
Me when I hear my grocery store finally restocked toilet paper
To fully appreciate Garretson's iconic watercraft-riding moment, take a look ahead at the best memes it's sparked so far, including a few that swap in entirely new, hilarious background songs. Thank you, Tiger King, for blessing us with a wealth of such entertaining, conversation-starting content.