TWICE's Formula Of Love: O+T=<3 Album Details
TWICE's Formula of Love: O+T=<3 Album Details Will Give ONCE All the Feels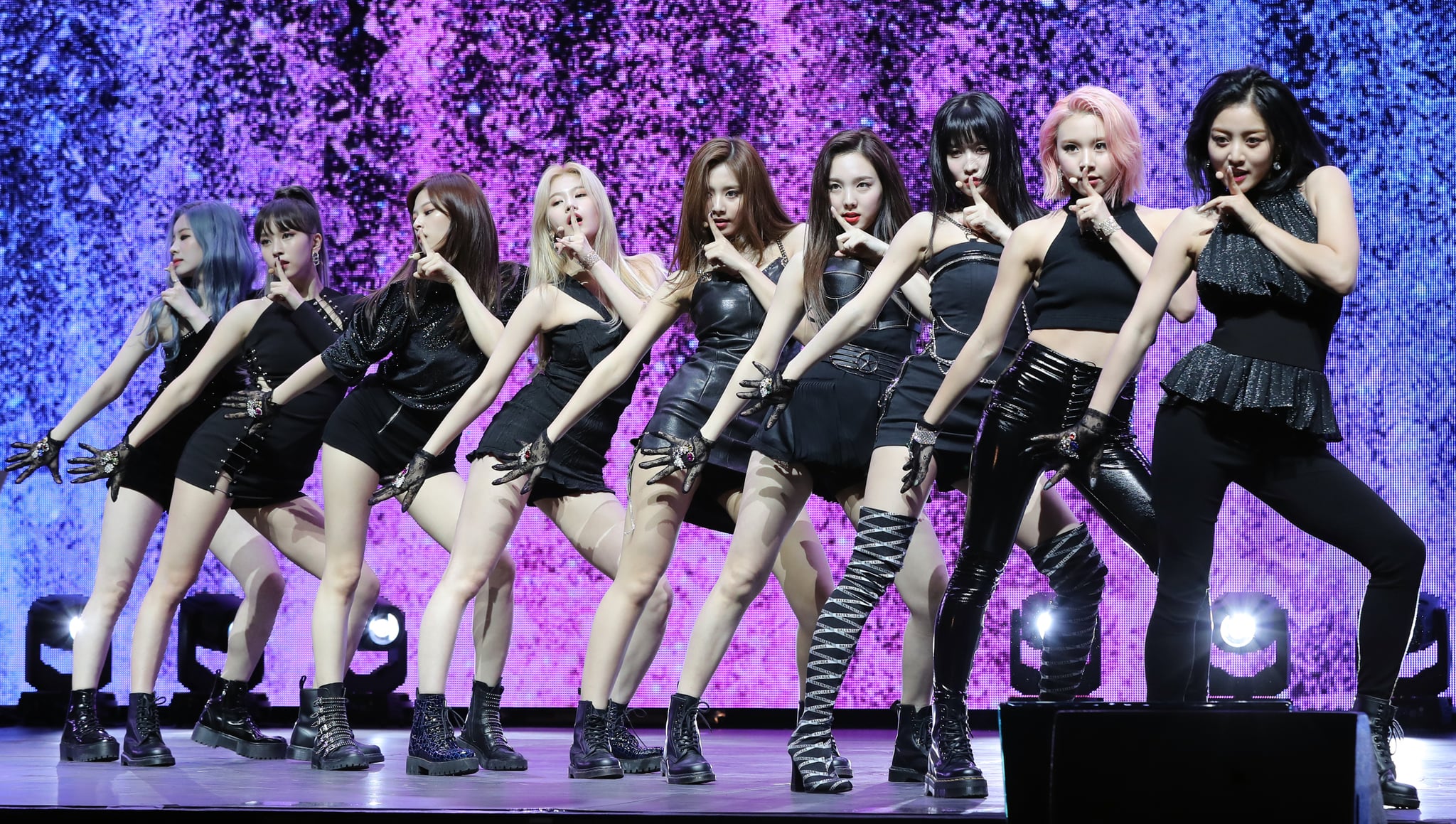 Image Source: Getty / JTBC PLUS / Contributor
ONCE, it's time to celebrate! TWICE's third full-length album, Formula of Love: O+T=<3, will be here in just a few weeks! The K-pop group first teased the release at the end of their Oct. 1 "The Feels" music video with a poster that read "2021 NOV — 3rd FULL ALBUM." Formula of Love: O+T=<3 will mark TWICE's first studio album since Eyes Wide Open, which dropped in October 2020, and their first overall comeback since the arrival of their 10th EP, Taste of Love, in June. The group gave fans a preview of the new album with their first English single, "The Feels." The track proved to be a massive hit, garnering 91 million views since its Oct. 1 release. ONCE are gearing up to make sure TWICE's next comeback is even bigger, so keep reading to learn all the details about Formula of Love: O+T=<3.
What's The Meaning Behind TWICE's Album Title?
TWICE hasn't explicitly revealed the meaning behind Formula of Love: O+T=<3, but fans theorize it represents the group's love for ONCE. "O stands for Once and T stands for Twice so Once + Twice = Love," one fan tweeted. Considering the girls have honored their fans in a few of their songs (most notably "One In A Million," which is TWICE's fan song), it's not far-fetched to think they would dedicate a whole album to their fans.
In an Oct. 24 trailer for Formula of Love: O+T=<3, TWICE conduct several experiments in a lab to find the "formula of love." "The easiest way to find out if you have fallen in love is to look in one's eyes," a voiceover explains. "Our eyes are the most crucial signal to check one's liking for someone." Considering TWICE' chose their group name because they strive to touch fans' hearts once through their ears, and a second time through their eyes, the theory that the group will explore their love for ONCE through their new music checks out.
TWICE's Formula of Love: O+T=<3 Album Cover
TWICE unveiled their album cover for Formula of Love: O+T=<3 in an Oct 8 tweet. The cover features Jihyo, Nayeon, Jeongyeon, Momo, Sana, Mina, Dahyun, Chaeyoung, and Tzuyu dressed in sleek office attire, seated at their desks in the same lab fans saw in their album trailer.
TWICE 3rd Full Album
"Formula of Love: O+T=<3"

Release on
2021.11.12 FRI 2PM (KST), 0AM (EST)

Worldwide Pre-order Starts
2021.10.12 TUE 11AM (KST)
2021.10.11 MON 10PM (EST)#TWICE #트와이스 #FormulaOfLove pic.twitter.com/CyNwfVRd95

— TWICE (@JYPETWICE) October 8, 2021
TWICE's Formula of Love: O+T=<3 Tracklist
TWICE hasn't shared their tracklist for Formula of Love: O+T=<3 yet, but it's likely "The Feels" will feature on the album as the lead single.

What Merch Comes With TWICE's Formula of Love: O+T=<3?
TWICE's physical albums always come with a bunch of goodies, and fans can expect the same when they purchase Formula of Love: O+T=<3, which will come in four versions: Study About Love, Break It, Explosion, and Full of Love. Each album will include a photobook, photocard, CD, scientist card, index photo paper, break scratch card, D.I.Y. sticker, folded poster, and photocard set. There will also be a Target exclusive album that comes with everything, plus an additional ruler postcard.
What Is The Release Date For TWICE's Formula of Love: O+T=<3?
Formula of Love: O+T=<3 will hit streaming services everywhere on Friday, Nov. 12. The physical album will ship on the same day.
How to Pre-Order TWICE's Formula of Love: O+T=<3
All four versions of TWICE's Formula of Love: O+T=<3 are currently sold out on their official website, but ONCE shouldn't worry because the album is still available on various online retailers, including Amazon, Walmart, and Target. Fans can also pre-order it digitally through the iTunes store.
Will Jeongyeon Participate In Formula of Love: O+T=<3 Promotions?
On Aug. 18, JYP Entertainment announced Jeongyeon would take a break from promotions to focus on her mental health. "Jeongyeon is currently experiencing panic and psychological anxiety," the agency said in a statement, according to Soompi. "We value our artists' health as the most important issue. Therefore, after deep discussions internally accompanied by professional medical measures, we have decided that it is needed for Jeongyeon to have sufficient time to focus on her recovery and rest." JYP added that Jeongyeon "will be unable to attend TWICE's activity" for a while, but didn't specify when she would return.
Jeongyeon is featured on the new album cover, but didn't appear in the album trailer. She was also absent during the group's promotions for "The Feels," so it's unclear how involved she will be during TWICE's upcoming comeback promotions. It's possible she'll be in their next music video, but just won't be part of the group's promotions. Whatever the case, fans are just happy she's focusing on her health.
Image Source: Getty / JTBC PLUS / Contributor