All the Wacky Endings to Netflix's Unbreakable Kimmy Schmidt's Interactive Episode Explained
Unbreakable Kimmy Schmidt may have officially ended back in January 2019, but everyone's favorite quirky redhead makes an unforgettable return in Netflix's interactive special, Kimmy vs. the Reverend. Kimmy's trying to get hitched to her charming and slightly eccentric fiancé, played by Daniel Radcliffe, but the Reverend's schemes are standing in her way.
Similar to Bandersnatch's interactive special, Kimmy goes on a quest to uncover another group of "Indiana Mole Women" left behind by the Reverend that — depending on how you choose — ends with closure, happiness, and possibly revenge! Of course, due to the very nature of a Choose Your Own Adventure story, multiple endings solely depend on you making the right choices along the way. Here are all the endings we found while stumbling our way to Kimmy's alter. Don't worry, if the internet unearths more, we'll be sure to update!
01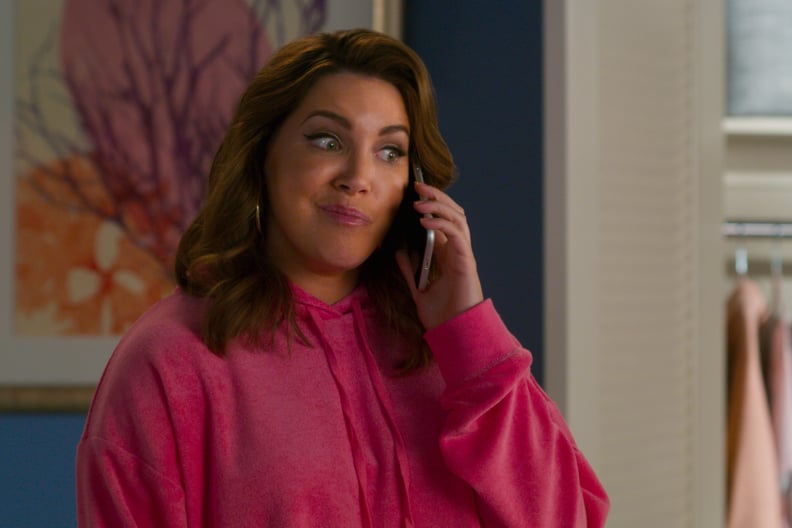 Kimmy Gets an Easy Ending in Unbreakable Kimmy Schmidt: Kimmy vs. the Reverend
The show is all about giving Kimmy the chance to right the Reverend's wrong and saving another group of women who are imprisoned like she was when we first met her. But it's also about her upcoming nuptials to the equally quirky Frederick. Early in the special, Kimmy is torn between reading the book she discovers in her backpack, planning the wedding with her future husband, or making out with him. If you choose the last option, the special fast-forwards to one month later after Kimmy and Frederick get married and live happily ever after. Too happily if you ask Kimmy. Time for a "Do-over!"
You reach a similar ending if you have Kimmy call Donna Maria for advice on what to do with the book, and she gives the newlywed some sensible advice to set aside her worries and marry the man who loves her. If you call Gretchen, you reach her in the middle of staging a bank heist for the Fimbriae Liberation Army. Call Cyndee, and the story goes on.
02
The Reverend Dies in Prison in Unbreakable Kimmy Schmidt: Kimmy vs. the Reverend
When Kimmy decides to dig deeper into the mystery of the book in her backpack, there's only one place she can truly get the information: the Reverend. When the two are finally seated across one another in prison, the man scolds her for being so abrupt with him, but playing into his mind games is the perfect way to hit a dead end. If you choose for Kimmy to "be sociable," it gives Dick Wayne a chance to run his mouth and begin showing off. He starts by breaking out into Conan O'Brien's string dance, then flaunting his Michael Jackson "moves." The slick dance is too much for him — he slips and bashes his head on the visiting-room table. Kimmy's only hope for figuring out the origins of the book slips away as the Reverend dies in a pool of his blood before the screen goes black. Titus appears to properly shame you, asking, "Who are you, me at Chipotle? Because you made some bad choices that are going to affect everyone!" Do over!
03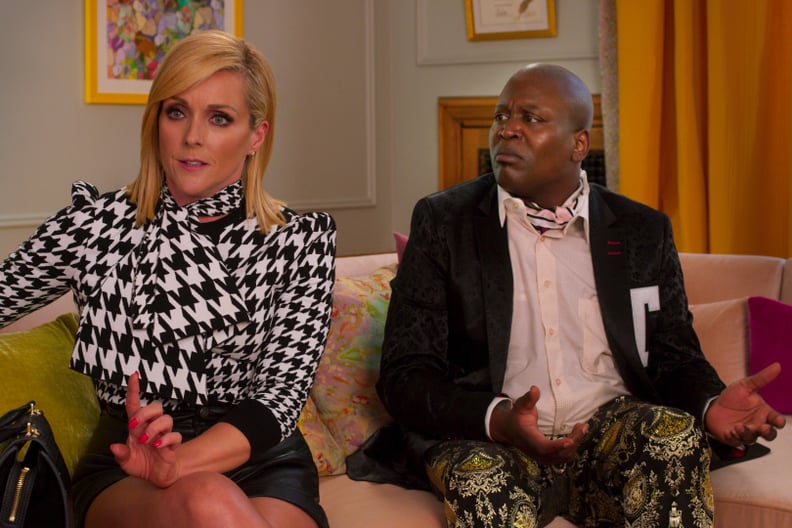 Kimmy Dies in a Plane Crash in Unbreakable Kimmy Schmidt: Kimmy vs. the Reverend
When Kimmy decides to dive further into the lost girls by traveling to West Virginia, Jacqueline and Titus campaign to be her travel buddy. If you decide to take Jacqueline and force Titus to go back to working out for his action-movie role (which is a terrible choice for both Kimmy and Titus), the two decide to take a plane piloted by Jacqueline's son Buckley instead of Kimmy's private jet. Of course, even though his college applications say he has a pilot's license, Buckley doesn't know how to fly a plane, and the aircraft crashes with Kimmy and Jacqueline onboard. Somehow, Titus also dies, albeit in a tragic treadmill accident. Lillian's ex-boyfriend Robert Durst (Fred Armisen) congratulates you on killing them all.
04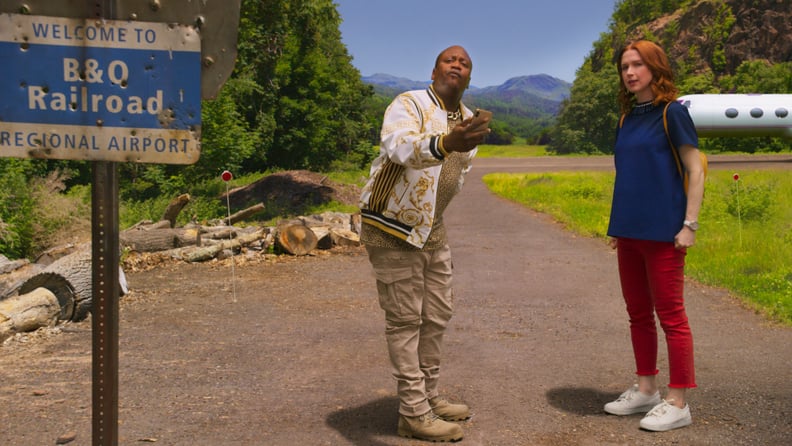 Kimmy and Titus Die in Unbreakable Kimmy Schmidt: Kimmy vs. the Reverend
When you (rightfully) choose for Titus to travel with Kimmy, the two head to West Virginia on her private jet, Plane-o the Sky Car. When they safely arrive, they realize there's nothing but forest and a dirt road for miles and are left with only two options: wait for an Uber driven by Mamadou, estimated at 4,000 minutes away, or walk. If you choose to wait for Mamadou — for what I assume is the shiggles — he'll reach nothing but two skeletons.
Since it's a foolish choice, the game allows you to rewind to the last choice, but if you choose to make them wait again, they're still reduced to bones. But this time around, they're discovered by an army of robots who crush their skeletons, announcing that "The last good humans are dead. We can proceed."
05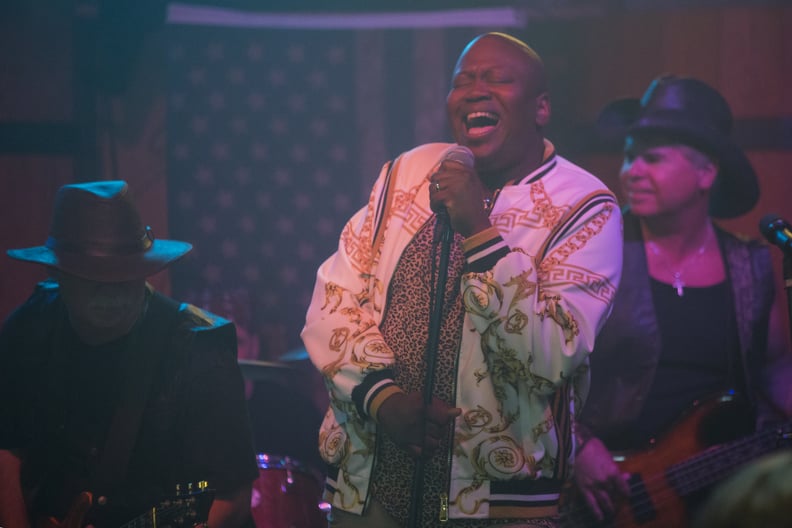 Titus Sings "Free Bird" in Unbreakable Kimmy Schmidt: Kimmy vs. the Reverend
When Kimmy and Titus reach West Virginia, they find themselves in a small-town bar looking for an answer. They decide that the best way to gain everyone's trust is by having Titus perform the requested "Free Bird" with the house band. Titus swears he knows the words because "All four years of high school English was the Poetry of Lynyrd Skynyrd," but you get the choice to determine how it goes down.
If you choose to have him be bluffing, his performance ends with a televised 911 call for a code 649: disrespecting Lynyrd Skynyrd. There are gunshots, yelling, and Kimmy scolding Titus in screams. Cyndee appears to give you another chance and takes the time to recall the time she was a staff writer on the final season of Game of Thrones. ("They did all my ideas!") If you choose to have Titus tell the truth, Tituss Burgess does what he does best and nails a beautiful rendition of the song. You can even sit through all the guitar solos during your second time through!
06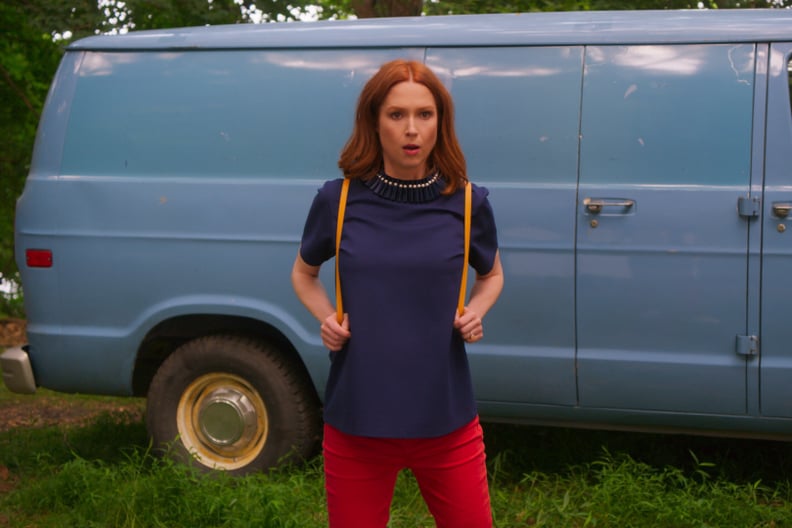 The Reverend Gets Away in Unbreakable Kimmy Schmidt: Kimmy vs. the Reverend
If you initially choose not to have Kimmy read what her fiancé calls her Whence Thither book in the very beginning, it comes to bite her in the butt when she reaches a crucial fork in the road in West Virginia. She loses the Reverend after hitting a gas station run by Johnny Knoxville and, because she didn't read the book, she has no way of figuring out which way he went. He reaches the bunker before her and escapes with his second group of kidnapped women, taking them "to Florida, where everything's legal." If you chose to watch the baby left in the gas station, Titus's construction-worker husband, Mikey, appears to give you a second chance at it since you made the right decision.
Time rewinds to the gas station where Kimmy is given a choice between reading the book to the baby or letting Titus read. If you choose Kimmy, she'll read the book, which will later spark the idea she needs to figure out where the bunker is. If you choose Titus, he slings some hilarious baby disses, but Kimmy still doesn't figure out how to reach the bunker, so it's a pointless choice.
07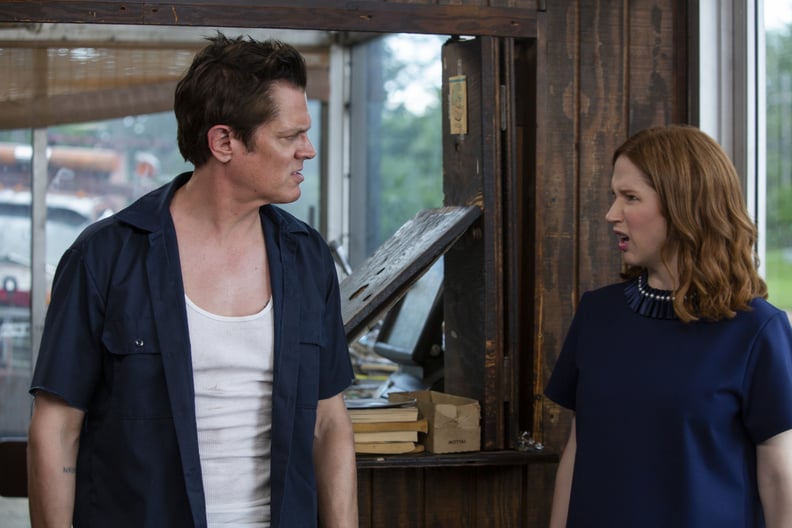 Kimmy Abandons the Baby in Unbreakable Kimmy Schmidt: Kimmy vs. the Reverend
When Kimmy chases the Reverend to West Virginia, she and Titus wind up at a gas station attended by Johnny Knoxville. He provides them with the general direction that the Reverend ran off in but quickly leaves to move his ankle bracelet around, so the cops think he's still at home. Kimmy and Titus are surprised to discover that he's left his baby in the shop and are given the choice to stay with the baby or abandon her to run after the Reverend.
It goes against her nature, but if you choose to have the duo abandon the baby to chase the Reverend, it doesn't end well. Even if you read the book and Kimmy can use it for guidance, they won't arrive in time to stop him from driving off with the women. Even worse, you've made Kimmy act in a way that's opposite her nature, and Mikey scolds you for it. "Kimmy is a good person, and you're not making good choices for her," he says. "That just got dark, like that show Spooky Mirror."
08
Frederick Marries Someone Else in Unbreakable Kimmy Schmidt: Kimmy vs. the Reverend
In some bizarre twists of fate, Lillian and Frederick wind up as the special's happily wed couple! When Kimmy and Titus head down south and Jacqueline goes to the set of Titus's new movie, Lillian and Cyndee are left handling wedding things in Kimmy's absence. The two become suspicious that Frederick is just with Kimmy for the money (despite him being 12th in line for the throne). The two decide to test him at a Korean karaoke bar, and if you choose for Lillian to sing, she goes with an interesting rendition of "Yes! We Have No Bananas." The two do a very should-we-shouldn't-we dance that involves a lookalike nanny before the final choices come during Kimmy's final confrontation with the Reverend. If you choose to have Kimmy shoot him, it turns the potential romance into a full-blown love affair, and when we flash forward five years later, Frederick reflects on his happy marriage to Lillian.
If you have Kimmy stomp the reverend to death rather than shoot him, she wanders off into the wilderness after failing to find his underground bunker. Two years later, we find Frederick with a new bride; it's Xan, Jacqueline's ex-stepdaughter, and she is not a pleasant woman to be around. Sorry, buddy!
Have Kimmy choose to "splode" the Reverend using a bazooka (which is just chilling in the woods because that's low-key realistic these days), and it winds up blowing them both up! In a very sci-fi twist, Frederick clones her from one of her hairs and seems happy enough. Yes, he's a maître d' in Harrisburg, and she likes horseflesh, but isn't marriage all about compromise?
09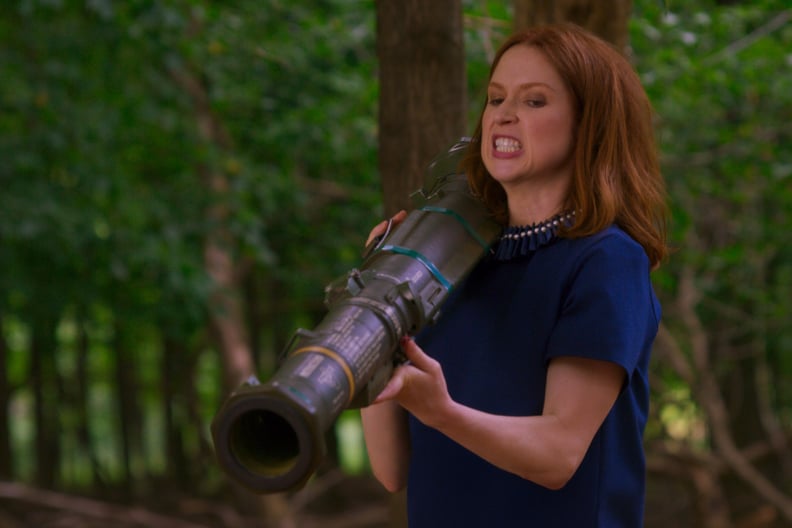 Kimmy Kills the Reverend in Unbreakable Kimmy Schmidt: Kimmy vs. the Reverend
It goes against her very nature, but you can choose to have Kimmy kill the Reverend. The choices are between shooting him, stomping him to death, and to "splode" him to death. If you choose all three different ways, you'll get to see him in the afterlife chilling on a couch next to the molesting muppet, Mr. Frumpus. (Goodbye, sweet childhood.) It's pretty heavily implied that they're in hell, with the flames going on in the back, but according to Dick Wayne, that can't be. Would hell play Sugar Ray's "Fly" on an endless loop? (The answer is probably yes.)
10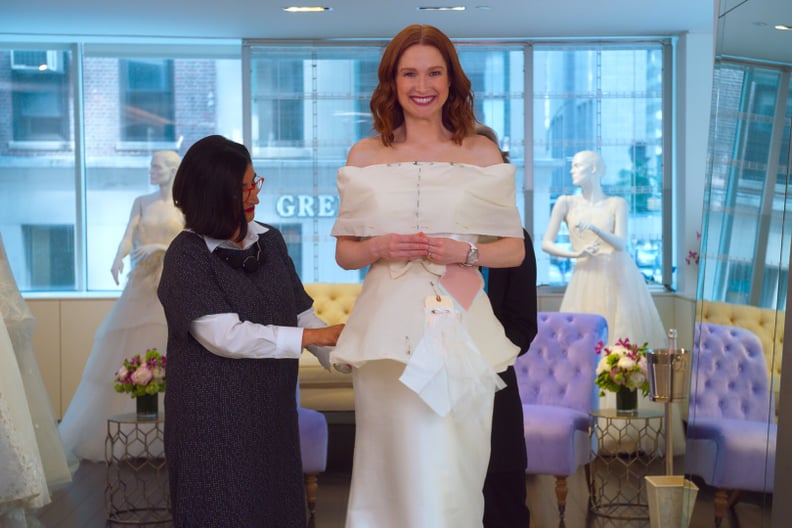 Kimmy Gets Married in Unbreakable Kimmy Schmidt: Kimmy vs. the Reverend
Aside from the easy endings earned in the beginning, the only way to have Kimmy find the trapped women and get her happy ending is by sparing the Reverend. When she does, and eventually finds her way to their location, the hatch opens, and the women come crawling out into the sunshine like the show's opening credits. The special fast-forwards to Kimmy's wedding day — where a news report announces that the Reverend got kicked to death in prison — and the ceremony goes off without a hitch. She'll be wearing the dress you picked out for her in the first scene, and the ceremony is largely the same as the easy endings one. In the end, Lillian appears to suggest things could have gone better for Jacqueline and Titus, or Kimmy mumbles something about wearing the wrong dress — signaling that you didn't quite get the perfect ending.
There's no telling (yet) what the right combination of choices is, but you'll find the true final ending when Kim Jong-Un (Bowen Yang) makes an appearance and a giant "You Win!" appears onscreen. The cast freeze-frames as the guests file out and the credits roll. You did it!