Vanessa Hudgens Interview About Knight Before Christmas
Vanessa Hudgens Understands Your Netflix Rom-Com Obsession: "Everyone Needs Love"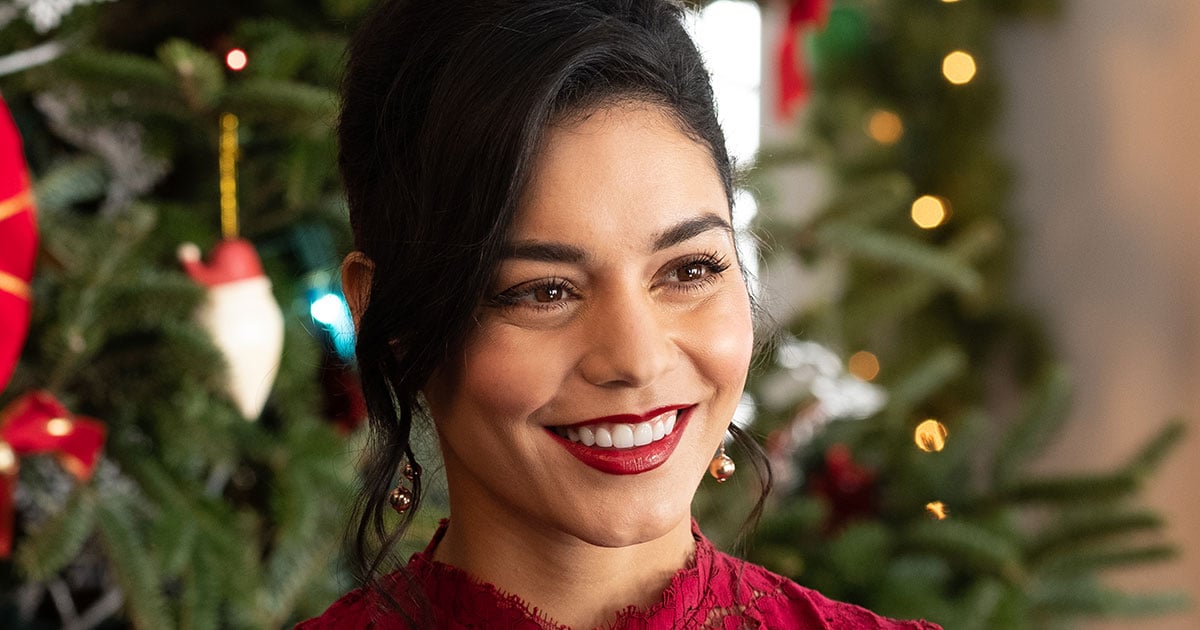 In a small, quaint room on the top floor of a sprawling bed and breakfast in Bracebridge, Canada, Vanessa Hudgens curls up in a wicker armchair and releases a deep sigh. She spent the afternoon unpacking and repacking a cardboard box filled to the brim with Christmas ornaments as a picturesque sprinkle of snow fell gently outside the window, and now she finally has a moment to put down the glittery tree toppers and take a breather. No, I'm not casually hanging out with the superstar at home for the holidays — I'm getting a glimpse of what it's like on the set of Netflix's newest holiday rom-com, The Knight Before Christmas.
Previously a staple of networks like Hallmark and Lifetime, holiday-themed romantic comedies have become one of Netflix's most beloved seasonal offerings ever since its breakout hit A Christmas Prince in 2017. Loved for just how unabashedly cheesy it could be, the film took off on social media, drawing plenty of good-natured jibes about its questionable set design and abundant plot holes.
Now, coming up on two years later, the streaming giant has expanded its Christmas rom-com collection considerably. In November 2018, for instance, we were gifted with The Princess Switch, which stars Hudgens as a Chicago baker who discovers she has a royal doppelgänger halfway around the world (she plays both roles, à la Lindsay Lohan in The Parent Trap, and describes it as "by far the hardest I ever had to work"). The movie's near-instant popularity with fans had Netflix turning to the High School Musical alum for a second holiday outing, and Hudgens came on board The Knight Before Christmas as both star and executive producer.
"I was really excited by the idea of being a staple in people's home for the holidays," she says, leaning back on the chair and briefly startling when she realizes it's a rocker. "If I can be a part of bringing families together at a time that can be difficult and allow them a little escapism or inspiration, I think that's just a wonderful and beautiful thing to be."
"I was really excited by the idea of being a staple in people's home for the holidays."
Her upcoming film, which is due out on Nov. 21, revolves around a medieval knight named Sir Cole (Poldark's Josh Whitehouse) who is sent by a sorceress to present day and meets a jaded science teacher, Brooke (Hudgens), who's all but given up on love. Brooke agrees to help the confused and overwhelmed Cole navigate the ups and downs of the modern age — let's hope she doesn't introduce him to the black pit of social media — and try to figure out how they can send him back home. But, as luck would have it, sparks begin to fly, and Cole wonders if he should return to his former time at all. (Note: this is when you're supposed to swoon.)
So: time-traveling knights, sorceresses, and . . . Christmas? Yes, yes, Hudgens knows it's a little out there.
"In my career I've made it a very prominent point to not do the same thing twice. It's so important to constantly evolve and grow and do things that scare you," she explains. "Obviously, the concept is completely different [from The Princess Switch]. It is another high-concept love story — with Switch it's twins, and with this, it's a time-traveling knight — but the character herself was something that was really appealing to me. She's a strong, logical, intelligent young woman who, at the end of the day, is looking for love but isn't someone that needs to be rescued."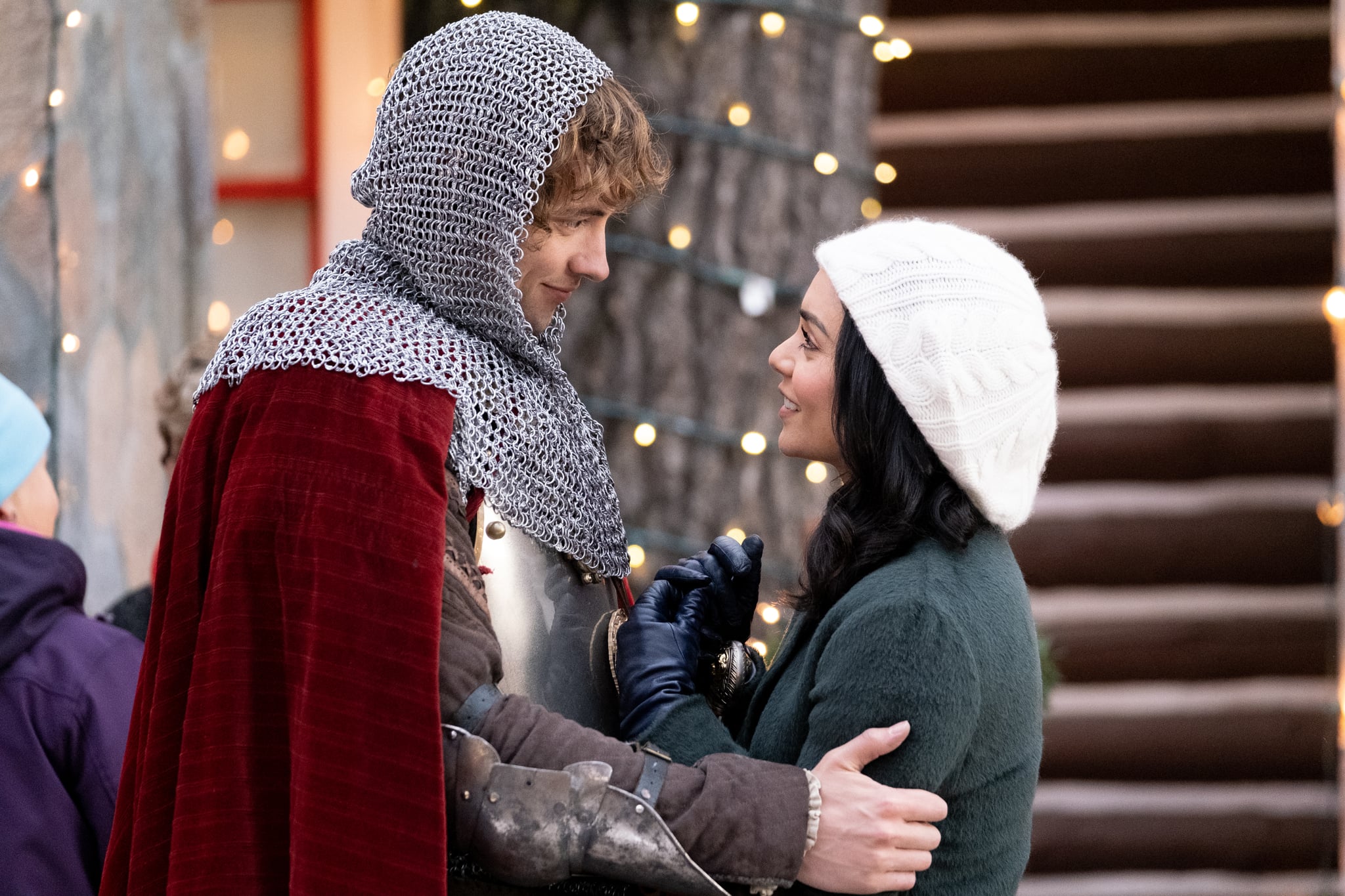 Hudgens, who cites The Wedding Planner as her favorite rom-com of all time, appeared in Second Act alongside Jennifer Lopez in late 2018 and has Bad Boys For Life hitting the big screen in 2020 with Will Smith and Martin Lawrence. The Knight Before Christmas might seem small in comparison, but it's those types of female-led projects, both in front of and behind the camera, that appeal to the 30-year-old most.
"It's really amazing having strong women on set," she says while discussing director Monika Mitchell, writer Cara J. Russell, and costar Emmanuelle Chriqui, who Hudgens hand-picked to play Brooke's older, protective sister. "I was like, 'Oh my God, I need Emmanuelle Chriqui to be my sister. There's no one else.' I called her like, 'Please, please, please do this with me. It'll be a quick shoot. It'll be fun. It'll be easy!' . . . We're still doing 12- to 15-hour days, but it's the process that I enjoy. It is work, but it's also just play time. I get to be like a kid playing pretend all day, every day."
"It's so important to constantly evolve and grow and do things that scare you."
Given that women are the primary audience for films like this, it makes sense to have a cast bolstered by female talent. So often the rom-com genre is overlooked as fluff, an ephemeral enjoyment meant only to occupy your brain for the extent of its runtime and nothing more. But over the past few years, the genre has seen a resurgence in popularity and critical acclaim, with Netflix films like To All the Boys I've Loved Before, Set It Up, and Someone Great helping lead the charge. And now, thanks to Hudgens, we have a time-traveling knight and an independent AF science teacher in the mix.
"I think it's a crazy time in the world," Hudgens smiles. "Everyone could use a bit of lighthearted love."
The Knight Before begins streaming on Netflix on Nov. 21.