What Are AMBW Relationships in Movies and TV?
What Is AMBW and Why Is Hollywood Just Catching On?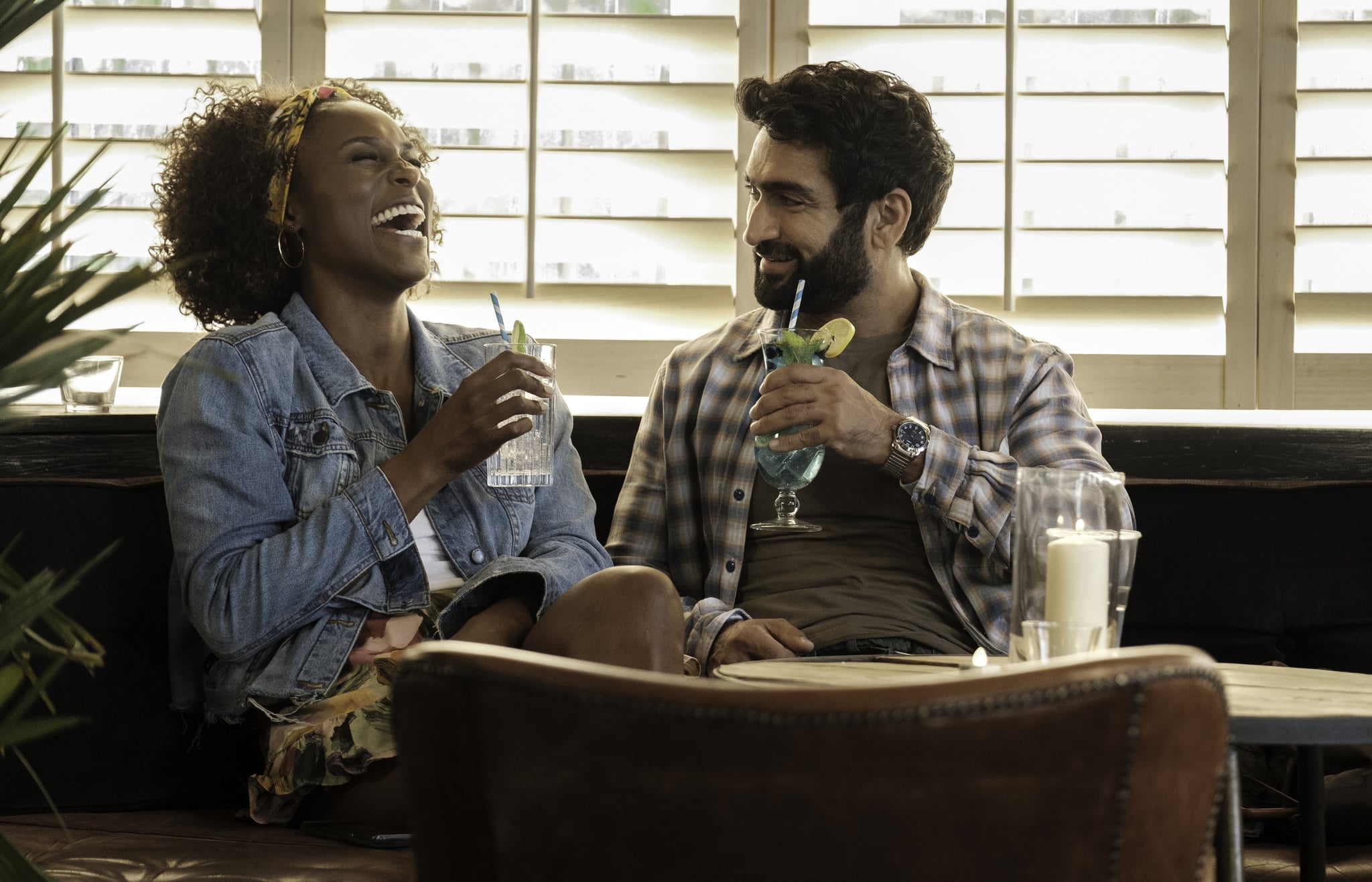 Image Source: Everett Collection
Issa Rae faced major backlash two years ago for suggesting that Black women exclusively date Asian men, satirically citing stereotypes as reasons for the needed union between these unlucky-in-love demographics. It was meant to be a joke, but like everything else the internet gets its hands on, it was blown out of proportion and led to a PR nightmare for the usually unproblematic star. Now having hushed the haters, she's brought this romantic pairing to the forefront in both HBO's Insecure and Netflix film The Lovebirds — and she isn't the only one prioritizing this representation.
Historically, Asian (which in this article will refer to individuals who identify as East Asian, Southeast Asian, or South Asian) man, Black woman (AMBW) relationships are incredibly few and far between in popular films and television. The cause is two-fold: One, films with a black lead easily fall into the trap of becoming a "Black movie," which often aren't as culturally pervasive as mainstream movies. And two, the archaic, trope-riddled cinematic depictions of Black women and Asian men didn't exactly exude romantic potential. So, when asked to name a few titles with AMBW pairings, it wouldn't be a shock for most to be hard-pressed for answers.
Filmgoers might name the 1997 remake of Cinderella, a made-for-TV movie that reimagined Cinderella (Brandy) and Prince Charming (Paolo Montalbán) as an AMBW couple decades before race-bending iconic characters became trendy. Romeo Must Die (2000), starring singer Aaliyah and Jet Li (below), and Fakin' da Funk's 1997 romance between Tatyana Ali and Dante Basco, are two others that land a spot on the AMBW film list. It's also worth noting that it can be difficult for men who are of full Asian descent to be cast in the first place. They're often passed over in favor of half-white actors, further perpetuating the stereotype that Asian males aren't masculine enough to be seen as leads.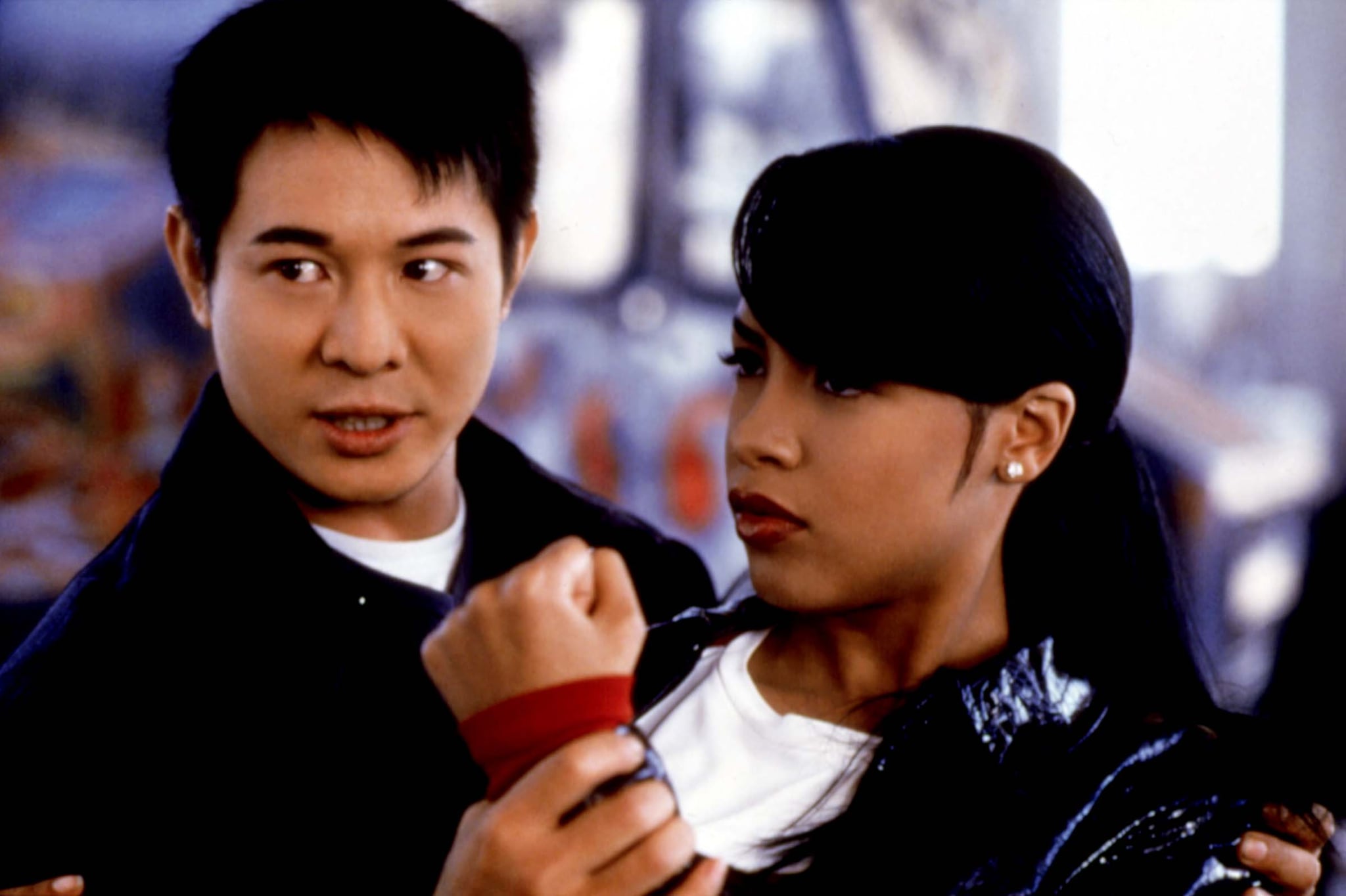 Image Source: Everett Collection
These films were spearheaded by creators of color who labored to add nuance and depth to their diverse characters. A focused attention to characterization for non-white roles isn't always a given, evident by the overdone and then done again tropes of the spicy Latina, loud, messy Black friend, or non-threatening genius Asian kid. Neither the mammy, jezebel, nor voodoo mama evoke sexual chemistry with the nerd, martial arts master, or bumbling foreigner with a heavy accent. To progress toward a viable, and therefore believable portrayal of an Asian man, Black woman, relationships the individual characters had to be reimagined before they could be firstly imagined as an item.
But in the real world, these harmful tropes that depict dramatized versions of racial caricatures don't get in the way of AMBW dating — in some ways, they actually fuel it. Both Black women and Asian men are statistically the least romantically desired by those with racial dating preferences in their respective gender categories, and Eurocentric ideals of beauty and gender are to blame. In the U.S., beauty standards are constantly changing, but the core tenets of who is attractive and who is not has remained relatively unchanged.
"As the two demographics that face the worst romantic biases, a subculture has emerged where the two communities bond to promote cultural exchange and love without fear of unfounded judgment."
For women, being soft-spoken and reserved with petite features is traditionally revered. To no surprise, the stereotype of the loud, untamed black woman with more pronounced bodily attributes is the exact antithesis. Asian men, on the other hand, are ostracized in dating circles for being too feminine, since America's ideal man is extroverted and physically domineering. As the two demographics that face the worst romantic biases, a subculture has emerged where the two communities bond to promote cultural exchange and love without fear of unfounded judgment.
Vice columnist Zachary Schwartz did a deep dive into this scene, detailing how cultures, stereotypes and romance all intermingle. Schwartz, being half-Taiwanese, had himself experienced the troubles of dating while Asian, mentioning how he was always the cute one with pinch-worthy cheeks, never the hot friend. Granted, the AMBW community suffers from its own fits of racial prejudice and fetishization, but Schwartz asserts that the constant blending of two undervalued cultures can "demystify cultural differences by forcing two sides to understand each other (and) help repair the world."
With a plethora of Facebook groups, in-person mixers, and couple blogs dedicated to AMBW love, the strength of this niche community is established. And in the past couple of years, they're onscreen presence is beginning to mirror their off-screen success. While there is no completely exhaustive list out there, this one shows the evident boost in popular films and series that depict AMBW relationships during the late 2010s. 2018, however, seems to mark a turning point.
Since then, Netflix's murder mystery rom-com, The Lovebirds (costarring Kumail Nanjiani and Issa Rae), Hulu's Four Weddings and a Funeral, The Sun is Also a Star, and the most recent Space Force, have all woven well-depicted AMBW relationships into integral story lines. Netflix's Space Force even added a segment that shed light on AMBW (there referred to as BWAM) relationships in episode six, with the character Dr. Kaifang saying "We're actually the least likely pairing, statistically, in American couples, yet we have the highest marriage rates. So when we find each other, it's actually . . . wonderful."

Image Source: HBO
Let's get back to Rae, who now has two projects highlighting AMBW relationships. She makes a point to stress the prevalence of interracial relationships that are not comprised of a White person dating a person of color. Relationships are a precious vehicle for filmmakers to represent the microcosm of communities clashing. The white-minority interracial relationship has been the most represented onscreen, instigating important discussions on privilege and social standing. But there are so many other racial and cultural dynamics between communities of color that have yet to be thoroughly dissected in media, taking full advantage of the artform's ability to stoke social commentary.
In Insecure season four, an argument between a Molly (Yvonne Orji) and Andrew (Alexander Hodge), season four's main couple, analyzed how Black and Asian individuals experience different forms of racism, and the biases certain communities of colors hold towards others. This argument mirrored one of Schwartz' encounters with a conflict in a Facebook group initiated by an Asian member criticizing Black culture. By expanding the bounds of the TV interracial relationship, Insecure brought to light a portion of societal interaction seldom shared onscreen.
Film and TV are vital resources in not only reflecting and exposing the range of human experiences, but also conditioning viewers to perceive something as normal or common, and as the medium becomes more inclusive. So, as more and more AMBW couples appear in film, the real-life community will seem more normal and common, until it is no longer a subculture of the dating world, just dating.