How Netflix's Never Have I Ever Navigates Race
Never Have I Ever Doesn't Depict a Multiracial Utopia — It Was Really My Adolescence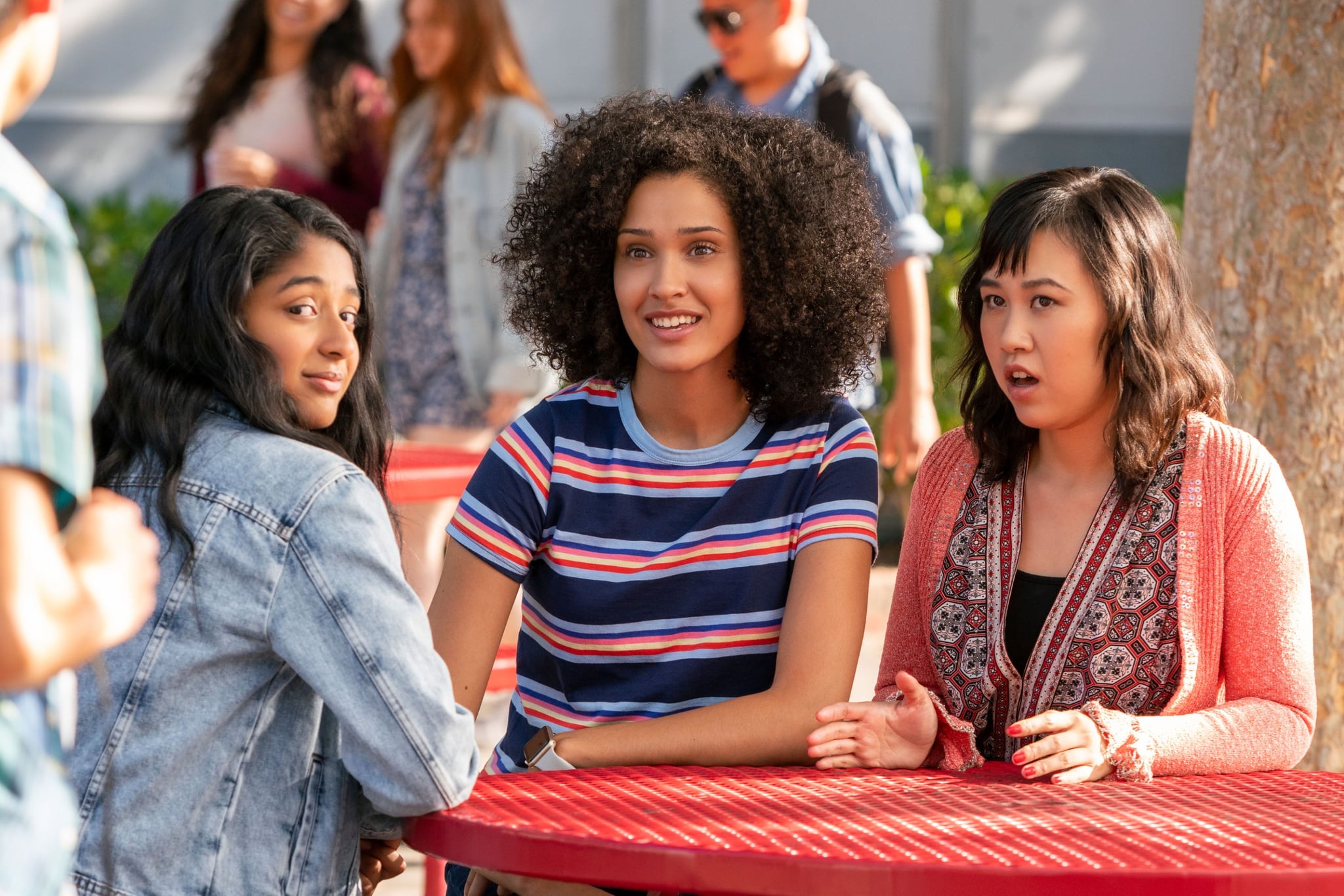 Growing up Asian American, I didn't harbor high hopes for representation on television. As a child who voraciously consumed TV in the aughts, I more often identified with Rory Gilmore and Willow Rosenberg than the one or two characters of color on Gilmore Girls and Buffy the Vampire Slayer. My expectations for representation didn't skyrocket when Asians got more roles. I was happy to see Asians book jobs, even if their stories weren't my own.
This attitude, however, dramatically shifted when I watched Mindy Kaling and Lang Fisher's truly excellent Never Have I Ever. My takeaway from a blissful five-hour binge was that I should expect more meaningful diversity from showrunners. The series navigates race beautifully, depicting it as something that informs experience while also allowing characters to have personalities and conflicts beyond their backgrounds.
Never Have I Ever normalizes diversity instead of treating it as exceptional.
Never Have I Ever normalizes diversity instead of treating it as exceptional. By Hollywood's standards, Devi's (Maitreyi Ramakrishnan) friendship trio with Eleanor (Ramona Young) and Fabiola (Lee Rodriguez) seems like a utopian multiracial fantasy. For me, it was simply my high school reality. I grew up in a San Jose neighborhood full of Asian and Latinx immigrant families. Being an immigrant kid has obviously colored my experience, but I wasn't going around unpacking generational trauma or obsessing about being Asian.
On the show, Devi's Indian heritage is naturally a part of her life — she celebrates Ganesh Puja and confronts judgmental aunties. But she's also enamored with American gems like Nick Jonas and Riverdale. Likewise, my friends and I exchanged trashy Harry Potter fanfiction and wept over Sherlock. (OK, these are technically British, but still!) I will neither confirm nor deny if we eyed the Paxton Hall-Yoshidas of our swim team.
Because most of the characters on Never Have I Ever are people of color, they get breathing room to be more than broad stereotypes or stand-ins for ideas about race. Devi and her friends have memorable quirks. They're not, as many shows have done before, the minority friends. Eleanor is a sensitive theater kid with mom issues. Fab is a robotics nerd who's trying to come out. And then, we have the protagonist Devi, whose thirst for competition might just barely edge out her thirst to lose her virginity.
Specific characterization creates a foundation for layered stories about universal themes. One overarching theme in Never Have I Ever is grief. Devi's not always a goody-two-shoes who's sympathetic — she's often selfish and flaky. But Kaling and Fisher carefully pull the threads together to portray her as a realistic teenager who deals with the loss of her father and her fraught relationship with her mother.
Speaking of her mom, Nalini (Poorna Jagannathan) too emerges as a fully realized character. Her immigrant background isn't cast aside, but it doesn't singularly define her. Equipped with a sharp wit and sick burns, she's not just a flattened, stern Asian parent. Nalini experiences real joy and grief — we see her blissfully riding her husband's motorbike along the beach and tenderly breaking down her walls in therapy.
Along with projects such as To All the Boys I've Loved Before and The Half of It, Never Have I Ever excites me about the possibilities ahead for Asian-American representation. Because young Asian girls deserve to see themselves as more than just the minority shoehorned into a white cast. They should see themselves as the heroes of their stories — or, even better, the rich and flawed protagonists.